Bike Science: The Physics Behind Cycling
As this year's Tour de France rolls into view, students can take an inside look at the science involved in successful road racing. What do gears and tires have to do with who wins the premiere race—or how long it takes to ride to the corner store? Find out with hands-on sports science projects that help tie science to the sports kids love to do and watch. This is pedal-power science that requires you to hop on a bike and put mechanical engineering in action!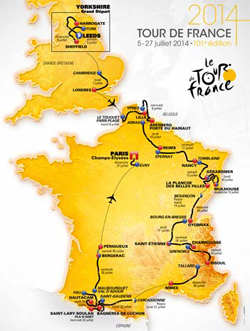 Above: map of this year's Tour de France. For full route and stage information, see the
Tour de France
website.
Exercise and the Body
Exercise is an important part of a healthy lifestyle for most people, but long and strenuous endurance events like the Tour de France (spread over many days) or a marathon can be a real challenge for athletes in terms of training, health, and nutrition. Students can explore how exercise impacts the body in health and human biology projects like these:
Drink of Athletes
Before, during, and after exercise and competition, athletes often choose foods and drinks to help balance their nutrition and improve their performance.
In the Electrolyte Challenge project, students investigate the difference in electrolyte content of sports drinks and orange juice. What drink should an athlete choose to help replenish lost electrolytes? A convenient kit of specialty items for the project is available from the Science Buddies Store.
In Lactose, Sucrose, and Glucose: How Many Sugars are in Your Smoothie?, students investigate how digestive enzymes convert sucrose and lactose into glucose to better understand how different kinds of sugar in smoothies may affect blood sugar. If you need a boost of energy before a sporting event, how might you alter your smoothie recipe? What if you want your smoothie to give you sustained energy?
Last year, Christopher Froome (Team Sky) won the 2013 Tour de France after coming in second in 2012 to his teammate Bradley Wiggins. This year, Froome will defend his title, again riding as part of Team Sky.
For bicycle racing enthusiasts and fans, the Tour de France is one of the premier sporting events of the year, the pinnacle of competitive cycling for many riders. The 21-stage race runs from Saturday, July 5 to Sunday, July 27 2014. Riders in this year's 101th a challenging combination of flat, hill, and mountain stages and will ride more than 3,500 kilometers through Leeds, Harrogate, York, Sheffield, Cambridge, Ypres, Oyonnax, Risoul, and Maubourguet Pays du Val d'Adour.
Making Connections
As the race gets underway and the cyclists begin their 3-week journey, students and families can learn more about the ways in which science can help explain certain aspects of successful cycling. The following sports science projects address elements of bike mechanics, mechanical engineering, and applied physics that will come into play as riders tackle the varying terrains and altitudes of this year's Tour de France stages.
How Do Under-Inflated Tires Affect the Difficulty of Riding a Bike?: During a race like the Tour de France, riders may ride with varying tire pressure (psi) amounts based on the stage of the ride and the weather conditions. In this sports science project, students explore how tire pressure relates to the way a bike rides. What does how full a tire is have to do with air resistance of the bike wheel as it rolls over the ground? Attach a spring scale to a bike, grab a tire pump, and find out. This project requires one person on the bike and one to pull it along, so grab a friend or sibling to sit on the bike!
Jack and Jill Went Up a Hill and Came Biking Down After: Choosing the Best Gear Ratio for Speed: Learning to properly use and shift between gears on a multi-gear (or multi-speed) bike can be one of the biggest challenges of transitioning to a more advanced bike. But for race cyclists, understanding how gears relate to speed, control, and the elevation and curve of the road is a must. In this science project, students experiment with gear ratios on their bikes by riding a set path over and over using different gear ratios and recording the speed of each ride. Riders may feel the difference a gear ratio change makes during a ride, but this project guides students in gathering scientific data that correlates gear ratio and speed on the path. Bikers can try the same project steps with a different path, one with a slight hill, for example, for even greater understanding of gears.
Learning more about the science involved in how a bike works and rides can make for interesting family discussion as the Tour de France takes place. These kinds of hands-on sports science investigations can also make your student a better rider—even just in the neighborhood!
Winning Speeds
Sports fans watching the Tour de France or other sporting events from home that involve being "fastest" to win can learn more about figuring speed in the Speed Quest project. For summer fun, students can use the basic parameters of the project to time and compare their own speeds in certain favorite sports (like bike riding) to speeds of world record holders or participants in a race like the Tour de France. How fast are you, really? (This is a great activity for encouraging students to put math skills to use this summer, too!)
Cyclists Raising Diabetes Awareness
For another look at pro cycling, see Changing Diabetes: A Pro Cycling Team with a Mission. Team Novo Nordisk is a cycling team comprised of riders who all have Type 1 Diabetes. See also, From a Boy on a Bike to a Catalyst for Diabetes Inspiration, Education, and Change, about Phil Southerland, founder of Team Novo Nordisk and author of Not Dead Yet: My Race Against Disease: From Diagnosis to Dominance.
Categories:
You Might Also Enjoy These Related Posts:
Explore Our Science Videos
Why Do Apples and Bananas Turn Brown? - STEM activity
Making Shadow Puppets – STEM Activity