BLASTing Flu Season Frenzy: A Bioinformatics Perspective
Did you get the flu shot? This year's flu season started early and with a vengeance. How effective is the vaccine against the influenza making the rounds? Using an online bioinformatics tool, students can analyze flu data from previous years and make their own predictions.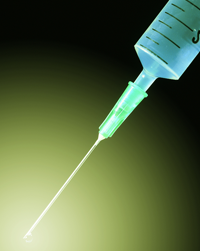 Flu season data offers students the chance to use bionformatics tools like BLAST.
This year's flu season is proving to be one of the worst in the last decade. Outbreak of the flu has been reported in most states, but this year's flu hit particularly hard in some northeastern states. In mid-January,
NewYorkDailyNews.com
reported startling statistics about the prevalence of flu in New York: "During last year's entire flu season, only 4,400 cases were reported. So far this season, there have been more than 15,000—an increase of close to 250%." A recent
New York Times article
ran with a headline that termed the number of deaths related to this year's flu as
epidemic
in scale. Both New York and Boston, MA declared a state of emergency due to flu this January.
Severity of the outbreak varies across the country, but a look at Google's Flu Trends site for the United States shows a predominantly "red" map (compared to the global map). While some reports claim that flu season may be peaking, other sources caution that the season is not over—and there is still time for the flu shot to be helpful. According to the CDC, there is still vaccine to go around. Of the 145 million doses produced for this year, the CDC reports that "as of January 18, 2013, more than 133 million doses [have] been distributed."

Verifying the Vaccine
Reacting to alarming flu-related news reports, people have flocked to pharmacies and doctors' offices in hopes of getting the flu shot before supplies dwindle. The question remains: Will this year's flu vaccine protect you from getting the flu? It's a toss-up.
Each year, the flu vaccine is formulated based on a prediction of three strains of flu that scientists anticipate will be common during the coming October-March flu season. According to the CDC, the 2012-2013 flu vaccine includes "an influenza A (H1N1) virus, an influenza A (H3N2) virus, and an influenza B virus." This year's vaccine is already being tentatively called a success. In a recent briefing, the CDC termed it "62% effective," which they define as meaning that people who get the flu shot this year are about 60 percent less likely to end up in the doctor's office because of the flu.
How accurate were the predictions that led to this year's vaccine formulation? Students interested in genomics and biotechnology can do their own data analysis of this year's flu season using BLAST, the Basic Local Alignment Search Tool. BLAST is a bioinformatics tool used for sequence alignment, a process by which scientists compare two strands of DNA. The "BLASTing Flu Viruses" genomics Project Idea challenges advanced students to do their own detective work and retrospective analysis of the effectiveness of flu vaccines from previous flu seasons as well as to begin analyzing reports and data from the current season (current-season weekly reports are available).
In this project, students can familiarize themselves with several important bioinformatics techniques as they look up gene sequences for the virus strains that were included in certain vaccines and compare those to the strains that were documented as prevalent during the same year's flu season.

Preventing the Spread
While getting the flu vaccine, proactively, is considered by many to be the best way to protect yourself from the flu, being careful to wash hands frequently and effectively is an important step in helping cut down on the spread of any virally transmitted disease. Reminding and better educating students about hand washing is important and can be turned into an eye-opening science project or classroom experiment. See the "Spread the Soap, Not the Germs" microbiology project for a glowing look at germs.
Categories:
You Might Also Enjoy These Related Posts:
Explore Our Science Videos
Homemade Hand Sanitizer Gel
Race Through Space with Gravity Assist Maneuvers
Transform Yogurt into Spheres With Reverse Spherification