10 Boat and Submarine Science Projects
Experiment with boat and submarine design and learn more about hydrodynamics, density, buoyancy, and more with these ten hands-on science projects or activities. Build and test models made from everyday materials and explore ways to improve the designs for better performance and stability.

Hands-on Boat and Submarine Science Fun. Hands-on STEM Projects with Science Buddies. www.sciencebuddies.org
K-12 Science Projects and Activities
If you have a student that loves boats, Science Buddies has hands-on science activities and projects that make great explorations during the summer months. With plenty of room for kids to experiment with boat design (and testing of design changes), these STEM activities encourage innovative and creative thinking. Plus, kids can experiment with boats and submarines in a bathtub or even a tub of water or small wading pool for outdoor fun!
10 Boat Science Projects
Pin this collection: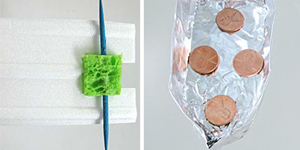 Categories:
You Might Also Enjoy These Related Posts:
Explore Our Science Videos
How Antibiotic Resistant Bacteria Take Over – STEM activity
Build a Mobile Sculpture – STEM activity