California Invention Convention Inspires and Celebrates Young Engineers
Add hands-on engineering to your classroom with California Invention Convention! Teachers in Southern California can learn more about the 2019 California Invention Convention with a free professional development workshop, October 27, 2018, in San Diego.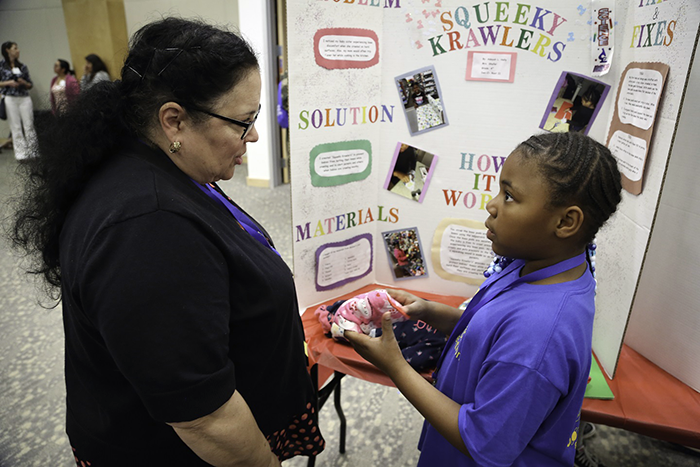 Thanks to a grant from Motorola Solutions Foundation, Science Buddies is partnering with California Invention Convention to encourage teachers to implement invention-based learning in their classrooms. To introduce more teachers to the Invention Convention model, California Invention Convention is offering a free professional development session for teachers in the San Diego area on October 27, 2018. To register, visit: http://sdcoe.k12oms.org/1294-156790.
What is Invention Education?
At the heart of California Invention Convention is "Invention Education," a hands-on STEM curriculum that teachers can use in their classrooms to guide and nurture invention-based thinking and creative problem solving with K-12 students. Invention Education curriculum is aligned with both Next Generation Science Standards (NGSS) and Common Core State Standards (CCSS) and emphasizes engineering methods and processes. As students identify problems in the real world and brainstorm and create their own solutions, they put engineering design into action, drawing upon engineering, robotics, computer science, and other STEM subjects.
The 10-week curriculum, one-hour per week (or more as each teacher determines), helps educators incorporate invention projects in the classroom with a goal of showcasing student projects at a school event (much like a science fair). Top projects move on to the state-level Invention Convention, where students from all over California gather to show their engineering projects. In its first three years, more than 1500 elementary and middle school students participated in California Invention Convention. The 2019 California Invention Convention will be open to all students in grades K-12.
What Does K-12 Invention Look Like?
Invention Convention projects all start with a problem, something a student sees in the world around her and wants to solve, change, or improve. Once the student identifies a "challenge" of interest, she works through the steps of the engineering design process to brainstorm, design, make, and test a solution. As students work on invention-based engineering projects, they determine the needs and constraints of the project, make a product that addresses the problem, test their prototypes, and refine their designs. They also articulate this process and how their product or solution directly addresses the problem or challenge.
Unlike traditional science fairs in which students often use the scientific method to do experiment-based projects, California Invention Convention focuses on the engineering design process and the creation of a solution. Students participating are celebrated and empowered as young inventors and have the opportunity to explore and engage important 21st century skills, including creative problem solving, troubleshooting, design, and innovation.
The following examples of student engineering projects from past California Invention Conventions highlight the kinds of student ingenuity that emerges when students work to solve problems of personal interest:
HOPE PILLOW—A 4th grade student wanted to create something to comfort children in the hospital. "When children are in the hospital, they are sad or alone. My invention will help get their stress and sadness away. My pillow has a recording box that can record messages or music and scent so it smells good."
POP STOP—A team of 4th grade students identified a problem with school binders and devised a solution. "At school, we have had binder rings that kept on opening with the papers flying out. Sometimes we would see a classmate cleaning up their binder because their binder fell apart on them. Putting the papers back in order wastes a lot of time. And sometimes papers get lost. Our solution is a plastic, two piece sliding tube. The tube will keep the binder rings closed."
HEARING BUDDY—A 5th grade student wanted to help a friend feel more confident wearing medical equipment. "My friend is embarrassed to wear his hearing aids. He gets teased by some of the other kids. The Hearing Buddy makes the hearing aid fun to wear by disguising it as a pet/toy lizard resting on the ear. It becomes more like a piece of jewelry or an ornament. A friend has a matching hearing buddy to wear, this creates a support system for the hearing impaired kid. It makes wearing hearing aids a cool thing to do and creates a community that is in support of hearing impaired children."
HEAD SHOT—A team of 7th grade students wanted to minimize the risk of sports-related concussions. "Many athletes get hit in the head. It is known that concussion can happen if the force is approximately 95 g's or higher. Without an impact sensor, we rely on the athlete to tell us how hard they got hit. It is not an objective measurement. Head Shot is a g-force sensor that is mounted on a mouthguard. It detects impact that can possibly cause a concussion. It provides an objective measurement and avoids relying on the athlete's perception of the force. This device will help coaches and parents to decide if the player should remain on the field, be removed from the field for observation, or be sent for medical attention. This will keep athletes safe by preventing a secondary concussion, which can lead to a more devastating injury."
SINK TO GARDEN H20—A 5th grade student sought a way to encourage water conservation at the household level. "California is a drought state, so it is important to save water. Every time we wash our hands and face, we use up to 4 gallons of water that goes to waste. My invention captures this grey water and reuses it for watering plants and gardens. The container fits in your sink with the removable lid off and collects the water from sink use. Once the water is fully collected, you can snap on the lid with the spout and carry it to your plants or outdoor garden."
THE SOCKANIZER—A 4th grade student came up with a solution to help keep a sock drawer neatly organized. "My Sockanizer solves the problem of a messy sock drawer. It helps save time in getting ready for school and baseball. The Sockanizer is an adjustable sock organizer made with cardboard coffee sleeves and paper clips. My socks stay paired neatly in the sleeves, and they can be side by side or stacked on top each other."
When You Care About the Problem
Students are interested in a wide range of problems that they see in the world around them. California Invention Convention gives them the opportunity and encouragement to brainstorm and create ways to solve or improve these problems. The emphasis on problem solving in an area of personal interest is an important foundation of Invention Convention and aligns with Science Buddies' belief, from more than a decade of matching students to traditional science projects using the Topic Selection Wizard, that students are more engaged in the STEM learning process when they work on projects that match a personal interest or concern.
According to Sandra Slutz, Vice President of STEM Education at Science Buddies, working with California Invention Convention fits with Science Buddies' mission to support and increase hands-on STEM learning for K-12 students. "All of us at Science Buddies believe strongly in giving students hands-on opportunities to do science and engineering, which is why I'm incredibly excited to be partnering with California Invention Convention," said Slutz. "Our joint goal is to give as many teachers as possible the tools they need to bring inventing into their classrooms. Through creating their own inventions, students will be hands-on with the engineering process. Best of all, they'll be doing it for a problem they identify in their own life—at Science Buddies, we know the value of this personal connection when it comes to science and engineering projects."
"We are very excited to be partnering with Science Buddies, one of the foremost non-profit organizations to be providing STEM resources to students, parents, and teachers for almost two decades," said Brenda Payne, Director of California Invention Convention. "The California Invention Convention is an initiative to bring invention education into California schools and to celebrate the young inventors with a state-wide event. Together we hope to eventually provide all students in our state with the opportunity to see themselves as inventors capable of solving problems that we will all be confronted with in the years to come."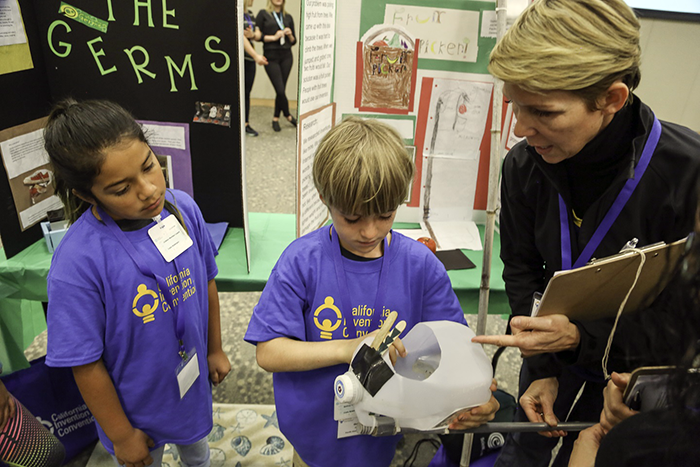 Science Buddies Supports Hands-on Engineering
Science Buddies is excited to be working with California Invention Convention to help teachers learn more about the value of incorporating engineering-based curriculum in their classrooms. California Invention Convention's focus on creative problem solving emphasizes and nurtures an important skill for today's students. "Most employers would agree that what they really want is an employee who is a problem solver, creative, perseveres, and has the ability to apply technical knowledge and skills," says Slutz. "Independent STEM projects like those done for science fairs, maker fairs, and invention conventions allow students to focus on all of these skills."
Science Buddies has many resources for teachers teaching the engineering design process to students, including a free, NGSS-aligned lesson plan in which students work through the steps of the engineering design process as part of a paper airplanes activity. Faced with a given problem and set of constraints, students brainstorm and design solutions, putting the engineering method in action and underscoring the creative thinking involved in coming up with a successful solution.
Teachers interested in doing more engineering projects with students may be interested in the following resources:
Additional lesson plans will be available this Fall to help support teachers who are doing California Invention Convention projects with students.
Sign Up for the Professional Development Session
Teachers in the San Diego area are encouraged to sign up for the October 27, 2018 Invention Convention professional development session in San Diego. The free event will offer an overview of Invention Education and the California Invention Convention. To register, visit: http://sdcoe.k12oms.org/1294-156790.
To learn more about California Invention Convention, visit: https://cainventionconvention.org/.
Thank you to Motorola Solutions Foundation for supporting this effort to increase hands-on engineering education in K-12 classrooms.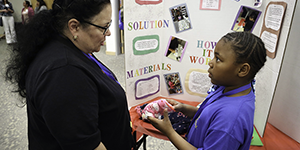 Categories:
You Might Also Enjoy These Related Posts:
Explore Our Science Videos
Build A River Model – STEM Activity