Celebrate Computer Science Education Week
This week many students around the world will be trying computer coding for the very first time with an Hour of Code project or a school coding activity. Choose a Science Buddies project to extend the learning and support new interest in coding!
Everyone can Code!
December 5-11, 2016 is Computer Science Education Week. This week is a wonderful time each year to encourage students to "try" a computer coding project, maybe for the very first time, and Hour of Code activities can help demystify computer programming. Students who have the opportunity to experiment with coding through a fun, short-term, introductory computer coding activity gain new understanding of what it means to "code" or "program" and may be interested enough to explore further or continue their learning.
At Science Buddies, we encourage students to get actively involved in science, technology, engineering, and math learning. Learning by "doing" is a great way to get students excited about subject matter and increase their interest in the process of learning and exploring new STEM concepts. When it comes to computer coding, learning by doing means taking first steps and working with computer code to write a set of instructions that tell a computer to do "something." That "something" can be as simple as print the word "Hello" on a screen or guide a cat in drawing a square. From there, the possibilities are virtually unlimited.
Whether students are interested in creating video games, writing software applications to help with health care or to help solve community or world challenges, or creating programs that simplify, improve, or enhance other day to day processes, students can dive in and get started turning ideas into reality by learning to code.
Student Computer Science Projects
Students at all ages can be introduced to computer coding concepts and the kinds of logic and instruction needed to tell a computer or device what to do. Thinking through the directions required to guide someone through a maze, for example, can be a really accessible way to talk with younger students about coding. See Paper Maze Programming: Start to Finish Computer Logic for a science activity that works well at school or at home. This activity can easily be scaled to make it more difficult and to introduce other computer programming concepts—no computer required!
Science Buddies offers a range of computer science projects for students who are interested in exploring programming, whether they begin with drag-and-drop or block-oriented programming (like Scratch) or explore scripting and coding languages like JavaScript and Python.
Students curious about computer programming may enjoy projects like these:
Raspberry Pi and Scratch
The Raspberry Pi Projects Kit allows students to blend computer coding and creative engineering and electronics. Creating Scratch programs on Raspberry Pi, students work with circuits and sensors in an array of fun projects, from an invader alert to light-up art and a digital puppet.
The Raspberry Pi Projects Kit is designed specifically for use with a series of 8 activities from Science Buddies. No previous experience is required to use the kit. (Note: helpful guidance for educators interested in using this kit with groups in the classroom or in an after-school program is available.)
Learn more about the Raspberry Pi Projects Kit
From Tech User to Tech Creator
To learn more about student computer coding activities and the importance of helping students become active creators rather than merely users of technology, see the following posts on the Science Buddies Blog: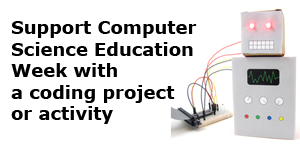 Categories:
You Might Also Enjoy These Related Posts:
Explore Our Science Videos
Model How Herd Immunity Works