Cellphone Spectrophotometry: Turn a Phone Into a Functional Piece of Science Equipment (Science-hack Your Phone: Part 2)
Cellphone cameras do a great job of helping us capture funny and memorable moments that we can share through our favorite social media sites, text messages, or email. That same imaging technology can be used as the basis for useful medical and scientific tools—or just for fun at home-exploration.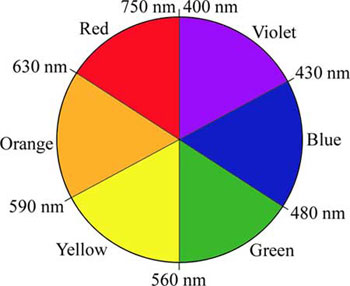 Image: Based on a figure from Martin Silberberg's Chemistry: The Molecular Nature of Matter and Change; McGraw-Hill, 2011.
In our
last installment
, we covered a DIY project for the tinkerer—
turning a cellphone into a functional microscope
. If you are looking for another science-inspired cellphone project or are curious about maximizing the value of a cellphone but prefer a bit less "tinkering" than the cellscope requires, consider using a cell phone as part of a homemade spectrophotometer.
The "See the Light by Making a Cell Phone Spectrophotometer" project guides students in constructing and using their own homemade spectrophotometer. This is a great hands-on project for an aspiring chemist or a photography enthusiast!

Creating a Home-size Model of Key Lab Equipment
A spectrophotometer is a piece of lab equipment that measures the intensity of light. Scientists use this expensive tool for a range of applications, including exploring how chemicals react, how quickly microorganisms multiply, and how much protein or DNA is present in a sample.
To understand how a spectrophotometer works, you will want to review how we "see" light, the relationship between visible light and electromagnetic radiation, and how the colors we see around us are related to varying wavelengths of visible light and the electromagnetic spectrum. (See the image at right to see a standard color wheel of primary and secondary colors annotated with typical wavelengths expressed in nanometers (nm).)
To measure the intensity of light, a spectrophotometer separates white light into a spectrum of colors as the light passes through a colored solution and measures the amount of light that comes out on the other side of the solution (light that isn't absorbed).

With a cellphone and some specialty items like an LED and a simple diffraction grating slide, you can create your own DIY apparatus to mimic the functionality of a spectrophotometer. Using your cellphone's camera to record the light that passes through a solution of colored liquid, you can then use computer-based spectrophotometry tools to analyze the images and evaluate light intensity.
Once you have your cellphone spectrophotometer working, you can experiment to find out ways to improve the quality of your images for more robust analysis. This is cool hands-on and applied science!

See Part 1 of our "Science-hack Your Phone" student science series...
Categories:
You Might Also Enjoy These Related Posts:
Explore Our Science Videos
Vibration & Sound: Make Sprinkles Dance
Lift Ice with Yarn STEM activity
Why Won't it Mix? Discover the Brazil Nut Effect