Citizen Science Projects for Earth Day
Celebrate Earth Day with increased awareness of citizen science and the many opportunities that exist for families to contribute to global research. At all ages, children, parents, and teachers can get involved with important environmental conservation and awareness research projects specific to their interests and location. Sometimes, making a difference is as easy as taking and sharing a photo of what you see!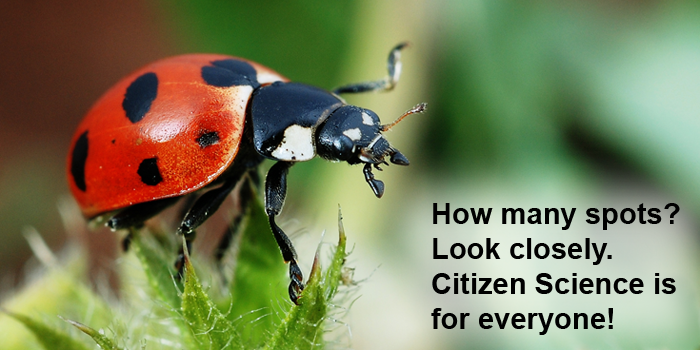 How many spots? Look closely. Citizen Science is for everyone!
Project Squirrel. Whale Song Project. Mushroom Observer. Ice Watch. Operation RubyThroat. NestWatch. FrogWatch. DragonFly Swarm Project. Project NOAH.
What do all of the above projects have in common? They are all citizen science projects that invite participants of all ages to join in and be active contributors to science exploration and research.
Children Embrace Nature
When kids are little, ladybugs, dragonflies, butterflies, frogs, lizards, and birds often inspire a special kind of wonder, and parents may be quick to point out these and other insects, birds, and animals and spend time with their kids marveling over things found in their environment. Bees, squirrels, raccoon, owls, hawks, hummingbirds, ducks, geese, snakes, fish, whales... depending on where you live, the creatures you see will vary, just as what you encounter may vary at different times of the year. Tracking, watching, recording, admiring, and keeping an eye out for the many species that live in your environment is a wonderful activity for families and helps everyone slow down, tune in, and take time to really see and appreciate the world around them.
When kids are small, parents often take extra time observing and talking about the natural world they encounter with their children. These experiences help build environmental awareness, help strengthen vocabulary, and help foster a sense of appreciation of nature, ecosystems, and the role we play in the stewardship and protection of natural habitats. As children get older, however, time spent jumping in puddles, turning over rocks and logs to find earthworms, stopping to talk about the snails that appear after a rain, and exploring nature may lessen for some families.
Growing up brings with it many other activities and responsibilities, and for some families, the wonder of admiring a found ladybug or pausing to watch a scampering squirrel or a robin with a worm gets lost. It doesn't have to be, and the surge in citizen science may be the key to sparking new interest and awareness among families and students of all ages.
A New Generation of Citizen Scientists
Citizen science is not a new concept. The Christmas Bird Count, run by the National Audubon Society, is one of the earliest examples of a formal citizen science project. First held in 1900, the annual Christmas Bird Count has resulted in important data for scientists and researchers. Every year, citizen scientists come together in a window of time during December and January to help inventory birds spotted. For naturalists and birdwatchers of all ages, the Christmas Bird Count offers an exciting (although sometimes chilly) way to contribute to bird science. Learn more about the Christmas Bird Count on the National Audubon Society site.
There are many bird-focused citizen science projects, but birds are only the beginning. There are hundreds of citizen science projects, projects for which scientists have established ways for the public to help gather and provide data that contributes to ongoing research, documentation, tracking, and cataloging. The number of citizen science opportunities that welcome children and families continues to expand, and the upsurge in interest in citizen science has brought these kinds of global projects to the foreground, an open invitation for parents and their children (or teachers and their classes) to get actively involved.
Looking More Closely, At Any Age
We have always stopped to admire ladybugs, and we have often kept a ladybug with a leaf for a bit while we observed it up close. But these days, if we see a ladybug, we are quick to grab a cellphone and take a few pictures. We are quick to look closely and make note of the number of spots. We are quick to wonder if this is a rare ladybug or not. We are quick to log in and take part in a ladybug-centered citizen science project, the Lost Ladybug Project. Our participation in the project doesn't take a lot of time, but the presence of the project has changed how we respond to ladybugs in our environment.
The Lost Ladybug Project site does an excellent job of explaining "why" the project needs the help of citizen scientists. "To be able to help the nine spotted ladybug and other ladybug species, scientists need to have detailed information on which species are still out there and how many individuals are around. Entomologists at Cornell can identify the different species, but there are too few of us to sample in enough places to find the really rare ones. We need you to be our legs, hands and eyes."
This is a call to action kids can understand. The mission is clear—report all the ladybugs you see. The elusive challenge is clear—you might even find a rare one. The end goal is clear—your contributions may help save a species!
This is citizen science at its best. It is easy to get involved. There are no barriers to entry, no prior experience required. You do not have to be able to identify the ladybug you see, although educational materials and charts are provided to help students try and determine the type of ladybug. All you have to do to help these scientists is upload a photo of the ladybug to the project and complete the required information about the location, time, and habitat. Hit submit, and you have contributed to science! That is powerful for students and children. As participants in citizen science, they are scientists.
The foundation of citizen science lies in the idea of crowd sourcing. Being able to take advantage of as many hands, eyes, and legs as possible helps scientists cover more ground. Science has been quick to realize that bringing more people into a project may increase the project data much more quickly than a team of formal scientists could on their own.
Projects like the Lost Ladybug Project offer an excellent opportunity for families to stay involved with nature, to learn more about certain species or environmental issues, and to take time observing and really "seeing" the habitats and ecosystems around them, in their backyards, at the local park, in a canyon nestled in a city, in the woods by a hiking trail, or by a local pond or stream.
We encourage you to learn more about citizen science opportunities that fit with your own family interests. Spending time deliberately taking part in a citizen science activity, or stopping to fulfill a citizen science task when the opportunity arises, provides wonderful awareness-building for students. Plus, most citizen science activities encourage students to learn more about the topic and may inspire additional reading or research.
Citizen science is a win-win.
Finding Citizen Science Opportunities
Locating citizen science opportunities can be as simple as spending time searching for projects in your geographic area. Most projects have online information pages, and may encourage online submission of data. The following books can also help students learn more about citizen science find projects of interest.
Citizen Science Guide for Families: Taking Part in Real Science by Greg Landgraf (Huron Street Press) contains a treasure trove of citizen science projects for families to explore.
This book offers an in-depth and insightful look at the world of citizen science, what it offers, what it means, and why it is important. As part of the introductory chapters, Landgraf profiles a series of citizen scientists, giving an inside look at how real people are making a difference through citizen science: a fifth-grade teacher who works with the Monarch Larva Monitoring Project; Cindy Burns who works with the Coastal Observation and Seabird Survey Team (COASST); a father and daughter who photograph and track moths and butterflies; and Mike Newkirk with a lifelong interest in loons.
The remainder of the book is a directory of citizen science projects around the world. Citizen Science Guide for Families organizes its listings in core subject areas, including Analytical Games and Puzzles, Amphibians and Reptiles, Birds, Insects, Other Animals, Beaches, Wetlands and Waterways, Biodiversity, Outer Space, Plants and Fungi, and Weather and the Seasons. This categorization of citizen science projects makes it easy to locate citizen science activities you and your children or students may enjoy based on topic. Each entry contains a summary of the project, a link to the website, and information regarding age range, time frame, region, and cost, if any. At the end of each subject area, Landgraf provides lists of suggested reading for adults and for children.
As with any bound directory, the potential downside of a book like this is that some projects may fade away over time. As a starting point for locating citizen science projects, however, this is a great pick. (Published in 2013.)
Further Reading
For more about Earth Day, citizen science, and student projects and activities related to the environment, see the following posts on the Science Buddies Blog:
Adults interested in learning more about citizen science and its role in family and classroom education and reading the stories of other citizen scientists may wish to explore titles like these: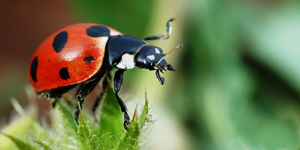 Categories:
You Might Also Enjoy These Related Posts:
Explore Our Science Videos
Model How Herd Immunity Works