Simplified STEM Activities Help Fill Gap for Online, Remote, Hybrid Learning
Science Buddies has more than 200 free science and engineering activities teachers can use in preparing for classroom, remote, hybrid, or pod learning.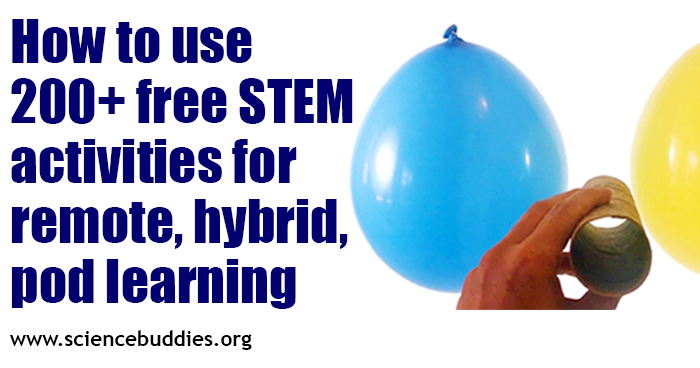 This activity with balloons is one of 200+ activities available at Science Buddies that can be used for classroom, remote, hybrid, and pod learning - or in afterschool and out-of-school programs
Science Buddies has more than 200 free science activities that offer fun, easy-to-follow, informal STEM learning opportunities for kids of all ages. These activities are in addition to more than 1,200 Project Ideas and NGSS-aligned STEM Lesson Plans.
Pulling in Activities for Online, Remote, and Hybrid Learning
Lesson Plans offer educators more in-depth background material and scaffolding and have been developed to meet the needs of teachers fulfilling NGSS requirements. Science Buddies' STEM Activities, however, are a great option for teachers and extend the range of topics and core science concepts that you can cover with students with a simple demonstration.
With an emphasis on online, remote, and hybrid learning during the COVID-19 pandemic, Science Buddies STEM Activities have a number of advantages for teachers. The simplified approach used in activities is an asset for teachers planning online learning units.
What's in a Science Buddies STEM Activity?
The following images offer a quick overview of the STEM Activity format at Science Buddies, with an emphasis on features of particular use to teachers who are planning for STEM learning with students online. (These images use the Balloon Magic with Bernoulli's Principle activity as an example. The format shown is used by all activities.)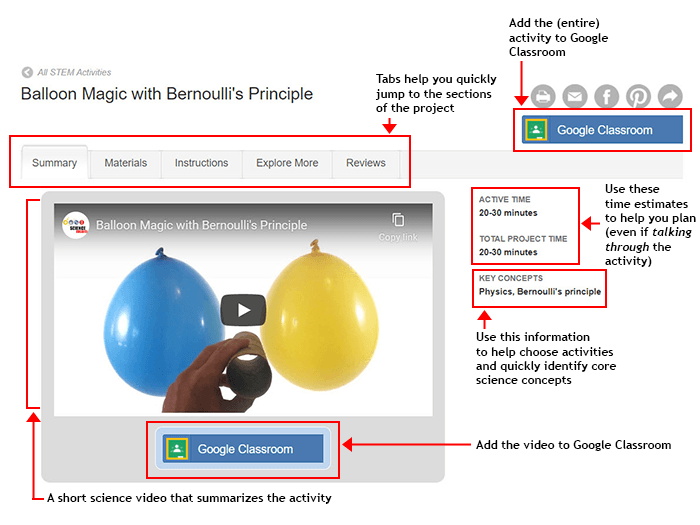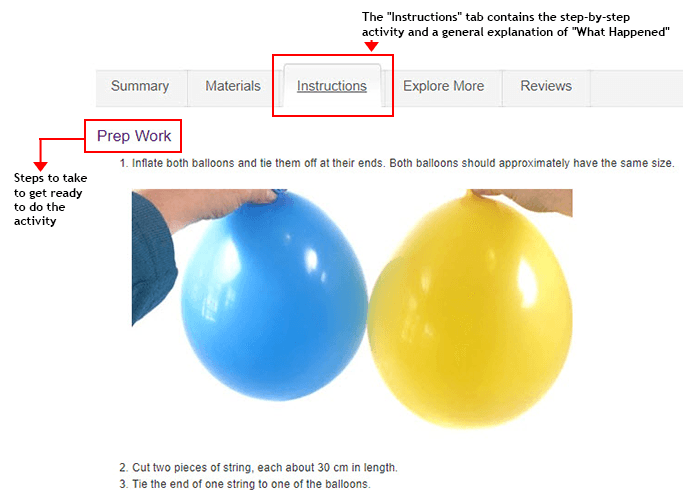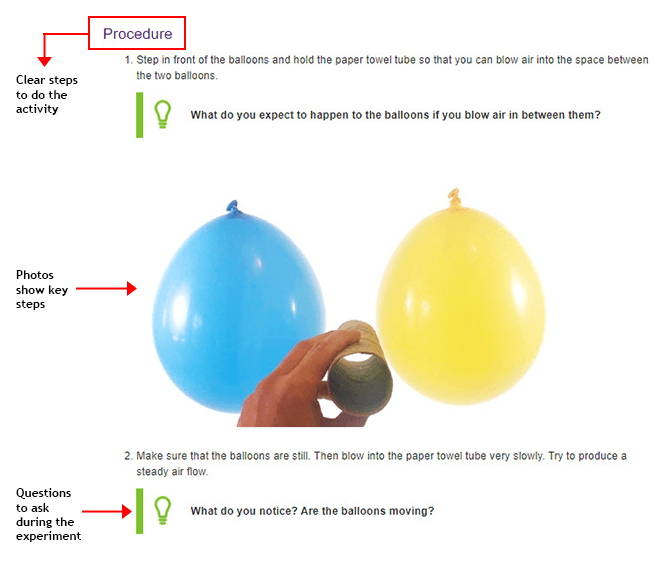 Using Activities for Online STEM Class
How can activities be helpful when working with students remotely? As shown in the images above, there are several parts of a STEM activity that provide helpful scaffolding for teachers who are teaching in online, remote, or hybrid scenarios.
These strategies can help you use activities with students online to continue to talk about, explore, and engage with important STEM concepts.
Assign activities with Google Classroom.. All activities can be assigned or shared with Google Classroom. Google Classroom teachers can use the "Google Classroom" button to share an activity with students so that everyone will have the link and any directions about what you want them to do.
Watch the video with students. Most activities have a short video (often under 3 minutes) that shows the experiment in action. Because materials may not be available in all homes for students to do the activities themselves, these videos let you show the experiment without having to do it yourself. Of course, doing the experiment yourself as a video demonstration for your students is a great approach! But we know that it won't be practical for you to video yourself doing hands-on experiments every day. Having readymade videos that show these activities makes it easy for you to plug STEM videos into your online learning schedule.

When using videos with students:

Prompt discussion. You can have students watch the video and respond to questions you post in Google Classroom (or whatever learning management system you use).
Watch together. Depending on your setup, you might watch the video together (live) as a class and then talk about it.
Stop and start the video. Pause the video as you talk with students about what is happening or about questions shown on the screen.

Use discussion prompts. Whether you are demonstrating the experiment yourself or watching the video with students, the questions (identified with the green lightbulb icon) included in the procedure can be used to help guide group discussion.
Talk about what happened. Use the "What Happened" information to talk about what happens in the activity.
Review the Dig Deeper tab in advance. The Dig Deeper section on the Explore More tab provides an in-depth explanation of the science in the activity. Depending on the age of your students, your students may not need this level of information, but reviewing this in advance will help you prepare for the activity and any questions that might arise.
Extend the activity. Ideas for ways to continue the activity or alter it are included on the Explore More tab. These ideas can be used as talking points, suggested for home learning, or used as "what if" prompts for students. Based on what was observed or discussed in the main activity, have students choose a "further exploration" angle and reflect on what they think would happen. Students might also come up with other science questions they could ask or explore that build upon the activity and then write about that.
Make career connections. STEM careers related to the science activity are listed at the bottom of the Explore more tab. If you are assigning reading and reflection exercises, you might have students choose one of the careers listed, read about it, and explain how it is related to the activity.
Have students pick an activity. Keep the hands-on STEM learning going by letting every student pick out their own activity to do at home. There is enough variety that students should find something that interests them using the materials they already have at home. Use the worksheet linked below to create a simple activity report for them to fill out and turn in from home.
Worksheet for Use with Activities
We have a general worksheet you can use to help guide students in responding to science activities remotely. Use the links below to download the worksheet in Microsoft Word format or as a Google doc:
Finding Activities
Activities at Science Buddies are grouped in categories designed to spark interest among families: All About Me; Build It Better; Crafting and DIY; Kitchen Creations; Outdoor Fun; The Natural World; Try It Out; Whiz, Bang, Boom. The area of science (e.g., Physics) is noted under the Key Concepts subhead on the Summary tab (see screenshot above). To make it easy for you to find activities that fit your current class curriculum and STEM planning needs, we have also posted a handy "Big List" that features all 200+ STEM activities sorted by core science area.
Science Buddies also has more than 100 Lesson Plans developed specifically for educators. To learn more about using Science Buddies Lesson Plans, see: How to Use a Science Buddies Lesson Plan. For specific tips for using Lesson Plans as part of your online or remote learning strategy, see Thinking Through the Shift to Online Learning for STEM.
What are STEM Activities?
STEM Activities at Science Buddies have been developed specifically to encourage families to explore STEM with simple projects that are accessible to a wide range of ages, are quick to do, and use materials that might already be on hand. Activities work well for families at home and for educators and program leaders (afterschool, summer camp, library, etc.) looking to create engaging, high-interest, hands-on STEM learning opportunities.
Activities are differentiated from projects and lessons because they are not suitable for independent student science fair projects. Activities do not include multiple trials. Activities do contain a short explanation of the science at work in the activity. This explanatory information helps parents and activity leaders understand and explain the results with confidence, regardless of their own expertise.
Tip:Families can find inspiration for using activities with kids at home in our Doing Science at Home series and our 10 weeks of fun themed virtual STEM camp.
You Might Also Enjoy These Related Posts:
Explore Our Science Videos
Ball Launcher: 2018 Engineering Challenge
Volleyball Machine: 2019 Engineering Challenge
Make a Thermometer - STEM Activity