15 Density Science Experiments
Use these free science lessons, experiments, and activities to teach K-12 students about density.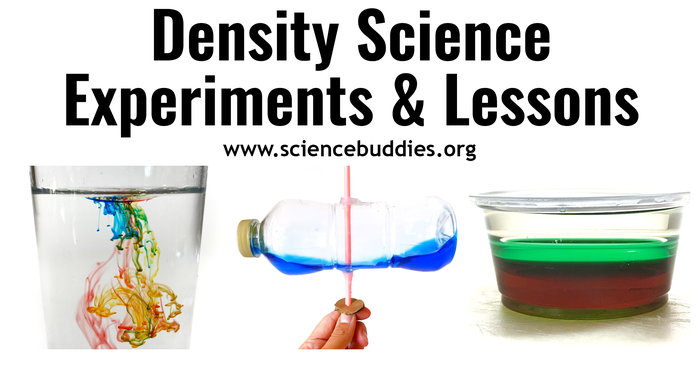 Sometimes students wrongly think that an object's density is the same as its weight or its mass. Instead, density refers to an object's mass in a given volume. Two objects that have the same shape and size (volume) but have a different mass (like two same-sized balls with different weights) have different densities. As a physical property of matter, density applies not only to solids but also to liquids and gases. Mathematically, density is expressed as mass divided by volume. This means that the more mass an object or substance has in a given volume, the more dense it is. An object's density depends on the mass, size, and arrangement of its atoms. Other factors that affect density are air pressure and temperature.
The free STEM lessons and activities below help students learn about density and how density as a property is related to how materials interact and how they fall, float, sink, or separate. By understanding the importance of density, students can make more accurate predictions for how materials will behave in certain scenarios, what materials are best suited for an intended purpose (such as an engineering project), how objects will sink or float, and more. For key terms to review with students, see the list of vocabulary words at the bottom of this resource.
To make it easier to locate resources to fit your curriculum, the lessons and experiments below have been grouped as follows:
Note: Science Buddies Lesson Plans contain materials to support educators leading hands-on STEM learning with students. Lesson Plans offer NGSS alignment, contain background materials to boost teacher confidence, even in areas that may be new to them, and include supplemental resources like worksheets, videos, discussion questions, and assessment materials. Activities are simplified explorations that can be used in the classroom or in informal learning environments.
Lesson Plans and Activities to Teach About Density
Density You Can See
When it comes to understanding density, being able to "see" the effects of density can be a useful starting point. The following experiments let students observe how different materials or liquids have different densities and what this means when it comes to how they interact with other materials and liquids.
Buoyancy
Buoyancy refers to the ability of a submerged or partially submerged object to float in water, air, or another liquid. The net upward force on the object from the surrounding water, air, or liquid is dependent on both the density of the object and the density of the surrounding medium. In learning about Archimedes' principle, students observe buoyancy and can also experiment with the role of density.
Density in Earth Sciences
The densities of water, air, and other substances play an important role in processes on Earth. Density differences in air and water are a major driver of ocean currents and certain weather patterns. By experimenting with liquids and air of different densities, students will also gain an understanding of how fragile certain processes on Earth are.
Vocabulary
The following word bank contains words that may be covered when teaching about density using the lessons and activities in this resource.
Acceleration
Air pressure
Air resistance
Archimedes' principle
Atmosphere
Atom
Buoyant force
Buoyancy
Center of mass
Centrifuge
Centripetal force
Climate change
Currents
Density
Diffusion
Displacement
Force
Gas
Gravity
Inertia
Liquid
Mass
Miscible
Newton's first law of motion
Salinity
Sea level
Vacuum
Velocity
Volume
Weight
Thematic Collections
Collections like this help educators find themed activities in a specific subject area or discover activities and lessons that meet a curriculum need. We hope these collections make it convenient for teachers to browse related lessons and activities. For other collections, see the Teaching Science Units and Thematic Collections lists. We encourage you to browse the complete STEM Activities for Kids and Lesson Plans areas, too. Filters are available to help you narrow your search.
Categories:
You Might Also Enjoy These Related Posts:
Explore Our Science Videos
Volleyball Machine: 2019 Engineering Challenge
Colorful Melting Ice Ball Patterns - STEM Activity
Write and Read Braille – STEM activity