16 Science Experiments to Teach About Electricity
Use these free STEM lessons and activities to teach about electricity, electrodes, electrolytes, current, batteries, generators, and more.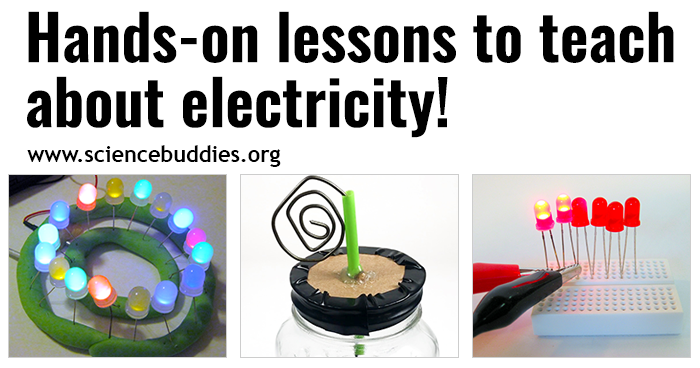 We all interact with electricity dozens of times a day. Every time we flip a switch to turn on a light, we use electricity. Every time we check a cell phone, open a refrigerator, or turn on a computer or TV, we are using something that depends upon electricity in the background. We use electricity without necessarily thinking about where it comes from and how it is created. What is required to create electricity? What causes the static electricity that zaps us when we least expect it? What are charged particles? What is the difference between current and voltage? What is a circuit? What are amperes, ohms, and volts? What do electrolyte solutions have to do with electricity? How do we measure electricity?
The free STEM lessons and activities below help educators teach students about electricity with hands-on exploration that creates observable and meaningful active learning. These resources have been grouped to cover teaching about static electricity, the flow of electricity, and generating electricity.
Note: Science Buddies Lesson Plans contain materials to support educators leading hands-on STEM learning with students. Lesson Plans offer NGSS alignment, contain background materials to boost teacher confidence, even in areas that may be new to them, and include supplemental resources like worksheets, videos, discussion questions, and assessment materials. Activities are simplified explorations that can be used in or out of the classroom. Student projects support students conducting independent science projects.
Lesson Plans and Activities to Teach About Electricity
Static Electricity
What happens when you rub a balloon against your hair or scuff your socks across the carpet? In the Rubbing Up Against Static Electricity project, students use balloons to see how static electricity builds up and how long it lasts. How will rubbing a balloon multiple times affect the static charge?




In the Measure Static Electricity With An Electroscope! activity, students learn more about static electricity and investigate using a simple homemade electroscope to detect electric charges. With the electroscope, students can observe how well different household items produce static electricity without getting zapped!




Nobody likes getting zapped by the invisible electric fields created by static electricity! In the Avoid the Shock of Shocks! Build Your Own Super-sensitive Electric Field Detector project, students assemble a super-sensitive charge detector to investigate the invisible electric fields created by static electricity. When two materials are rubbed together, which item donates electrons and becomes positively charged? What does the triboelectric series have to do with what happens?

Note: In addition to a breadboard, this project uses a transistor and other specialty parts from the Electronic Sensors Kit.



The Flow of Electricity
Generating Electricity
Electricity Tutorial
The Electricity, Magnetism, & Electromagnetism Tutorial resource is a good place to start when teaching about electricity and related concepts like electromagnetism. This resource contains sections specifically dedicated to static electricity, current electricity, and the difference between direct and alternating current (DC and AC).
Tip! Google Classroom teachers can use the Google Classroom button to assign this resource to students.)
Teaching About Electricity in K-12
Educators teach about electricity throughout elementary, middle, and high school. Starting with early exploration of electric interactions, students build understanding of electricity as they learn about charged particles and static electricity, basic circuits, current, voltage, and resistance. With hands-on lessons and activities, students can learn about the flow of electricity, identify and observe the importance of conductors and insulators, review the triboelectric series, see the effect of resistance firsthand, explore Ohm's law, and interact with and measure differences between series and parallel circuits when powering a set of LEDs, for example. Simple homemade electroscopes can be used to reveal electric fields, and circuits can be constructed to further demonstrate the presence of invisible electric fields, and with multimeters, students can explore amperes, ohms, and volts.
To learn about creating electricity, students can build basic batteries by experimenting with different kinds of electrodes and electrolytes. From coin-powered voltaic pile batteries to experiments with fruit- and vegetable batteries, students can examine the chemical makeup of a battery. These explorations can be extended by studying generators, the role of electromagnetism, Faraday's law and magnetic induction, and alternative sources of electricity creation, including saltwater batteries, microbial fuel cells, ocean turbines, and solar power. These continued explorations are important in helping position learning about electricity in a real-world context as part of talking about sustainability, non-renewable resources, and alternative energy resources.
Note: There is crossover between teaching about electricity, circuits, magnetism, and electromagnetism. You can view teaching materials, experiments, and lessons for these topics in the following collections:
Vocabulary
The following word bank contains words that may be covered when teaching about electricity using the lessons and activities in this resource.
alternating current (AC)
Ampere, amp
battery
charged particle
circuit
conductor
current
electric field
electricity
electrode
electrolyte solution
electromagnetism
electron
Faraday's law
generator
insulator
magnetic induction
magnetism
microbial fuel cell
negatively charged
neutral charge equilibrium
neutron
non-renewable resources
ohm
Ohm's law
oscillating turbine
positively charged
proton
renewable energy
renewable resources
resistance
resistor
saltwater battery
solar energy (solar power)
static discharge
static electricity
sustainability
triboelectric
vegetable power
volt
voltage
wind power
zinc-air battery
Thematic Collections
Collections like this help educators find themed activities in a specific subject area or discover activities and lessons that meet a curriculum need. We hope these collections make it convenient for teachers to browse related lessons and activities. For other collections, see the Teaching Science Units and Thematic Collections lists. We encourage you to browse the complete STEM Activities for Kids and Lesson Plans areas, too. Filters are available to help you narrow your search.
Categories:
You Might Also Enjoy These Related Posts:
Explore Our Science Videos
Write and Read Braille – STEM activity
Popsicle Stick Chain Reaction -STEM activity