10 Reasons to Do the 2022 Fluor Challenge
Why do the 2022 Paper Ball Run Fluor Challenge? Here are 10 reasons we think this is a paper-and-tape STEM challenge you don't want to miss!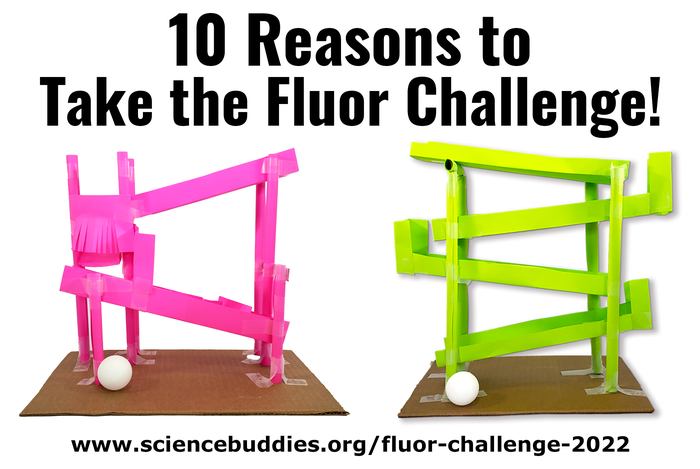 The annual Fluor Engineering Challenge makes it fun for students to try engineering. Each year, the Fluor Challenge presents an innovative and engaging engineering task and challenges kids in grades K-12 to use the engineering design process to build a solution.
The 2022 Fluor Challenge is the Paper Ball Run Challenge.
Build a Paper Ball Run—And Slow the Roll!
This year's Fluor Challenge involves building a ball run from only paper and tape. That's fun as an engineering design challenge, but there's a twist! Students are also challenged to "slow the roll," creating a ball run that will take as long as possible for the ball to move from the starting point to the exit point. Students will need to use their engineering design, problem-solving, and troubleshooting skills to design, build, and test their paper ball runs.
A Chance to Win Part of $10,000 for Your School or Organization
There are ten $1,000 (USD) prizes up for grabs in the Fluor Challenge. All complete entries from students in listed geographic locations (see the rules) will be entered in random drawings for a chance to win money for the student or team's school or qualified organization. Prizes are not awarded based on high scores. Your students have a chance to win $1,000 for your program just by entering.
10 Reasons to Do the Fluor Challenge with Students
1
It's fun! The Paper Ball Run is fun to build and to test. Similar to roller coasters, marble runs, or Rube Goldberg machines, students will have fun bringing their designs to life.
2
It uses simple materials. The Paper Ball Run Challenge uses basic materials (paper and tape) that are easy to find and may already be available at home. Students will also need a ping pong ball for testing!
3
It's accessible. The Fluor Challenge is open to students in grades K-12, and the emphasis is on trying engineering and thinking like an engineer to solve the challenge task. Tip! Sample ball runs shown in the directions and overview video can be helpful for brainstorming solutions with younger students. With the added "slow the roll" twist, the Paper Ball Run Challenge scales in complexity for older students.
4
It demonstrates the engineering design process. Engineering is a critical component of STEM learning. Doing the Fluor Challenge emphasizes brainstorming, prototyping, testing, and iteration, all important steps of the engineering design process.
Iterate! The engineering design process involves testing, making changes, and testing again. This short video helps explain iteration for students.
5
It puts science concepts in action. Engineering projects often combine engineering design and other areas of science. Students doing this year's challenge will be learning about forces of motion and types of energy and putting these physics concepts into practice as they design and build their ball runs.
Related Resources: For additional lessons, experiments, and activities, see these collections: 13 Activities and Lessons to Teach Potential and Kinetic Energy, 26 Experiments To Teach About Types of Energy, and Forces and Laws of Motion Lessons.
6
It encourages creative thinking. Students may surprise you with their innovative ball run designs! There are countless ways they might think about the design of their ball run device and how to make the ball take a long time to reach the finish. This kind of hands-on activity empowers students to be creative in engineering their unique solution!
7
It emphasizes problem-solving and iteration. Students may find their ball runs don't work the first time. They will need to practice problem-solving to identify problems and find ways to improve their designs. Once their ball runs work, they can continue to iterate to try and find ways to slow down the path of the ball. Seeing their perseverance and determination in action can be incredible, and encouraging them to find ways to solve problems is empowering!
8
It supports teamwork. While students can build their towers alone, the Fluor Challenge allows teams of up to four students. When working on a team, students practice important collaboration and communication skills as they work together to build, test, and improve their final designs.
9
It's great in and out of the classroom. This year's Fluor Challenge is designed for classroom use, but it works well for community and afterschool programs or for families at home. (Families can choose to have kids do this challenge even if it wasn't assigned at school, too!)
10
It's a global challenge! Students from around the world are invited to take part in the Fluor Challenge. The Fluor Challenge is also free to enter.
How to Enter the 2022 Fluor Challenge
Submissions will be accepted using the online entry form from February 20-March 20, 2022.
To submit, visit the online submission page.
2022 Fluor Challenge Resources
Directions for the 2022 Fluor Challenge are available in the following formats:
Engineering Design Process Resources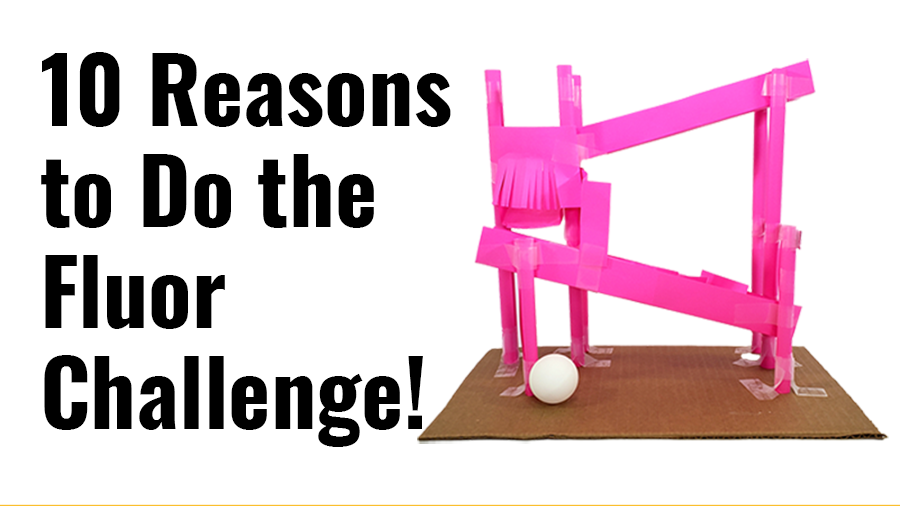 Categories:
You Might Also Enjoy These Related Posts:
Explore Our Science Videos
How Do Viruses React To Soap?
How Far Will It Fly? Explore Drag with Paper Airplanes
Solar Panel Angle for the Junior Solar Sprint