Celebrate Engineers Week with the Fluor Challenge
Engineers Week is February 18-24, 2018. Join educators around the world in celebrating engineers and the spirit of engineering with classroom activities and STEM career exploration. The Fluor Challenge is a great way to get students thinking about (and using) the engineering design process! Plus, qualified entries earn a chance to win money for your school!
Science Buddies has a range of STEM activities teachers can do in the classroom with students to celebrate Engineers Week. We hope you explore some of the ideas listed below, but we especially hope you consider doing the 4th annual K-12 Fluor Engineering Challenge with your students. The online submission window opens today. Students can complete the challenge at any time before March 16, 2018!
Student Fluor Challenge
The K-12 Fluor Challenge provides a perfect opportunity each year to take class time for a hands-on STEM exercise. Sponsored by Fluor Corporation, the challenge is designed to make students more aware of what engineers do, encourage them to learn more about engineering careers, and, most importantly, to experiment with engineering themselves. The Fluor Challenge makes it fun to try an engineering activity! Plus, all qualified student submissions are entered in a random drawing for a chance to win money for the student's school or organization. For educators doing the Fluor Challenge, every submission is a chance to win! (See the rules and regulations for full details.)
2018 Ball Launcher Challenge
Each year, the K-12 Fluor Challenge activity is an adaptation of one of the company's internal engineering challenges. (Learn more on the Fluor Challenge page.) In previous years, students have been challenged to build marble sorters, water flow solutions, and balloon-powered cars.
This year's challenge is the Ball Launcher Challenge. Using limited materials and following specified rules for the construction and operation of their devices, students will build both a ball launcher and receiver. There are countless ways students might approach solving this challenge, and creative thinking, innovation, and testing is key. Students have the option to use the materials they want from the allowed list, and the materials they use (and how many) factor into their final scores.
The challenge requires only ordinary materials (like plastic cups, paper, and aluminum foil), making it easy for teachers or out-of-school programs to gather what is needed. This year's activity is water-free and low-mess! The Ball Launcher is a catapult, so be prepared for small aluminum balls to be flying across the room. Seeing how far the ball can launched and still be successfully caught is part of the challenge!
We encourage you to do the Fluor Challenge with students. Let them see, firsthand, how fun engineering can be! Students of all ages can try the challenge, too! For a look at the positive experience students and teachers have doing the Fluor Challenge, see Students Find Flow in Third Successful Fluor Challenge.
Tip: Assigning the overview video (shown above) is a great way to introduce this year's Fluor Challenge and get students excited. Google Classroom teachers can use the "Create Assignment" button to assign the video from the project page.
Past Challenges
Fluor Challenge activities from previous years can be a great addition to your Engineers Week schedule! Try one of these engineering activities for even more hands-on STEM fun:
Follow the Flow: Build a model of a terraced irrigation system that uses flowing water to transport plastic beads. Beads start in the top layer and must flow through each lower layer until they are retained in the bottom layer.
Marble Machine: Build a gravity-powered sorting machine that can separate small and large plastic spheres.
Balloon-Powered Car Challenge: Design and build your own balloon-powered car that will travel as far and fast as possible.
A Lesson Plan for Engineers Week
A free guided lesson plan is available for the Balloon Car Lesson Plan activity. This Lesson Plan is an adaptation of the 2015 Fluor Challenge. The Lesson Plan contains background information for the teacher, discussion questions and a step-by-step classroom activity, a worksheet, assessment materials, and more.
Share the Experience!
We will be posting images from the Fluor Challenge tagged with #FluorChallenge. Follow us at
Facebook
,
Twitter
, and
Instagram
to be inspired by student innovation around the world!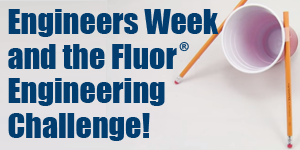 Categories:
You Might Also Enjoy These Related Posts:
Explore Our Science Videos
Homemade Hand Sanitizer Gel
Race Through Space with Gravity Assist Maneuvers
Transform Yogurt into Spheres With Reverse Spherification