Join Science Buddies at USASEF for Toothbrush Robot Racing and Catapult Launching!
Take a sneak peak at an exciting pair of hands-on science and engineering activities that Science Buddies has planned for USASEF visitors and get inspired to make your own robots this week in celebration of National Robotics Week—or experiment with your own catapult project!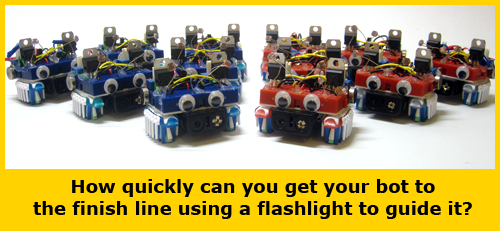 From National Robotics Week to This Month's USASEF Expo!
This week is National Robotics Week, a week dedicated to showcasing robotics engineering and "robo-technology." With the cartoon character Bleeker the rechargeable dog as mascot for the week and a set of free robotics trading cards that students can download and print, National Robotics Week is primed to engage and excite K-12 students about robotics.
Trying Toothbrush Robotics
To get started with toothbrush-head robots with your students at school or at home, see the following Science Buddies Project Ideas and posts:
The Science Buddies popular
Robotics area
continues to grow, and our scientists have been busy preparing a small army of toothbrush-based robots (AKA bristlebots) for hands-on fun at this month's
USA Science and Engineering Festival
(USASEF) Expo in Washington D.C. More than 3000 hands-on science, technology, engineering, and math (STEM) demonstrations will be on display at the USASEF Expo, April 26 and 27, 2014. Attendance to the Expo is free, but you can pre-register to be entered to win prizes. For full details, Expo map and program guides, and more, see
http://www.usasciencefestival.org/
.
Look for Science Buddies in Hall C, the Earth Sciences Pavilion, Booth 3722. Mark your map—or your app!

Robotics for Everyone!
As a stepping-stone project in student robotics, bristlebot robots let students start out with something super basic—a toothbrush head, a single coin cell battery, and a vibrating motor—and expand the project to integrate additional electronics learning, including more sophisticated breadboard circuitry, light sensors, solar cells, photoresistors, multiple motors, on-off switches, and more.
At USASEF, visitors to the Science Buddies booth will get a chance to explore and race light-following robots through a fun maze that our scientists have built. Pairs of USASEF participants will race their bots against each other using small flashlights to try and guide their bots to the finish line first.
If you will be at USASEF next month, make sure you plan to stop by and give one of the light-following bristlebots a try. You can also make your own bristlebots at home using the procedure at Science Buddies in the Build a Light-Tracking Robot Critter project. (See sidebar for additional information.)

Ping Pong Balls Away!
USASEF attendees who stop by the Science Buddies Booth will also be able to test their launch skills by trying out the ping pong catapult. Getting the ball to the target takes a combination of physics and engineering. Students will explore concepts of trajectory, launch angle, and pullback strength as they test their aim and then record the outcome of each shot (their data) on a composite data map that tracks the hit statistics for all Expo attendees as a histogram. With three target zones ahead, can you set up the catapult to launch the ball in the middle zone to score accuracy points?
The ping pong catapult kit (available in the Science Buddies Store) can be used with the following fun hands-on Science Buddies science projects:
Categories:
You Might Also Enjoy These Related Posts:
Explore Our Science Videos
Paper Bridges STEM Activity
Is the Egg Raw or Cooked? STEM activity
Harvest Water from Fog Science Project