Students Race to the Finish with Solar Sprint Cars
Science Buddies helped bring Solar Sprint exploration to classrooms around the country, increasing awareness of Junior Solar Sprint and supporting teachers doing hands-on STEM with students.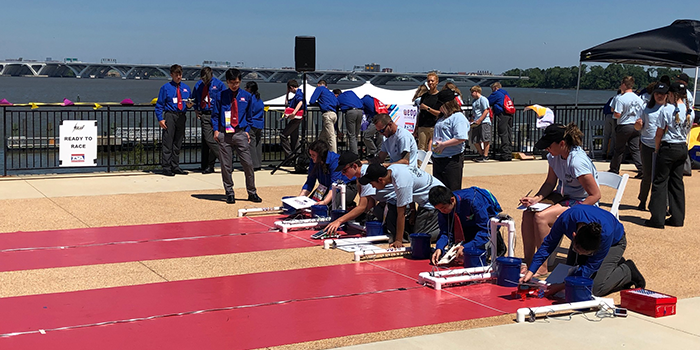 Above: Team Uger prepared for a timed trial at the 2019 Junior Solar Sprint competition in Washington, D.C.
Junior Solar Sprint (JSS) is an annual challenge for grades 5-8 that starts in local classrooms and out-of-school programs and culminates in the national Junior Solar Sprint competition where the top sixteen teams in the country face off in a solar-powered car race. Junior Solar Sprint is a program of the Army Education Outreach Program (AEOP) and encourages teachers to explore solar science and engineering with students through the building and testing of solar-powered cars.
As a classroom or out-of-school activity, Solar Sprint helps educators bring together core STEM curriculum and the engineering design process. Building the cars gives students the hands-on opportunity to learn about electronics and solar energy, an important renewable energy source. After completing the basic Solar Sprint car assembly, students can use the engineering design process to customize their cars for improved performance during races. Because Junior Solar Sprint requires that students work on their solar cars in teams, the challenge creates opportunities for students to practice valuable collaboration, communication, troubleshooting, and innovation skills.
Teachers and program coordinators interested in the Solar Sprint lesson can do the challenge with groups of students at any time of the year. Educators interested in further competition can register teams to attend regional competitions, and winning teams move on to the national competition.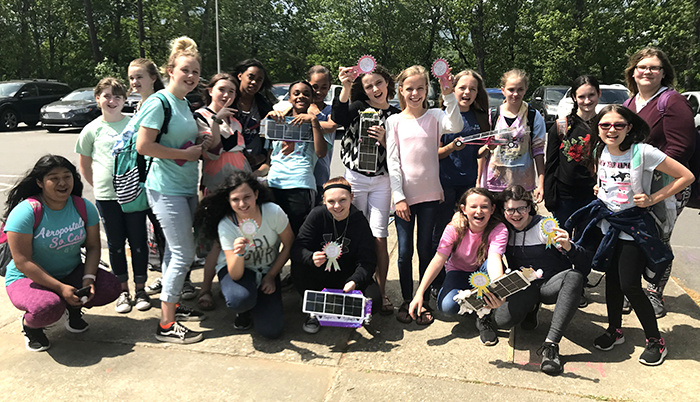 Above: Ms. Elkin's STEM Club celebrates with a group photo after successfully building and racing their solar cars.
Bringing Junior Solar Sprint to More Students
Science Buddies partnered with AEOP during the 2018-19 school year to help bring Junior Solar Sprint to even more students, especially in classrooms and programs where access to programs like Junior Solar Sprint is limited and where funding for hands-on STEM materials is often not available. With a mission of supporting hands-on science for all students, Science Buddies developed free resources to support educators interested in Junior Solar Sprint, including a fully-guided, step-by-step Lesson Plan. In addition, Science Buddies created a grant program to provide access to Junior Solar Sprint kits to educators working with communities traditionally underrepresented in STEM (like girls, minorities, and students with disabilities) or working with students in low-income and/or rural areas.
With support from AEOP, Science Buddies awarded grants to teachers at seven Title 1 schools. These grants made it possible for more than 240 students to take part in Junior Solar Sprint. Educators that received grants from Science Buddies to cover approved solar car kits for Junior Solar Sprint were from schools and programs in GA, IL, NC, NJ, SC, VA, and WA. All educators who received grants participated in Junior Solar Sprint this year for the first time.
Carole Bennage-Hernandez, a teacher at Northwoods Middle School in South Carolina, was excited about the chance to bring a hands-on STEM challenge like Junior Solar Sprint to her students. As Bennage-Hernandez explained, "My students will benefit from this program because they will be developing 21st century college and career ready skills. The JSS will have students working on their teamwork, problem solving, design, and critical thinking skills. This project aligns well with the Scientific and Engineering principles that I need to teach them in 7th grade." For Bennage-Hernandez, whose students don't otherwise participate in hands-on STEM challenges, Junior Solar Sprint has the potential to empower her students and build their confidence in their STEM skills. "This program will allow students to see themselves be successful in science/STEM," she said.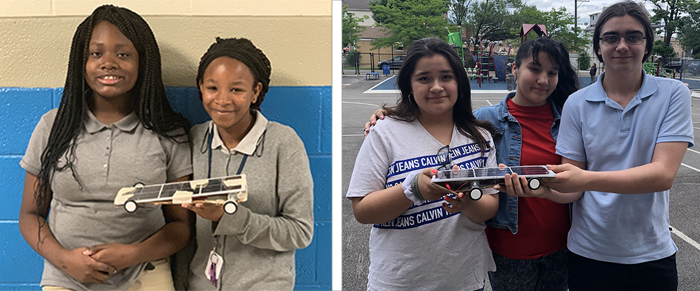 Above: Students from Carole Bennage-Hernandez's (left) and Melo-Benitez's (right) classes show off their Solar Sprint cars.
For grant recipient Emily Elkins, a teacher at West McDowell Middle School in North Carolina, Solar Sprint was a fun learning opportunity for her all-girls STEM club. "Building the Solar Sprint cars was a learning experience for all of us, teachers included! We learned to solder and how gears on the axles and motors work together. Being an all girls group," says Elkins, "we had very limited experience with working with any of these materials. Our GEMS Club (Girls Excelling in Math and Science) learned much and had a good time while trying something new. Thank you for providing my girls with an experience we've never had before!
Lizette Melo-Benitez, a teacher at Linne Elementary School in Chicago, Illinois, says Junior Solar Sprint helped her students explore real-world science in hands-on ways. "Building the cars for the first time was definitely a learning experience," she says. "Students were really excited when they figured out how to get their car to work with the proper gear ratio, transmission alignment, and solar panel angle." Melo-Benitez is already thinking about next year's Junior Solar Sprint and plans to gather additional materials to further inspire her students' creativity with the design of their solar cars. "Thanks so much for helping me through this process and making this possible for my students!"
A Trip to Nationals
After doing the Solar Sprint lesson with students, grant recipients had the opportunity to submit their top teams for a chance to receive additional funding to attend the national Junior Solar Sprint event at the 2019 Technology Student Association Conference (TSA) in Washington, D.C.
Michael Kenney, a teacher at Lake Quinault School in Amanda Park, Washington, was selected to attend the national event with Team Uger, one of his three student solar sprint teams. Team Uger joined ninety other teams at the national competition, where team project logs were evaluated by judges and each team had the opportunity to race their car in two timed trials. The top 16 teams moved on to the finals.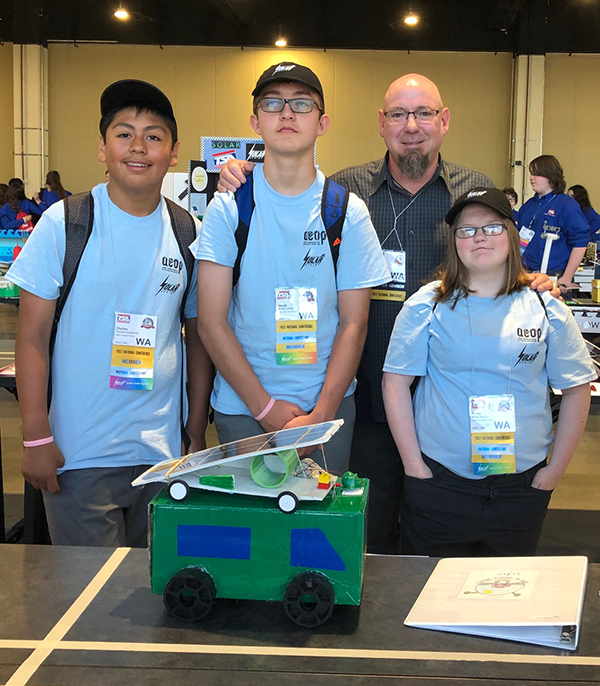 Above: Team Uger and Teacher Michael Kenney with their solar car for the 2019 Junior Solar Sprint competition.
In submitting their project logs for Junior Solar Sprint, Team Uger wrote: "When we first made our design, we didn't know what to do for our exact design. So we went with something simple. After testing with it a bit, we made many changes in our solar panel car, like adjusting the solar panel, fixed the wheels a bit, added a couple of accessories to make it look better. We went through many designs before we made our final design."
Free Lesson Plan for Building and Racing Solar Cars
The free, NGSS-aligned Lesson Plan from Science Buddies helps educators prepare and lead the Solar Sprint activity with students with confidence, regardless of whether or not they have electronics experience. The project can be done at any time of the year that fits with a teacher's curriculum needs or a program coordinator's planning. The free Solar-Powered Cars for Junior Solar Sprints lesson plan is NGSS-aligned and includes a complete how-to video and a downloadable student packet that guides students through the process and helps them document their work. Project directions are also available for students who are curious about solar power and want to build a Solar Sprint car on their own for fun. Whether students build a solar car on their own or work on a solar car as part of an official Junior Solar Sprint team and activity, Solar Sprint is an exciting way to explore solar power, electronics, and engineering design at any time of the year!
Learn more about Junior Solar Sprint with the following resources at Science Buddies and on the AEOP website:
Share Your Science Buddies Story!
Have you used a science project, STEM activity, or Lesson Plan from Science Buddies in your class or program? We would love to hear your story! Email us at scibuddy@sciencebuddies.org and tell us how you use Science Buddies with students.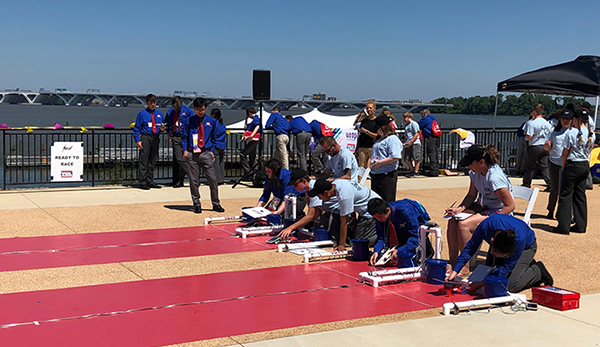 Categories:
You Might Also Enjoy These Related Posts:
Explore Our Science Videos
Slippery Slopes - STEM activity
Explore the Wet Sand Effect – STEM activity
Video: Paper Airplane Launcher