Lesson Plans Help Teachers Put Hands-on Science on the Calendar
Science Buddies Lesson Plans make it easier than ever for teachers to confidently lead standards-based science and engineering experiments and activities with their students.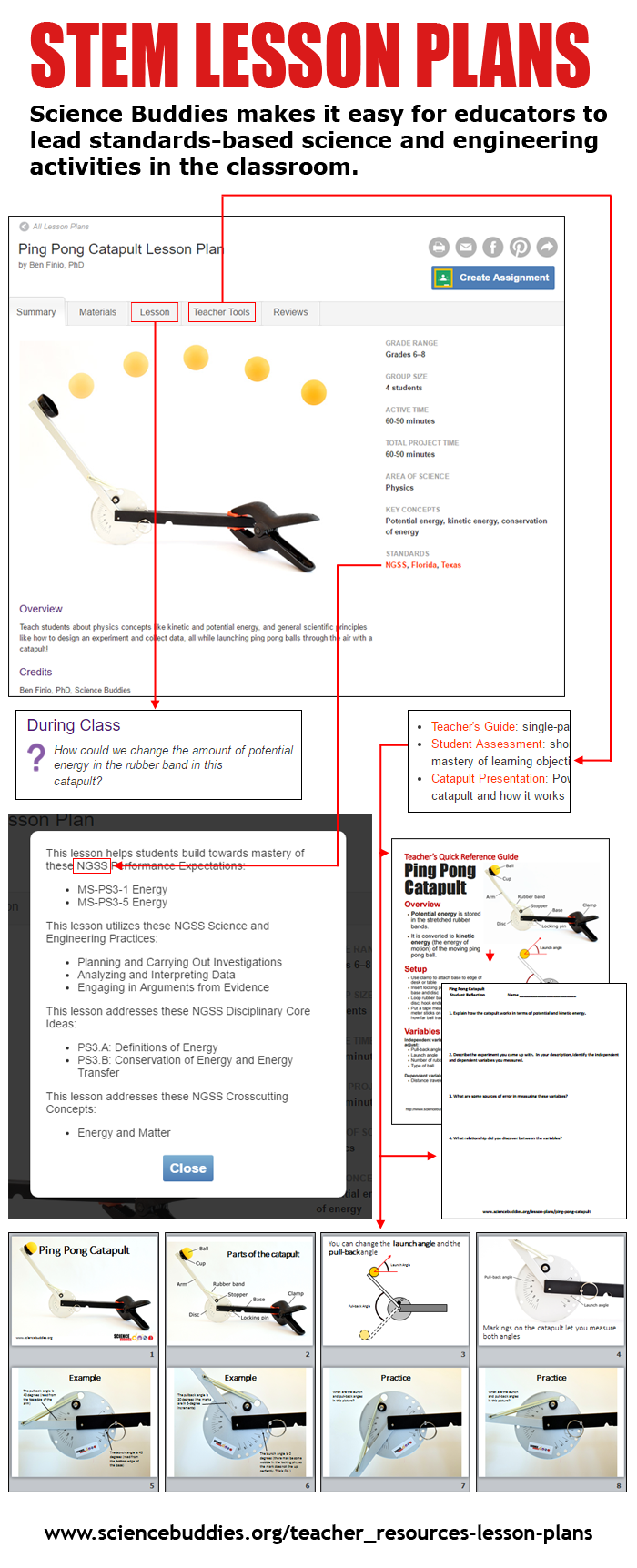 A collage of screenshots show a summary page for a catapult project on the website ScienceBuddies.org. At the top of the project summary page there is a navigation bar with tabs for lesson and teacher tools highlighted. Links on the right of the project summary page show a standards link that leads to a detailed description of educational standards the project aligns with (NGSS, Florida and Texas in this example). The lesson tab shows a question that could be asked during class to promote discussion and the teacher tools tab leads to three links labeled Teacher Guide, Student Assessment and Catapult Presentation.
Science Buddies Supports Science Education for Teachers and Students
Supporting teachers and their students is at the heart of Science Buddies' mission. Millions of students visit Science Buddies each year to discover an exciting, scientist-authored project for the science fair or to complete a school assignment. With more than 1,100 free projects, Science Buddies has projects for every student, and the Project Guide helps supplement and guide classroom instruction related to the Scientific Method, Engineering Design Process, or individual steps of doing a science project. Plus, with new Google Classroom Integration, teachers can assign worksheets and assessment quizzes to help students who are working on independent science projects and following the steps of the Scientific Method or Engineering Design Process.
With new tools and content designed specifically for teachers, Science Buddies is lending even more support to teachers looking for science, technology, engineering, and math (STEM) activities to do in the classroom with students.
Learning by Doing
Current curriculum standards in many states place an emphasis on hands-on exploration and active learning. Science Buddies' Lesson Plans help support educators in planning and leading science activities in the classroom.

Our new Lesson Plans have been carefully designed to help teachers plan and lead hands-on learning activities with confidence. Each lesson plan contains an overview, a step-by-step guide to the activity, an explanation of the science behind the experiment, sample discussion questions and talking points, a downloadable teacher's guide, student worksheets or handouts, and suggested variations. Some Lesson Plans also include presentation materials that make it easy to use smartboard technology while leading the activity.
What's in a Lesson Plan?
The image above shows the contents and layout of the Ping Pong Catapult Lesson Plan, one of the Lesson Plans available in the Teacher Resources area at Science Buddies.
Lesson Plans at Science Buddies use the format (and system of tabs) shown, with individual tabs making it easy to access the Summary, Materials, Lesson, and Teacher Tools. Reviews from other educators in the Science Buddies community also help teachers feel confident choosing activities for their classroom.
The Summary tab provides an overview of the classroom activity, including recommended grade level, the time involved (both preparation and actual activity/experiment time), recommended group size, the area of science, key concepts, and relevant standards.
To help teachers match hands-on science activities with curriculum requirements, Lesson Plans have been tagged with Next Generation Science Standards as well as state-specific standards for FL and TX. To view the standards for the activity, click the link (NGSS or the specific state). Relevant standards for a Lesson Plan are then shown in a popup window, like this one: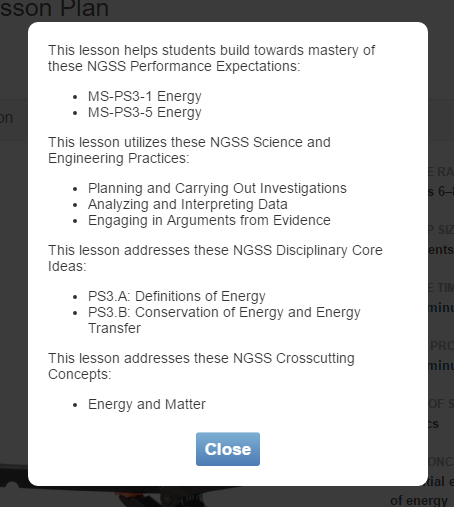 A cropped screenshot shows specific NGSS performance expectations, NGSS Science and Engineering practices, Core Ideas, and Crosscutting Concepts.
On the Lesson tab, educators will find a summary of the learning objective for the activity, additional information related to standards, and review of science concepts raised in the activity. On this tab, any special instructions teachers need to get familiar with the materials for the activity are provided, as are guided notes for how to lead the activity in class, including what to do and what to talk about with students. (Both sample questions and answers are provided.)
On the Teacher Tools tab, educators can access downloadable materials, which may include resources like a reference guide for teachers, a worksheet for students, or a presentation file for in-class use. (Note: To access these tools, you will need to be logged in at Science Buddies.)
Supporting Teachers
Science Buddies is dedicated to helping K-12 teachers bring hands-on science and engineering opportunities to their students. If you are an educator and use one of our Lesson Plans, please let us know. We encourage teachers who use a Lesson Plan to contribute the community by leaving feedback on the Review tab of the Lesson Plan. We always welcome your feedback.
To learn more about Google Classroom Integration, view our ongoing series of Digital Classroom posts and bookmark the Google Classroom Integration page.
To browse lesson plans and classroom activities, visit: www.sciencebuddies.org/teacher_resources-lesson-plans
Teacher Tip: Pin this Lesson Plan diagram for later: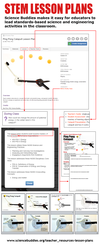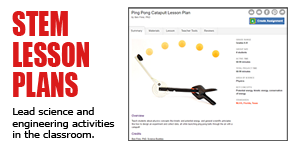 Categories:
You Might Also Enjoy These Related Posts:
Explore Our Science Videos
Paper Speaker Troubleshooting
Slippery Slopes - STEM activity