Look Up: Bird and Astronomy Summer Reading
Each book in this pair of science-themed books encourages kids to "look up," but each has an eye on something quite different. Make these books a part of your child's summer reading to inspire young birders and young astronomers!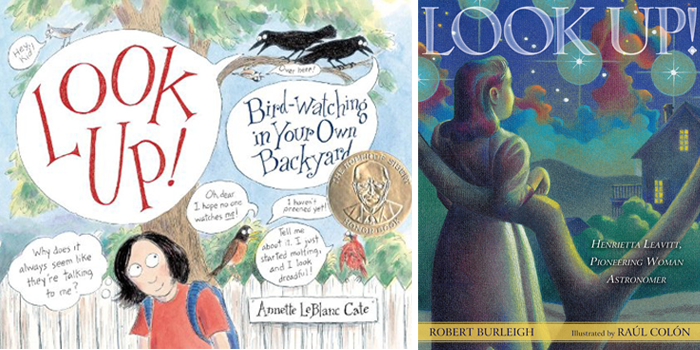 Encouraging kids to keep learning and reading all summer long is always important. Parents trying to stave off academic backsliding are increasingly creative about lining up summer science and engineering camps and facilitating hands-on science activities for their students. Don't overlook the opportunity to combine science education and summer reading, too!
Signing kids up for the summer reading program at the local library is a super way to encourage and support reading all summer long. Summer reading programs often require tracking of books or minutes read and offer incentives and prizes, which may help motivate students. Once kids are signed up, we encourage parents to suggest books with science themes as part of the mix of summer reading picks.
Picturebook Science
For the read-aloud crowd, science and engineering-themed summer books are often wonderful, memorable, and empowering stories for the whole family to see, hear, and ponder. These books can inspire kids of all ages about science and science careers. (Rosie Revere, Engineer and The Most Magnificent Thing are excellent examples!)
Look Up! (Birds)
Look Up! Bird-Watching in Your Own Backyard by Annette LeBlanc Cate (Candlewick, 2013) is a wonderful and unusual summer book for young bird watchers. The book is slim, but this is not a typical storybook. Cate combines narrative, informational tips, sketches, illustrations, and dialogue that happens between cartoon characters (including birds) to create an innovative and unusual children's birding book. The overall effect is a whimsical, fun, and accessible learning (and reading) adventure. In addition to learning more about birds, Cate hopes that readers of Look Up! will also be inspired to try sketching birds.
One of the best things about bird watching as a hobby, of course, is that you can do it from wherever you are. Start with the backyard, or spend a morning sitting at the park or by a local lake. What birds do you see? Look Up! starts off by helping readers learn how to look for birds. Once readers realize that birds are all around them, Cate provides information to help readers begin to better understand birds, identify them, and observe their unique characteristics, markings, habitats, and more.
How can you organize birds? Color is one way, and the author offers a wonderful chart showing a number of common birds arranged on the bands of a rainbow. You saw a blue bird? Check the blue band in the book's bird rainbow as the first step in trying to identify what you saw. While crows (black) and grackles (pointing out that they are blue, not black) make an appearance on the rainbow page, black and white and brown birds have their own pages because so many birds wear those colors!
Moving on from color, Cate explain that shapes, sounds, plumage, and behavior are also clues to identifying and categorizing birds. In addition to offering nice visual examples, her text helps birders understand what to look for when trying to identify birds. What is the shape of the bill? What is the general bird shape? What kind of feet does it have? Does it have a crest (which she relates to a hairdo or hat). What about the tail? All of these characteristics are accompanied by sketches that help illustrate the concept.
Encouraging careful observation, Look Up! guides readers in thinking about features and adaptations of various bird species and how physical characteristics relate to lifestyles, habitats, and the ways in which birds gather food (or what they eat). Look Up! covers habitats and migration, and throughout the book, Cate helps readers understand that birders of all ages can be scientists (and think like scientists) as they observe and identify the birds they see. As a read-along or as independent reading, Look Up! is an excellent book for a young or middle reader just beginning to explore birds, but it is also a charming addition to any birder's collection.
Making Connections
There are many family science explorations that can be woven into summer to help foster and support awareness of, and interest in, birds. The following science projects can easily be simplified for a family science activity related to the reading of Look Up!:
Look Up! (Astronomy)
For kids who love to gaze at the night sky (or are otherwise fascinated with space), see Look Up!: Henrietta Leavitt, Pioneering Woman Astronomer by Robert Burleigh and Illustrated by Raul Colon (Simon & Schuster, 2013). This is the story of Henrietta Leavitt who loved to look at the stars and the night sky from a young age.
Henrietta grew up in a time when most astronomy teachers and students were male, but she followed her passion and studied astronomy and graduated from Radcliffe College in 1892. She then worked at the Harvard College Observatory. Look Up! captures the difference in male and female roles at the observatory. At that time, women worked in a special room studying and measuring star positions in photographs taken by the observatory's telescope. This historical look at the field of astronomy may be frustrating to read, but as part of that group of women who analyzed sky photographs, Henrietta made an important discovery. She detected patterns by which certain stars appeared to blink on and off, and she correlated the time of the blinking to the brightness of the star.
Based on the pattern she detected, now referred to as the pattern of Cepheid variable stars, Henrietta determined that the brightness of a star can be calculated based on the time it takes the star to blink on and off. Her discovery helped astronomers determine a new approach to measuring distances in space. Her discovery also helped astronomers better understand the size of our own galaxy. Simply told, this story about a female scientist is a good choice to read aloud with children. Be sure and couple the storybook with discussion of the fact that both girls and boys can be astronomers!
Making Connections
Exploring the night sky and talking about stars, planets, and galaxies is a wonderful way for families to spend time together and to talk about science concepts. The following science projects can be simplified for a family science activity related to the reading of Look Up!:
Further Reading
For other summer science reading suggestions and science-themed book reviews, see:
More to Explore
For additional books about women in science, check your library or local bookstore for titles like these: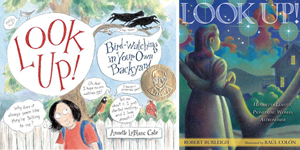 Categories:
You Might Also Enjoy These Related Posts:
Explore Our Science Videos
Slow Motion Craters - STEM Activity
Solubility Science – STEM Activity
Jumping Candle Flame Experiments – STEM activity