Nick and Tesla Build a Gadget Glove: Science Reading
Book four in the Nick and Tesla series lands the twins in a museum mystery. To get to the bottom of the plot and save an exhibit of animatronic scientists and inventors, the kids build a clever gadget glove that introduces readers to a set of fun DIY wearable electronics projects!
We are big fans of the Nick and Tesla series, and with book four, Nick and Tesla's Super-Cyborg Gadget Glove: A Mystery with a Blinking, Beeping, Voice-Recording Gadget Glove You Can Build Yourself by Bob Pflugfelder and Steve Hockensmith (Quirk Books), we found ourselves stuck in a museum. While their uncle works on fixing a special animatronics display that brings famous scientists and inventors to life but has inexplicably gone bezerk, the kids stumble into a mystery at the museum. With each twist and turn in the plot, the innovative twins add something to a glove and turn it into a multi-fingered, gadget-laden tool that helps them solve the mystery and foil a museum heist.
Book four has a bit of a Scooby-Doo feel to it. With cranky and kooky adults running the museum, Coolicious McBrainy, the museum's giant dancing owl mascot, showing up at every turn, and malfunctioning animatronic versions of science greats, including Tesla, Einstein, Eli Whitney, Dian Fossey, and Carl Sagan, there is an exciting blend of chaos and intrigue to fuel book four—and a clever group of kids determined to save the day.
Engineering in Action
With the clever and innovative approach we've come to expect from these twins, Nick and Tesla tackle each problem that comes up, and each need, with an engineered solution. Because the kids are confined to the museum and its labyrinth of hallways that snake around the exhibits, the engineering in book four is happening in tight quarters and with materials they can scavenge.
To allow them to explore and investigate, Nick, Tesla, and friends Silas and DeMarco begin building the glove that ties together the science, technology, engineering, and math in book four. The first addition to the glove is an LED-powered finger that can be used to send a lookout signal when someone is coming. Directions for the The Nick Signal finger are included for readers. The project requires few materials, and kids can manage this build themselves, beginning the process of constructing their own cool Nick and Tesla-style glove. Pinching forefinger to thumb activates the LED for a fun light-up project.
The next addition to the glove is Tesla's False-Alarm Alarm. Similar in construction to the LED finger, this gadget uses a Piezo buzzer and speaker wire. Touching thumb to the wired finger activates a buzzer powered by a 9 volt battery. This isn't just a small buzz though. The alarm finger emits a screeching noise that sends workers scurrying from their offices to figure out what's happening, effectively clearing the way for the kids to continue their investigation.
The third finger adds a digital audio recorder to the glove. Unfortunately, during his stint wearing the cyborg glove with the recorder, DeMarco disappears. They find the glove in one of the hallways on the floor—and DeMarco is gone, which kicks the story into high gear as they race to solve the mystery, save the Hall of Genius (if it needs saving), and find their friend.
Their final gadget glove innovation is Nick and Tesla's Semi-invisible Bad Guy Tracker and Secret Message Mixture. This one will remind series readers of a similar tracking project using fluorescent markers from the first book. With an ultraviolet LED wired to the glove, they have a way to reveal messages written in invisible ink—or bad guys splashed with the same ink—by shining the glove's light on them.
Thanks to the kids, the thieves are caught, the mystery is solved, and DeMarco is found, safe and sound.
Another Fun Read for Young Inventors
The action is a bit slower in book four, and there are less projects to build, but the gadget glove is a great introduction to wearable electronics, and the individual projects are kid-friendly and fun. This is another solid title in the storyline, and both long-time fans and readers new to the series will enjoy Nick and Tesla's Super-Cyborg Gadget Glove: A Mystery with a Blinking, Beeping, Voice-Recording Gadget Glove You Can Build Yourself.
Want more? Book five, Nick and Tesla's Special Effects Spectacular: A Mystery with Animatronics, Alien Makeup, Camera Gear, and Other Movie Magic You Can Make Yourself!, is also available!
Don't miss our reviews of other books in the Nick and Tesla series: Nick and Tesla's High-Voltage Danger Lab, Nick and Tesla's Robot Army Rampage, and Nick and Tesla's Secret Agent Gadget Battle. See more book reviews at Science Buddies.
Extend the DIY Science Fun
Nick and Tesla's LED signal, the first finger of the gadget glove, relies on a circuit made from speaker wire. You can explore similar projects involving e-textiles and wearable circuitry in our LED Dance Glove project. For a more advanced look at wiring circuits on a glove, see the LED Traffic Glove: Build a Safety Device to Direct Traffic electronics project. Though less wearable, you can get hands-on with similar circuitry in our new copper tape circuits activity and electric paint circuits project. Or try your hand at wiring circuits using play dough with the Squishy Circuits Kit from the Science Buddies Store!
See also: Science Projects that Double as Halloween Costumes, Red, White, and Blue with Soft Circuits, Creative Circuits with Copper Tape, and Electronics and Play Dough: Fun, Tactile Family Science.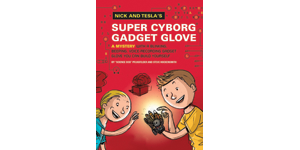 Categories:
You Might Also Enjoy These Related Posts:
Explore Our Science Videos
Aluminum Foil Boat Design - STEM Lesson Plan
Write and Read Braille – STEM activity