Tools to Manage Science Projects and Science Fairs
Find tools to help streamline assigning, managing, and assessing science projects. We also have resources to help you plan your science fair! This is part 4 in our 5-part STEM Education series on the value of science projects and science fairs.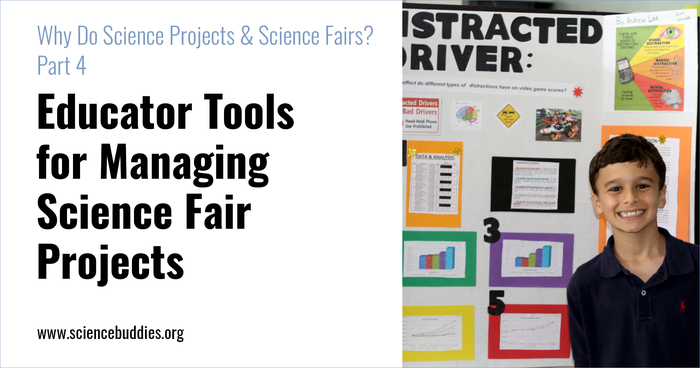 Science Buddies has a number of free tools for educators to help manage the student science fair project, from start to finish. The tools linked below work hand-in-hand with the tips and best practices we shared in the previous post in this series.
Teacher's Guide to Science Projects
The Teacher's Guide to Science Projects contains pedagogical information about doing science projects, discussion of multiple ways to do presentations, a science expo planner, and more. The resource has printable handouts, including a Student Science Project Schedule, a letter to parents (with a table outlining appropriate parent involvement), and a Project Proposal form. This guide also contains printable worksheets that align with individual steps of the science project, from forming a hypothesis to a final report checklist.
Educator Resource for Science Projects and Science Fairs
The following information highlights tools and teacher resources that map to the stages of assigning and managing student science projects.
Prepare students for doing independent science projects:
Plan the science project assignment timeline:
Help students find and select projects:
Monitor and assess students throughout the science project:
As described in 10 Tips and Best Practices for Assigning and Managing Science Fair Projects, breaking the project into smaller assignments helps keep students on track with their projects. A number of free tools and rubrics are available to support individual assignments (and assessment) related to specific parts of the science project process:
Help students prepare for the science fair:
These tools can help students as they write their final report, prepare a project display board, and get ready to share the project at the science fair:
Science Fair Planning and Judging
If you are planning on holding your own school science fair, the A Guide to Planning a Science Fair resource walks you through every step of planning your school science fair—from setting goals for the fair to recruiting and training volunteers and judges. Judging guides, scorecards, and rubrics for both science and engineering projects can be downloaded from the Science Fair Tools page.
See all posts in the Why Do Science Projects and Science Fairs? series.
Pictured: Andrew, a fourth-grade student who put distracted driving to the test with a video game-based science project. Browse success stories for other inspiring stories.
Categories:
You Might Also Enjoy These Related Posts:
Explore Our Science Videos
Why Won't it Mix? Discover the Brazil Nut Effect
Make a Water Strider - STEM Activity
Slippery Slopes - STEM activity