Your Science Project Data Wherever You Are
Google's Science Journal app now syncs with Google Drive to make it easier for students to access their science project data from multiple devices.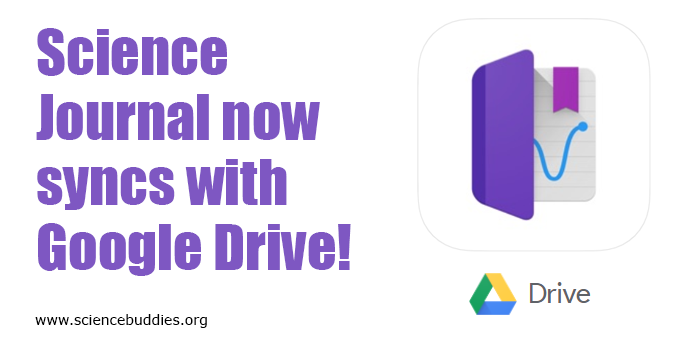 Science Journal now syncs with Google Drive! www.sciencebuddies.org
Note: The Google Science Journal app is no longer available. Projects and Lesson Plans at Science Buddies that used the app have been revised to use other sensor apps for mobile devices that have similar functionality. The information below may still be valuable as a starting point for working with sensor-based apps, but please refer to your app for specific information about accessing and using sensor tools.
Google's Science Journal app is a great way to encourage students to gather quantitative, real-time data, take notes, and make observations as part of their hands-on science projects. With the array of sensors available on mobile phones, the free Science Journal app, available for ios or Android, makes collecting data from experiments involving variables like light, sound, acceleration, and pitch as easy as pressing a "start recording" button. With its new support for Google Drive, this portable toolbox is even more mobile!
Get Started with Drive Sync
Syncing to Google Drive is now built into the Science Journal app. After signing in with your Google account, any new experiments you start will automatically be saved to Google Drive. If you log into your Google account from another device with the Science Journal app, your experiments will automatically be available on that device. Any changes you make or observations you add to your experiments will be synced to Google Drive so that you can work on your projects on whatever app-enabled device you are using that day. (This feature is especially helpful in schools where students may use different devices from traveling or classroom carts.)
Note: If you installed the app before the Google Drive feature was added, check to see if an update is available and, if so, install it. Once you open the updated app, you will be prompted to sign in with your Google account. If you have multiple Google accounts, be sure to log in with the account you want to use for storing your Science Journal app data. If you do not want to connect to a Google account, you can choose to use the app without signing in.
Claim Your Experiments
After connecting your Google account, you can begin using the app to create new experiments. New experiments will automatically be saved to Google Drive. To use or view experiments you created in the past on the device, you will first need to "claim" them, a process that saves your experiments to your Google account. You will need to individually choose which of your older experiments you want to connect to Google Drive. Click the Google Drive icon for each Experiment you want to save in Google Drive.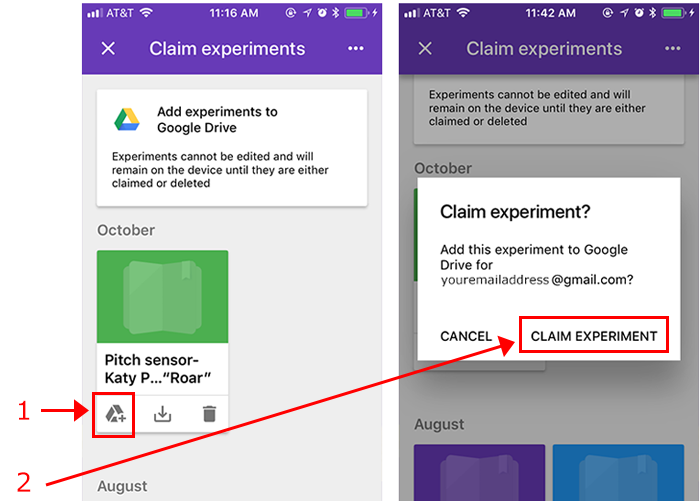 Two screenshots show an experiment in the Google Science Journal app being claimed and added to Google Drive. The left screenshot shows an experiment in the Science Journal app with a Google Drive icon highlighted in the lower-left corner of the experiment thumbnail. The right screenshot shows a pop-up box that asks for confirmation to claim the experiment and add it to Google Drive for a specific email address.
Note:The app detects all previous experiments on the device and will continue to show you the number of unclaimed experiments (as shown below) until you sync them all to Google Drive or delete them.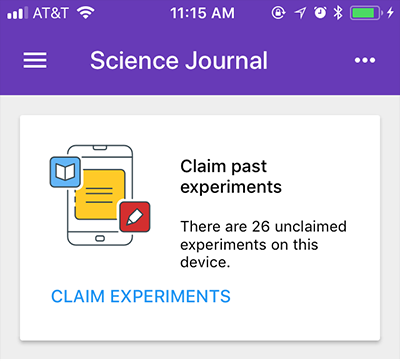 Finding Your Experiments
After claiming an experiment, it will appear in your Experiment Feed (ordered by month) and will also be visible in the Science Journal folder in your Google Drive. The experiment files you see in Google Drive can't currently be previewed or opened in Google Drive, but they will be available on any Science Journal app device you are using connected to your Google account.
Sharing experiments via Google Drive is not currently possible but may be a feature in the future. Similarly, you can not make simultaneous changes to an experiment on multiple devices.
Try Science Journal App!
Google's free Science Journal app gives students a powerful set of data gathering tools for their projects. Many Science Buddies projects and Lesson Plans provide suggestions for using the app as part of a hands-on science activity or experiment, and students may find ways to use the app for whatever science or engineering project they choose. To see what's possible with the app, view these videos:
The following "Try It!" posts provide additional suggestions for ways to explore Science Journal app informally:
Learn More
For hands-on guidance learning to use the Science Journal app, see our tutorial series.
Download the App to Get Started!
The Google Science Journal app is no longer available. Download links have been removed.
Share Your Science Buddies Story!
Have you used a science project, STEM activity, or Lesson Plan from Science Buddies in your class or program? We would love to hear your story! Email us at scibuddy@sciencebuddies.org and tell us how you use Science Buddies with students.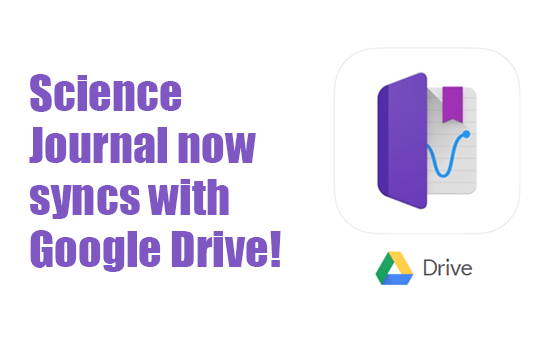 Categories:
You Might Also Enjoy These Related Posts:
Explore Our Science Videos
How To Curl Metals With Heat
Make a Whirlybird from Paper
DIY Mini Drone Part 6: Motion Control