Curated STEM Resources for Teaching Science Units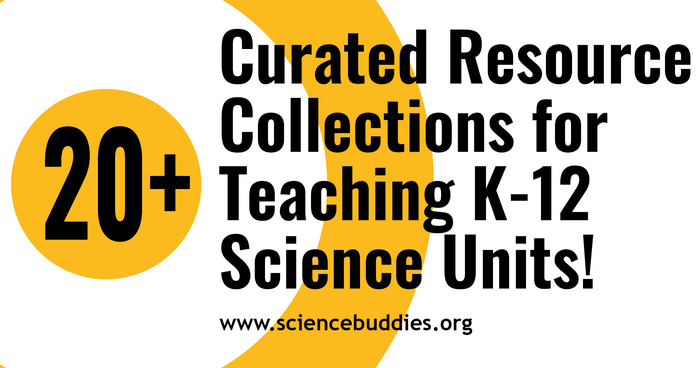 Discover STEM Lessons for Your K-12 Classroom
What are you teaching this week? Next week? Next month?
Mixtures and solutions? Types of energy? States of matter? Forces of motion? Biodiversity? Newton's laws of motion? Health and human body systems? Magnetism or electromagnetism? Density?
We know educators spend a lot of time searching for quality lessons to fit their curriculum needs each year. Not only do you want quality materials that align with your class objectives, but you want materials that are easy to use, thoughtfully designed and prepared, and help bring concepts to life with hands-on experiments and activities that really work.
Science Buddies offers all of this for free!
Planning for a Year of STEM
No matter what curriculum boxes need to be checked off in the school year, science educators often cycle through a series of important science concepts, principles, and laws.
To make it even easier to find free STEM lessons and activities that fit your teaching needs, we've created a series of Teaching Science Units posts that focus on commonly taught science topics. Each resource in this series offers a curated set of lessons, activities, and experiments that are hand-picked for educators who will be teaching specific subjects.
For other calendar-based STEM connections, see our STEM Calendar for Educators: Month by Month STEM.
Our current Teaching Science Units STEM resource collections are listed below:
Teaching Science Units Collections — Life Sciences and Physical Science
Life Sciences
Physical Science
STEM Education Materials You Can Trust
With a combination of more than 200 NGSS-aligned Lesson Plans and more than 450 STEM Activities that are perfect for classroom use, we have engaging, high-interest, scientist-authored learning materials in a wide range of topic areas and for all grade levels.
Our extensive library of resources for STEM education makes us a trusted, go-to resource for many educators.
Bookmark This Page!
Bookmark this page for easy access to the Teaching Science Units collections. You can also browse these collections.
Thank You to Our Sponsors
Development and maintenance of these educator resource collections tied to K-12 science curriculum is made possible by generous support from our sponsors.
If there are other topics you would like to see us create lists for, please let us know!
Categories:
You Might Also Enjoy These Related Posts:
Explore Our Science Videos
Why Soda Fizzes – Boyle's Law Demonstration
How to Build a Toy Car - Science Project