200 Free Lesson Plans for Science and Engineering
Plan your school year with ease! Choose from 200+ free science and engineering lesson plans for K-12 teachers!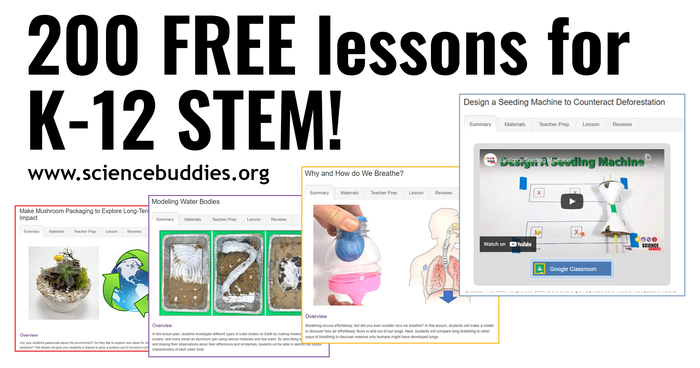 Science Buddies first started developing NGSS-aligned educator lesson plans in 2017. Our free Lesson Plans help K-12 educators confidently teach science and engineering concepts to students. Today there are more than 200 plug-and-play lessons on our site to support educators teaching science, technology, engineering, and math (STEM).
Lesson Plans at Science Buddies contain scaffolding to help teachers review and prepare to teach a STEM subject, even in an area they may not have taught before. NGSS-alignment information is provided for teachers looking for lessons to meet specific curriculum needs. Lessons also include guided discussion and reflection questions, a step-by-step hands-on activity or experiment, and supplemental materials like worksheets, assessment tools, videos, and more.
Note: To learn more about the structure of a Science Buddies Lesson Plan, see How to Use a Science Buddies Lesson Plan.
New Lesson Plans
The lists below offer a sampling of Science Buddies Lesson Plans available for elementary, middle, and high school.
Grades K-4
Grades 5-8
Grades 9-12
Library of Free STEM Lesson Plans
To find even more engaging lessons for STEM education, educators can browse all Lesson Plans or use the search filters to find lessons in specific areas of science or for specific grade levels.
Some Lesson Plans have been developed by our partner organizations, including California Academy of Sciences, National Agriculture in the Classroom, and Teach Engineering.
Categories:
You Might Also Enjoy These Related Posts:
Explore Our Science Videos
Light-Tracking Robot: BlueBot Project #2
Science Buddies: Hand Warmer Chemistry
Balloon Car: 2015 Engineering Challenge