STEM is for Everyone: Temple Grandin, Animal Scientist with Autism
The unique attributes of her autism helped Dr. Temple Grandin succeed in animal science. Her story highlights the power of personal interest and of mentors and educators who embrace difference and find ways to motivate and empower all students to excel.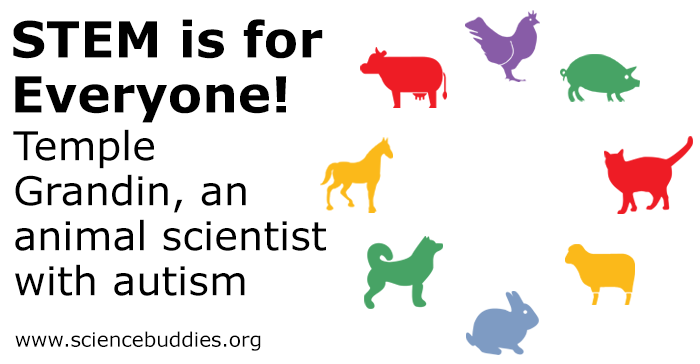 Temple Grandin is a professor of Animal Science at Colorado State University and is a well-known speaker and author about both animal behavior and autism. Her pragmatic approach to talking about autism has helped many people better understand autism spectrum disorder. We include Dr. Grandin in this special STEM is for Everyone: Scientists with Disabilities series because we think it is important for educators, families, and students to see that with the right motivation and learning opportunities, students with autism can excel in STEM careers. Autism spectrum disorder is not a learning disability, but it is covered by the Individuals with Disabilities Education Act (IDEA), which helps protect the rights of students with disabilities in public schools, so we include it in this series as we work to broaden conversations about science education for all students.
A Special Set of Skills
People with autism may speak later than others, may be highly sensitive to sound or touch, and may have trouble with social interaction, but they may also have important attributes and skills that, when empowered, can be incredible assets in STEM fields. Dr. Grandin says she is a visual thinker. She describes the way her brain processes information as something like an image-based search engine. In her "The world needs all kinds of minds" TED Talk (2010), she explains, "I think in pictures. I don't think in language. My mind works like Google for images." In addition to visual thinking, Dr. Grandin identifies several other traits that are common among people on the autism spectrum. For example, many people with autism are very attuned to details and are also very good at sorting data into categories. These are all attributes that have helped Dr. Grandin succeed with animal science.
The Power of Personal Interest
Growing up, Dr. Grandin was interested in things that flew, like kites and model airplanes. She had problems fitting in with kids at school, but she participated in group activities that matched her interests in electronics, model rockets, and making things. She was always interested in art and in taking things apart, learning how things work, and putting them back together. This kind of exploration is an important part of invention, innovation, and engineering. She's so passionate about hands-on science and engineering that she wrote a book called Calling All Minds: How to Think and Create Like an Inventor.
On her aunt's farm, Dr. Grandin had the opportunity to be around cattle and horses. She says that her visual processing of information helps her better understand animals because they, too, use a sensory approach to the world. By observing cow behavior in certain scenarios, she saw ways that livestock handling could be improved and made more humane. Because of her attention to detail, she noticed things in cattle handling facilities that might frighten cattle, things that others overlooked, like the placement of a flag or the way shadows might fall. Using her engineering and art skills, she drew up plans for improved cattle handling and corral systems, like the curved chute and center track restrainer systems, that are used around the world today.
How can you help students with autism explore STEM?
Students on the autism spectrum often have to work especially hard to develop social skills that are necessary to succeed in school and in the workforce, but with an interest identified, whether it's animals or energy or engineering, autism isn't something that should shut students out of STEM careers. In fact, Dr. Grandin suggests that people on the autism spectrum are ideally suited for many STEM careers and that many of the world's achievements happened because of scientists and engineers who would likely be defined today as being on the autism spectrum.
Because autism is a spectrum, there is no single approach to encouraging students with autism to explore STEM. Providing hands-on opportunities is important, as is understanding that students with autism may process or respond to information differently. Dr. Grandin advocates building upon strengths and interests and accepting that certain boxes won't always be checked off in the expected way. (Dr. Grandin often talks about her inability to grapple with the abstraction of Algebra.)
"Autism is not 'one size fits all.' The more we learn about 'the spectrum' (the range of abilities and deficits an autistic person may have), the more we will understand different kinds of minds and how important different kinds of thinkers are—especially where creativity, innovation, and invention are concerned. I like to think of myself and other people who are different kinds of thinkers on a human spectrum. Though our brains may work in different ways, there is no limit to the kinds of contributions we can make." (Temple Grandin, Calling All Minds)
Personalized STEM Learning
Sometimes, an unexpected interest can become an important fulcrum of learning. After observing the way cattle calmed down in a squeeze chute when getting shots, Dr. Grandin convinced her aunt to let her try the squeeze chute. She went on to design a similar "hug box" for people with autism.
Dr. Grandin's story is a powerful reminder of the importance of personal interest in activating student interest in STEM careers.
Using the Topic Selection Wizard is one way to help students identify areas of interest. After taking the short survey, the Wizard recommends projects that match up to interests the student has indicated. Reviewing the background information tab (or the photos on the procedure) can help a student get a sense of a project. Searching projects based on keyword is another approach.
Students inspired by Dr. Grandin's story or interested in animals may enjoy the following science projects and activities:
To learn more about careers in animal science, see the following STEM career profiles:
Learn More
Books by Temple Grandin
Additional Resources
The STEM is for Everyone Series
For more information about this series of profiles of scientists with disabilities and to learn about other scientists and engineers, see the following posts:
---
This post is part of our
STEM is for Everyone: Scientists with Disabilities
series. This series is made possible by generous support from Mitsubishi Electric America Foundation, a non-profit foundation jointly funded by Mitsubishi Electric Corporation of Japan and its US affiliates, working to make changes for the better by empowering youth with disabilities to lead productive lives.
Animal icons adapted from icons by
FreePik
. CC 3.0 BY.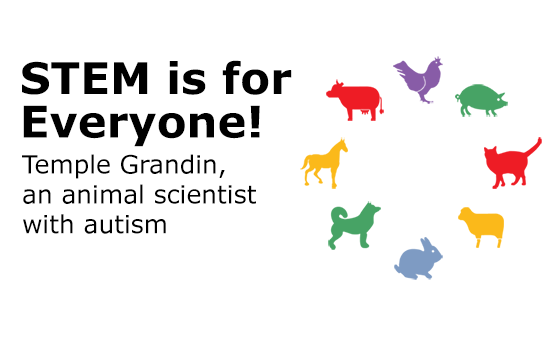 Categories:
You Might Also Enjoy These Related Posts:
Explore Our Science Videos
Line-Tracking Robot: BlueBot Project #3
Candy Snap! Does freezing candy make it more brittle?