Shoebox STEM: A 4-H Success Story
As a non-profit that focuses on engaging students in hands-on science explorations, we could not be more excited to share the successes of another hands-on learning organization, Ohio 4-H! This organization prides itself on being an educational program for kids to build life skills to help them succeed.
By Lily Arendt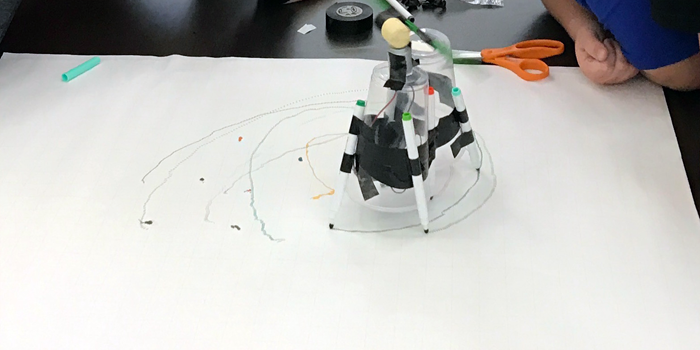 Above: Students in an Ohio 4-H program learn about robotics by building and testing their own ArtBots.
Bringing Science into the Hands of Students
In Ohio 4-H, science is everywhere. Mark Light, an Ohio 4-H coordinator, says that their goal is to "help youth get connected to science early on so that it may lead to future careers [in science]." He explains that although "some may think that 4-H is only about livestock and cooking projects, we have a large assortment of STEM-related projects." Currently, Ohio 4-H has versatile and successful STEM programs already in place, but they are always on the lookout for new ways to promote hands-on science learning across the state.
When Mark was asked to think of a new, efficient way to provide STEM materials to Ohio's ten 4-H regions, he needed to think outside of the box. Or in this case, inside of a shoebox.
Shoebox STEM
Mark wrote a statewide grant for Ohio 4-H titled "Shoebox STEM." Mark's idea involved packing a shoebox with all the materials required to complete a hands-on STEM activity. The compact size of the shoebox would allow the activity to be done in a classroom, 4-H club, or camp with ease. Mark explains that although they had a surplus of STEM curriculum, "it was still up to the educator to gather all the materials to teach the program, and some educators avoided teaching STEM all together as they thought it was too advanced for their understanding."
Mark's idea of easy-to-implement Shoebox STEM activities would be a great resource for educators. With Shoebox STEM kits, educators would be able to lead activities with minimal preparation.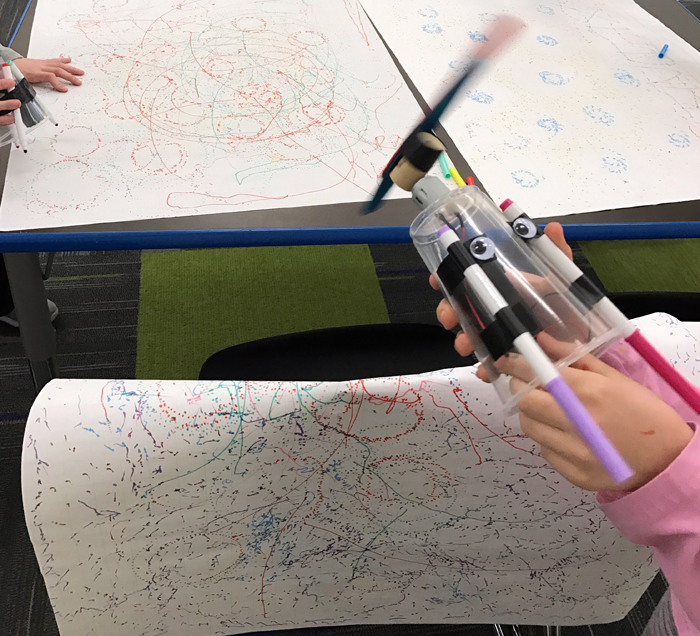 Above: Ohio 4-H students exploring ArtBots using materials from a 4-H Shoebox STEM kit.
When searching for activity ideas that would fit inside the shoebox, Mark remembered attending a 4-H conference where a colleague demonstrated the ArtBot, an introductory robotics activity using the Science Buddies Bristlebot Kit. "We were looking for tiny materials that still packed the STEM punch, an activity that was hands-on and fun to do," says Mark.
Once Mark ordered and received the Bristlebot Kits, his team took the Science Buddies materials and instruction card and placed them in a shoebox with additional craft supplies for the ArtBot activity. He distributed the shoebox kits to the other 4-H coordinators and facilitated educator training on the activity. For coordinators who couldn't attend the training, he directed them to the comprehensive online instructions available on the Science Buddies website.
K-12 Student Robotics
For more information about doing robotics projects with students, see the following: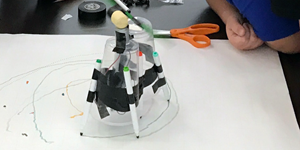 Categories:
You Might Also Enjoy These Related Posts:
Explore Our Science Videos
Build A Gumdrop Geodesic Dome!
Solve A Mirror Maze Reflection Challenge!
Introduction to Paper Chromatography | Theory and Practice