Build Fun Robots with Students
Encourage students to explore robotics with a guided, hands-on project or activity. Science Buddies has projects, activities, Lesson Plans, and convenient kits that make it easy to do robotics with students.

Build Fun Robots! Robotics projects for K-12 students. Hands-on STEM with Science Buddies. www.sciencebuddies.org
Student Robotics Projects and Activities
Science Buddies has projects at all levels for student robotics. See our Bring Robotics to the Classroom for National Robotics Week post for more information about moving from introductory explorations to more advanced projects.
The following Science Buddies projects and activities are highlighted in the robotics projects collection image above:
Additional Resources for K-12 Robotics Exploration
Have your students done one of these robotics projects in class? We would love to hear about your experience teaching and leading robotics activities with students. If you are interested in sharing your story, contact us at blog@sciencebuddies.org.
Pin this collection: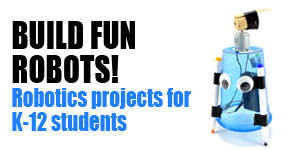 Categories:
You Might Also Enjoy These Related Posts:
Explore Our Science Videos
Make Fake Snow - Craft Your Science Project
Slippery Slopes - STEM activity
How Antibiotic Resistant Bacteria Take Over – STEM activity