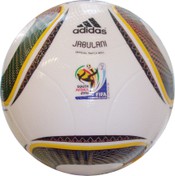 A World Cup Debate
Away on vacation last week, I was admittedly only vaguely aware that the World Cup was getting ready to start. With soccer kids in the house, I did "know" it was World Cup time, but in the actual passing of days, we were busy trying to get kites in the air, exploring the impact of wind on the trajectory of air-pumped rockets, and throwing Nerf football. The opening game and the fact that world football was taking center stage on sports TV slipped by.

Then I saw an email alerting me to the controversy brewing over the design of the official 2010 World Cup "ball." Though I caught some World Cup footage near the end of my trip, I am just now catching up with major media coverage for the scoop on the disputed "ball" that took Adidas 5 years to design. There's interesting sports science here for those with an eye on spin, ball flight, and even the impact of altitude. (This year's World Cup is in South Africa at an elevation of more than 5000 feet!)

A New Design
Forty years ago, Adidas introduced the Telstar, the now-familiar black and white hexagon-patterned ball. The 1970 World Cup in Mexico was the first one to be televised live, and the black and white ball showed up well on screen.
The two-toned design caused a stir in 1970, but this year's design has goalies, in particular, scratching their heads as balls reportedly "move" differently than expected.
The ball, named Jabulani (which means "celebrate" in Zulu), has been hailed as the "roundest" ball ever. The ball is not, however, the smoothest ever. Despite its eight spherically molded pieces, the Jabulani sports numerous small "ridges" on its surface, a design feature that may be adding an element of surprise to just where the ball will go.
When the ball was unveiled last fall, the New York Times reported Adidas' claims that the ball's cutting-edge Grip'n'Groove technology offers "a perfect grip under all conditions" and that the smooth surface increases accuracy.
Those kicking, heading, and blocking balls at the World Cup apparently see things differently.

Ball Science
To wrap your head around the science that may be underfoot with the Jabulani's performance—and the factors that affect a ball in play—check these Science Buddies Sports Science projects:

For more on the science playing out in this year's World Cup, see World Cup: How Altitude Could Cause Players to Overshoot.

Categories:
You Might Also Enjoy These Related Posts:
Explore Our Science Videos
Test Different Pinwheel Designs
Obstacle-Avoiding: BlueBot Project #4
Build a Bird Feeder to Study Birds – STEM activity