Help Students Explore STEM Careers
Science Buddies' STEM career profiles encourage students to learn more about a diverse range of career paths and to see how careers relate to science projects and topics they enjoy.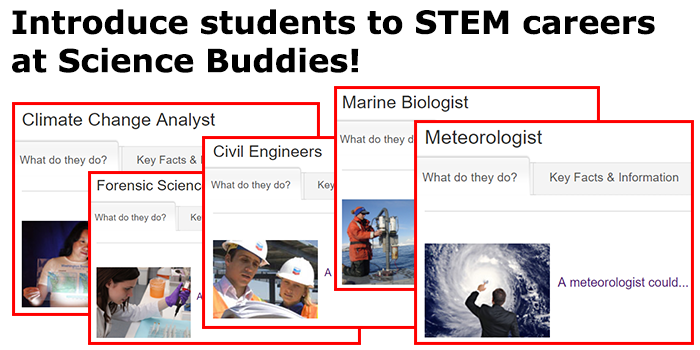 There are hundreds of STEM career paths, and job market forecasts continue to indicate high demand for employees in science fields. Without opportunities to learn more about the wide range of careers and without encouragement to explore careers that may match their individual interests, many students have a limited understanding of what a future in STEM can look like. Even within broad fields of science and engineering, there are many, many specialized jobs.
The Careers in Science area at Science Buddies helps students learn more about STEM careers, including what tasks a job typically entails, what classes and degrees are required, what average salary ranges are, and what kinds of companies hire for certain types of jobs.
STEM Career Profiles at Science Buddies
The following walk-through uses the Meteorologist profile as an example to provide an overview of what you will find when viewing STEM career profiles at Science Buddies.
What do they do? When you first open a career profile, you are on the "What do they do?" tab. On this screen, students see a series of statements that offer a quick look at "what" someone in this job does. Each career statement is paired with a relevant photo. To continue learning about the career, students can click the "Find out more" link or use the tabs at the top of the career profile to go to the other sections.

Key Facts & Information. On this tab, students will find a great deal of information about the requirements and possibilities for the career. The "Key Facts & Information" table includes educational requirements, salary estimates (and comparison to the U.S. Mean Annual Wage), projected job growth through 2024, links to relevant interviews, and a list of other careers that are related and might also be of interest.

Education. On this tab, students will find additional information about the level of education needed for this job.

On the Job. On this tab, students will find a summary overview of the job, a video-based interview with someone who works in this field, a description of the work environment, a list of "On the Job" statements that help students better envision the types of tasks someone in this job actively does, and a short list of companies that hire in this area.

Project Ideas. On this tab, students will find a list of project ideas from the Science Buddies library of more than 1,100 hands-on STEM projects that relate to this career. The purpose of this tab is to help students bridge the gap between learning about a career and doing hands-on science. A student interested in this STEM career might want to read through some of the related projects to get an idea of what this area of science involves or might choose one of these projects for further exploration. Trying a project or activity in an area of science related to a STEM career of interest is a great way for students to test their interest in specific career paths.

More. On this tab, students will find links to help guide further research. Bibliographic information for the sources used in creating the career profile is also provided.
From Project Idea to Career
As noted above, students viewing STEM career profiles can view related science projects on the "Project Ideas" tab of each profile. Linking projects and careers in this way helps students bridge the gap between what a career sounds like and what it is like to do experiments that might be a part of that STEM career. By doing hands-on experiments that are related to careers of interest, students have the opportunity to try out areas of science and ask themselves, "Do I enjoy working with this kind of science?"
Project-career connections appear within career profiles and project ideas at Science Buddies. This helps reinforce the link between future career opportunities and hands-on science during the school years. Project Ideas at Science Buddies list related STEM careers at the bottom of the "Procedure" tab. Students may not have been thinking about career paths when choosing their projects but seeing the list of related STEM careers may spark interest and further exploration.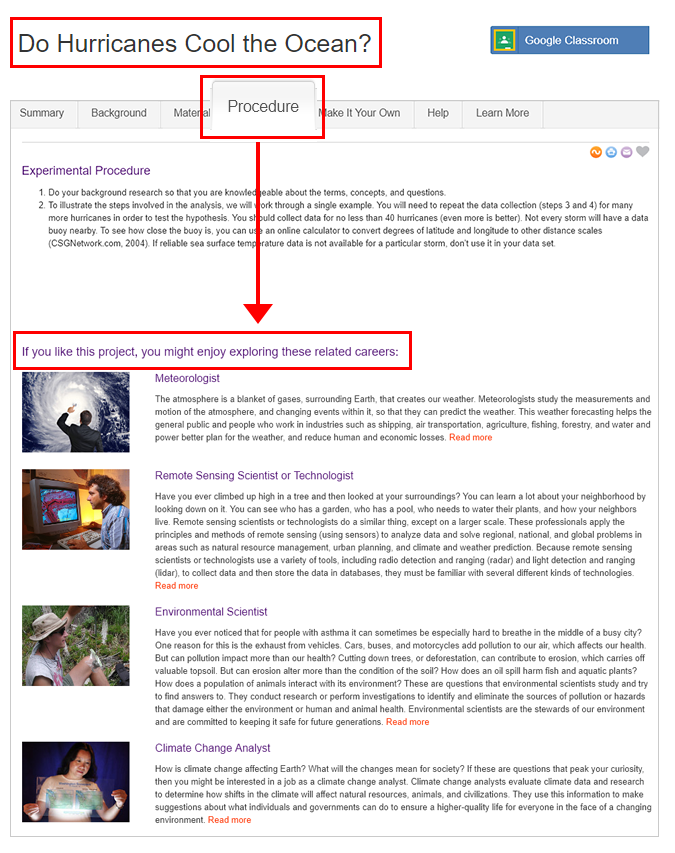 Educators Help Fuel Tomorrow's Scientists
When teachers do career units with students, they help open up the future for students. Career discussions and projects may encourage or inspire students to consider careers in STEM. The Careers in Science area supports teachers doing career projects with students and makes it easy to direct students to Science Buddies for STEM career exploration.
Get inspired! Read about the career project this middle school teacher does with students.
How do you integrate STEM career research and learning in your classroom? Share your story by emailing scibuddy@sciencebuddies.org.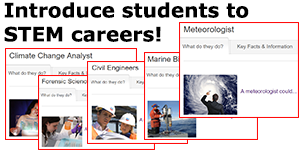 Categories:
---
You Might Also Enjoy These Related Posts:
Explore Our Science Videos
| | | |
| --- | --- | --- |
| How to Build an ArtBot | Make a Slushy! Yummy STEM Project | Physics and Chemistry of an Explosion Science Fair Project Idea |