Student Biomedical Engineering Projects with Real-world Connections
November 14 is World Diabetes Day and a great time to have conversations with students about diabetes, a disease which affects more than 400 million people around the world. Talking about biomedical engineering and the development of tools to improve diabetes management is a great way to explore the engineering design process with students and to talk about related STEM careers.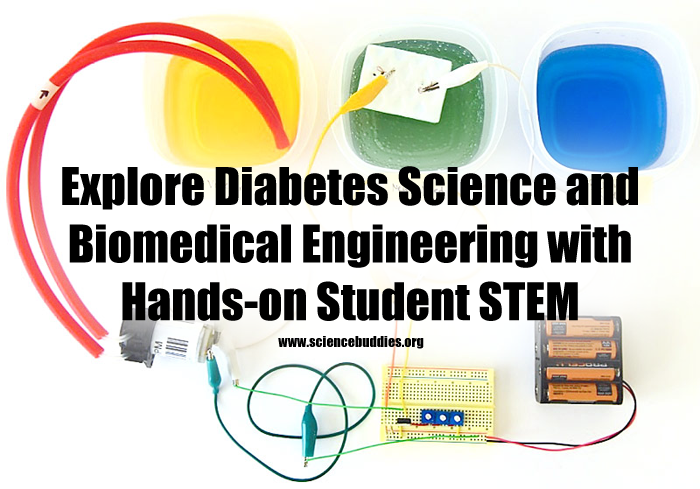 Explore Diabetes Science and Biomedical Engineering with Hands-On Student STEM. www.sciencebuddies.org
People with Type 1 Diabetes require insulin by injection or infusion from an insulin pump on an around-the-clock basis. Insulin pumps continuously deliver background (or "basal") insulin throughout the day and deliver additional insulin (a "bolus") when the person with diabetes indicates he or she is eating or has elevated blood glucose. An insulin pump follows a set of directions, specific to the individual, that tells it how much insulin should be delivered based on the time of day and how all other insulin needs should be calculated.
Smarter Pumps and Loops
For people who use an insulin pump, a smarter pump that monitors blood glucose and automatically makes decisions about insulin needs to keep blood glucose in a safe range would be a huge improvement in diabetes management. Such a system has the potential to reduce the risk of severe low blood glucose, help diabetics achieve better overall blood glucose control, and ease the burden of constantly making insulin-based adjustments and decisions. A system that can do these things is often referred to as an "artificial pancreas" or a "closed loop" system.
As shown in the image below from the FDA, in a closed loop system, a device worn by the person with diabetes provides continuous monitoring of blood glucose. This information is relayed to the pump, and the pump uses this information to automatically increase or decrease insulin delivery.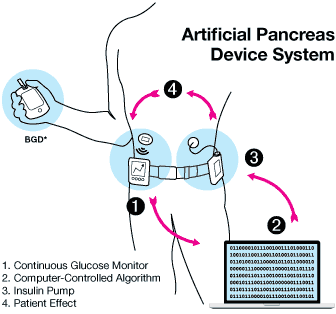 Multiple pump manufacturers and companies are working on closed-loop solutions. This year the first commercial artificial pancreas system was released by Medtronic. In the U.S., Tandem, Insulet, Bigfoot Biomedical, and Beta Bionics are all also working on closed-loop solutions.
Among these companies, solutions vary based on the type of pump and continuous glucose monitor used, the type of insulin(s) used, and the proprietary algorithms that control the loop. See Automated Insulin Delivery on the diaTribe website for information about some of these solutions and projected timelines for testing and release by these companies and other organizations around the world. For more information about alternative open-source solutions, see OpenAPS and Loop.
Making Student Connections
In the Dealing with Diabetes: The Road to Developing an Artificial Pancreas advanced science project, students build and experiment with a system designed to model the automation of start- and stop-delivery processes in response to continuous monitoring of a specific variable. In this STEM project, students build a device that monitors pH levels and starts and stops the delivery of vinegar based on the current pH. The goal of this model is automation of the delivery of vinegar to keep pH levels within a certain range.
This project enables students to explore firsthand the kinds of considerations and challenges involved in biomedical engineering and in the development, design, and testing of solutions like an artificial pancreas.
Diabetes Science Projects
Students interested in diabetes can find many other projects to explore on the Diabetes Science landing page. See also, Fostering Diabetes Awareness through Student STEM.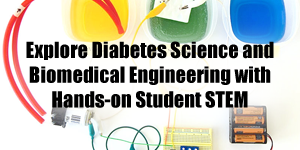 Categories:
You Might Also Enjoy These Related Posts:
Explore Our Science Videos
How to Make a Homopolar Motor - Science Experiment
What are the Chances? – A Probability STEM activity
Underwater Color Bursts – STEM Activity