17 Weather Science Projects and Lessons
Use these free STEM lessons and activities to explore weather science and climate with K-12 students.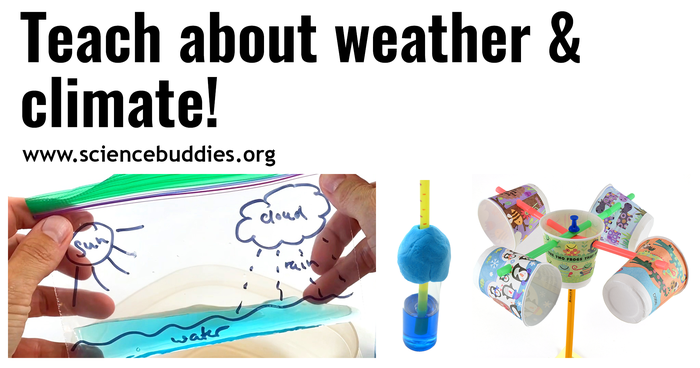 Weather science appears at various points in the K-12 science curriculum. Many elements of weather are easily observable by students of all ages, which makes teaching introductory weather concepts accessible to even the youngest of students. Evidence of "weather" can be felt in the air (do you need a jacket today?), observed in how a kite flies or how the trees move (is it windy?), or seen in the form of rain drops, snowflakes, or fog. As they continue to learn about weather science, students move from qualitative to quantitative observations. With simple tools, they can take measurements, gather and record data, and then analyze their data to make connections and draw conclusions. [See the bottom of this resource for additional summary information about teaching K-12 students about weather science.]
The free STEM lessons and activities below cover the relationship between the Sun and temperatures on Earth; how the water cycle creates patterns of precipitation; how tools like thermometers, barometers, and anemometers work to measure weather variables; how meteorologists make predictions about (or forecast) the weather; how weather patterns are related to seasons and the tilt of the Earth in relation to the Sun; how understanding weather patterns is important for the development of alternative energy solutions; and more.
To make it easy to locate materials for teaching a specific weather topic, the lessons below have been grouped as follows:
Note: Science Buddies Lesson Plans contain materials to support educators leading hands-on STEM learning with students. Lesson Plans offer NGSS alignment, contain background materials to boost teacher confidence, even in areas that may be new to them, and include supplemental resources like worksheets, videos, discussion questions, and assessment materials. Activities are simplified explorations that can be used in the classroom or in informal learning environments.
Lesson Plans and Activities to Teach About Weather
Classroom Weather Station
In the Weather Stations and Weather Forecasts: Can You Do It Yourself? lesson, students make various weather monitoring tools that function as part of a DIY weather station. With these tools, students can observe and collect weather-related data, learn about weather patterns and weather forecasting. The weather station lesson incorporates lessons for building simple weather monitoring instruments like an anemometer, a hygrometer, a thermometer, and a rain gauge. The lesson includes a weather forecasting activity to do with students using the weather data they collect. Questions: Why do weather patterns vary from place to place? How far in advance can meteorologists predict the weather?
Temperature
Even though the Sun is about 93 million miles away, some of the light it radiates reaches Earth. In the How Sunlight Warms the Earth lesson, students experiment to see how the Sun's light warms up the surface of materials on Earth. Using cups filled with different materials, such as soil, water, and rocks, students explore what happens to each material when the cups are placed in sun or shade. (Note: Thermometers are discussed in this lesson, but observations of temperature in the activity are qualitative and do not use a thermometer.) Question: Why do some materials warm up more or less than others after sitting in the sun?

In the Make a Thermometer to Study the Temperature lesson, students make simple liquid thermometers they can use to observe differences in temperature at different times of the day. These thermometers won't provide absolute quantitative measurements, but students will be able to see relative temperature changes. (Tip: A shorter activity version is also available for informal use.) These thermometers can be used as part of a larger classroom weather station (see above) for a comprehensive weather unit. Questions: How can we use a liquid inside a thermometer to tell how hot or cold it is? What happens to the liquid inside the thermometer when it cools down or heats up?
Precipitation
Wind
Air Pressure & Atmospheric Science
Weather and Seasons
In the Seasonal Science: The Reasons for the Seasons activity, students do a hands-on experiment with a flashlight, a box, and paper to simulate how the tilt of the Earth affects the angle at which light from the Sun reaches the Earth. Doing this activity, students will be able to correlate the tilt of the Earth in relation to the Sun to how cold or warm it is on Earth and, as a result, which season it is. Question: Why are the seasons different in the Northern versus Southern hemisphere?

In the Birthday Season Weather Report lesson, students identify patterns and changes that go along with the four seasons. As they create "weather report cards" for the seasons, they will analyze how weather conditions change between seasons. Question: How do living things adapt to the different seasons?

Note: For more STEM lessons and science activities related to specific seasons, see 19 Fall Science Activities, Winter Science Projects, Lessons, and Activities, and 26 Science Experiments for Spring.
Teaching About Weather in K-12
As students learn about weather and what causes weather patterns and changes, they also make connections to seasons and the water cycle. Beginning in upper elementary grades and continuing through high school, students can build upon weather science concepts to explore climate on both local and global levels. With global climate change and global warming being important challenges faced by Earth today and in the future, learning about weather science and understanding the connections between other aspects of human society and weather is important for all students.
Vocabulary
The following word bank contains words that may be covered when teaching about weather using the lessons and activities in this resource.
Air
Air pressure
Anemometer
Atmosphere
Autumn (Fall)
Barometer
Celsius scale
Climate
Climate change
Cloud
Condensation
Crystallization
Deposition
Dew point
Drought
Evaporation
Fahrenheit scale
Forecast
Global warming
Groundwater
Heat
Humidity
Hydrologic cycle
Hygrometer
Infiltration
Meteorologist
Meteorology
Percolation
Precipitation
Rain
Rain gauge
Rainbow
Runoff
Seasons
Sky
Snow
Spring
Sublimation
Summer
Surface runoff
Sun
Sunlight
Temperature
Thermometer
Tilt
Transpiration
Transportation
Water cycle
Water vapor
Weather
Weather forecast
Weather map
Weather pattern
Weather station
Wind
Wind speed
Wind vane
Winter
Thematic Collections
Collections like this help educators find themed activities in a specific subject area or discover activities and lessons that meet a curriculum need. We hope these collections make it convenient for teachers to browse related lessons and activities. For other collections, see the Teaching Science Units and Thematic Collections lists. We encourage you to browse the complete STEM Activities for Kids and Lesson Plans areas, too. Filters are available to help you narrow your search.
Categories:
You Might Also Enjoy These Related Posts:
Explore Our Science Videos
How to Make Elephant Toothpaste
Explore the Wet Sand Effect – STEM activity