19 Fall Science Activities
Pair changing leaves and temperatures, apple season, pumpkins, Thanksgiving, and fall festivities with these free lessons and activities for enriching hands-on STEM.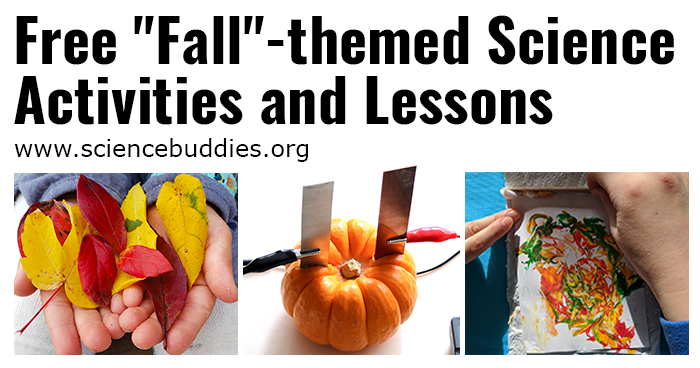 STEM Activities to Bring Autumn Themes to Science Class
Thematic Collections
Collections like this help educators find themed activities in a specific subject area or discover activities and lessons that meet a curriculum need. We hope these collections make it convenient for teachers to browse related lessons and activities. For other collections, see the Teaching Science Units and Thematic Collections lists. We encourage you to browse the complete STEM Activities for Kids and Lesson Plans areas, too. Filters are available to help you narrow your search.
Understanding Science Buddies' STEM Resources
Lesson Plans contain materials to support educators leading hands-on STEM learning with students. Lesson Plans offer NGSS alignment, contain background materials to boost teacher confidence, even in areas that may be new to them, and include supplemental resources like worksheets, videos, discussion questions, and assessment materials.
Video Lessons include NGSS alignment and offer a plug-and-play option for teaching a STEM lesson. Each Video Lesson asks a science question, teaches students about the relevant science, and guides students in a hands-on experiment that will help them answer the question. Video Lessons are NGSS-aligned and bring core science concepts to life with storytelling, animation, and photos using a self-paced engage, explore, and reflect format.
Activities are simplified explorations that can be used in the classroom or in informal learning environments.
Projects are written to support students doing independent science projects or science fair projects. Projects can be adapted for classroom use.
Categories:
You Might Also Enjoy These Related Posts:
Explore Our Science Videos
How to Make an Archimedes Screw - STEM Activity
Model Your Blood Flow – STEM activity
Make Candy Gears - STEM activity