Video Game Design Summer Program: Week 1
Rising sixth-grade student weighs in on the first week of Gamestar Mechanic's summer video game design camp. The first week was all about platformers. Do you know what it takes to make a top-notch platformer like Super Mario or Donkey Kong?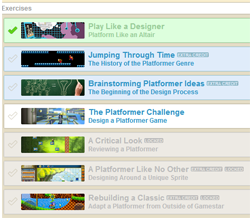 Unit 1 of the Gamestar Mechanic Summer Program focused on platformer games. Students were presented with an engaging set of challenges and materials within a special section of the Gamestar Mechanic environment (screenshot above shows a portion of Unit 1's interface). The program from E-Line Media offers an immersive summer game design experience, one that may parlay into further school-year science, technology, math, and engineering (STEM) exploration based on video game design projects—or even participation in competitions like the National STEM Video Game Challenge.
Related posts and resources at Science Buddies:

Gamestar Mechanic's online summer video game design program is underway! Geared specifically for students ages 10-14, the
virtual summer "camp"
gives students who love video games, or who have already begun exploring video game design, a chance to level up their knowledge of video game history, major game styles, and core design elements. As they work through four weekly units and tackle various activities, assignments, and challenges, participants will get plenty of fun and focused hands-on game design practice. Budding game designers will also benefit from feedback from other student designers, their instructor, and, in the end, an industry pro.
On paper, a camp that involves four weeks of making and playingvideo games sounds like a great opportunity for the student video game enthusiast. Not only does the student get to spend a month playing games and tackling video game design challenges, but the course is flexible in timing and can be worked in and around other summer activities and programs. What's it like from the student perspective?

One Designer's Experience
Science Buddies is taking a hands-on, behind-the-scenes look at the Gamestar Mechanic Summer Program by peeking over the shoulder of Matthew, a student designer taking the course. Soon to be a middle school student, Matthew particularly enjoys math and science, reads manga, plays soccer, is a visual artist, and has a deep affinity for video games, especially one for iOS, Nintendo DS, Wii, and Facebook. Before he could read, he was telling people he wanted to be a video game designer.
In past summer experiences, Matthew has used Stagecast Creator and Multimedia Fusion. After learning about Gamestar Mechanic from Science Buddies, he worked through the quests there. He also recently explored Yoyo's GameMaker. This summer's Gamestar Mechanic program is a next step in the exploration of video game design for Matthew. He's already a fan of the Gamestar Mechanic platform, so at the outset of Week 1, he was excited about the course and hoping to both learn more, encounter some new challenges. In short, he's looking at this summer camp experience as a way to level up!

Unit 1: The Platformer
The first week of the course focuses on platformer games. Whether they know the terminology or not, most gamers are probably familiar with games in this genre. Classic games like Donkey Kong, Mario, and even early Sonic all exemplify the platformer format.
The first week's course materials kick off with an excellent and engaging video in which a headset-wearing guide walks users through the key elements of a platformer game. From perspective to gravity, students get a video-based crash course in what really "matters" in this genre—and a look at plenty of examples of games that demonstrate these key elements. Did you know that being able to "jump" is particularly important in a platformer? Couple that fact with the importance of perspective, and you've got the foundation for a game. "Jumping is what makes a platformer a platformer," says Matthew. "If your character can't jump, you'd have a top-down," he explains.
Being a veteran at Gamestar Mechanic, Matthew was familiar with much of the material for week one, but the videos, game samples, and challenges helped review and reinforce key concepts. Differentiating between the platformer and another core style, he continues, "In a top-down game, bird's-eye view, you can't jump, and you don't change gravity. But in a platformer, you can control gravity." Gravity makes a huge difference in game play, says Matthew. "Set it to six, and you feel like you have a 1,000 pound boulder on your back."
In addition to perspective and gravity, students learned about various jumps that can be used to navigate the spatial elements of a platformer. "I learned what all the jumps are called—hook, horizontal, and vertical—and how to use them to their highest potential inside of my games." He says that the examples helped him think about the importance of using the various jumps effectively.
After completing his first game assignment, a platformer, he moved on to one of the extra-credit challenges for the first week—design a re-make of a retro classic platformer. "That was really cool," says Matthew, who admits to searching for his old copy of Super Mario for the Gameboy to relive the fun after watching the Super Mario video in the course. "That assignment was cool because you were able to see you can make games like Sonic using Gamestar Mechanic," he says. "Sometimes, you can even make them better!"
When asked about the importance of a young designer going back and looking at a timeline of video games, Matthew notes that he hadn't heard of all the games he learned about in the first week of camp. Games that are familiar and nostalgic for older gamers are sometimes games younger games don't know at all. The course's careful attention to the history of design and gaming upon which tomorrow's games will build is a cool stepping stone for the participants and helps connect what they are learning to the video gaming industry at large.

Moving Ahead
Matthew is now working on Unit 2—the Action Game. Stay tuned as we check in with him next week to see how it's going.

Sign-ups are now open for the next sessions of the Gamestar Mechanic Online Learning Program, with six-week sessions beginning September 10, 2012.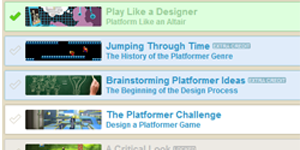 Categories:
You Might Also Enjoy These Related Posts:
Explore Our Science Videos
Model the Planets of the Solar System
Build a Bottle Centrifuge