Count Down to Winter Break with Creative STEM
Teachers, are you looking for ways to keep students engaged even as Winter Break approaches? We have great suggestions for fun and creative science experiments kids can do in class with easy-to-find materials. Your students can make "holiday" items from these STEM projects or other decorations.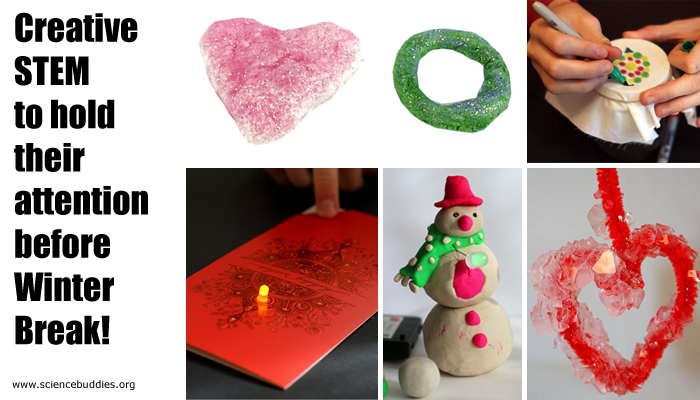 Creative STEM to hold their attention before winter break! www.sciencebuddies.org
Hold their attention with a creative STEM activity
The last few weeks before Winter Break can be full of energy. Students are ready for the break, and teachers may have trouble finding quality science projects that can be done in the classroom and tie in with December celebrations. Science Buddies has great hands-on STEM projects and Lesson Plans for learning activities students can do in the classroom that offer a fun and creative takeaway.
Encourage creative science and build on excitement over the approach of Winter Break with projects like these:
Science should always be fun and eye opening! But when kids are antsy for break to arrive (or going stir crazy indoors at home), a great and creative hands-on activity may be just what you need to capture their imagination and put science to use!
Science Buddies Lesson Plans are supported, in part, by the Cisco Foundation.
Categories:
You Might Also Enjoy These Related Posts:
Explore Our Science Videos
Video: Paper Airplane Launcher
Solve A Mirror Maze Reflection Challenge!