Your Digital Classroom: Assigning Science Reading with Science Buddies' Google Classroom Integration
Making science reading assignments using our Google Classroom Integration is a great way to streamline the management of reading exercises in a paperless classroom. Use the Science Buddies news feed to locate science news articles and easily add them to your Google Classroom.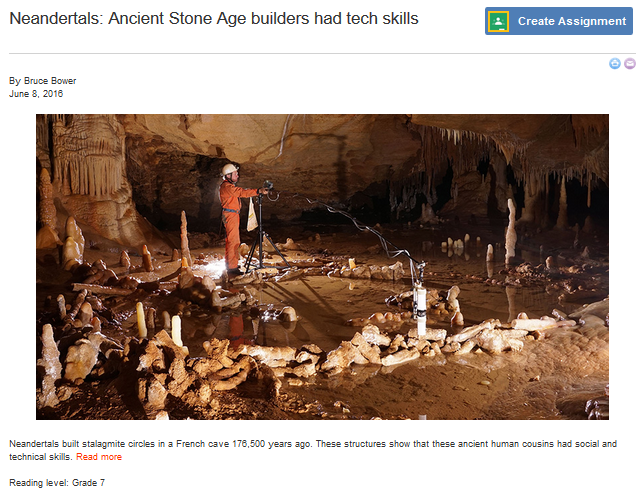 The Value of Assigning Science Reading
As kids file back to school in coming weeks, group or individual science reading assignments can be a great way to encourage discussion as students settle into your class and to set the stage for topics and concepts you will be covering this year. Science reading also helps students make connections between science, technology, engineering, and math (STEM) and the everyday world. Students often need help seeing and understanding how science is relevant to their own lives. The more educators highlight ways in which science underlies things students are interested in or familiar with, the more opportunities they have to really hook student interest and increase engagement.
With Google Classroom Integration, teachers can use Science Buddies to easily find and create science reading assignments.
Creating a Science News Reading Assignment at Science Buddies
Using the Science Buddies website, there are several ways to locate, assign, and use science news articles with your class. Let's walk through what this process looks like using Google Classroom Integration.
With more than 124,000 science news articles in our feed from sources like Scientific American, EurekAlert, and Science News for Students, you can find an article on virtually any topic you plan to cover with your students. For this example, let's use radioactive decay as our topic. let's assume Let's assume you I amare planning a unit on radioactive decay, and Iyou will be talking about half-lives and the ways in which the rate of slow rate of decay can help scientists determine the age of materials (or date them). To supplement and kick-start our in-class discussion, I want to make a science reading assignment for my students.
Find a relevant science news article. You can locate a science news article that may be useful with your students in several ways. Two primary approaches to finding an article at Science Buddies for a student reading assignment are to:

view the news feed on a specific Project Idea of interest or related to the topic you plan to teach
use the Science Buddies search engine to search for news articles based on your keywords

(Note: using the search engine allows you to filter news articles based on when they were written.)

After scanning the results from searches on half-life, half-lives, and radioactive decay, I find the "Neandertals: Ancient Stone Age builders had tech skills" article (shown in the screenshot above) from Science News for Students. The reading level is right for my students, and the article offers an interesting example of how radioactive decay can be used to help date artifacts. As a (hypothetical) teacher, I think my students will enjoy this article, and it will help them connect science to world history and archeology. This kind of synthesis is an important part of my (hypothetical) classroom. I decide that I will assign this article to my class.

Create the assignment. Having located the article that I want all of my students to read, I click the "Create Assignment" button that appears to the right of the headline on the Science Buddies article summary page.


If not already logged in, I log in as a Google Classroom Teacher so that Science Buddies can interact with my Google Classroom to create the assignment. (Note: once logged in, you may need to click "Create Assignment" again.)
On the Create Assignment form, I specify the class, point value, and any special instructions for my students. Do I want them to just read the article and be prepared to discuss it? Do I want them to read the article and write a one-paragraph summary? I fill in the directions and click the button to create the assignment.


A cropped screenshot of an assignment being created for Google Classroom shows 5 fillable fields for a selected course, title, description, due date and points possible.

The assignment is created for all of my students in the specified class, and I see the Assignment Details in an information box at Science Buddies.


A cropped screenshot of assignment details for an assignment in Google Classroom shows a course, assignment name, teacher, date assigned, due date, points possible and a link to the assignment in Google Classroom.

I can click through to view the assignment in Google Classroom, or I can move on to my next task. If I want to create the same reading assignment for another one of my classes, I click the "Need to create this assignment again?" link to and create the assignment again.

My students are notified of the science reading assignment.


My students can follow the link in Google Classroom to read the article.


If I have asked them to write anything (either in a Google Doc or as a comment in Google Classroom), they can do those tasks. When they are finished, they click the "Turn In" button on the Science Buddies page (not the "Mark Done" button in Google Classroom), and the work is recorded as "done" in Google Classroom. (Note: It is important that student use the "Turn In" button at Science Buddies to properly close out the assignment.)

I review their work and return it. For each student that completes the exercise, I review the work and follow the link to Science Buddies to score and return the exercise.
We have a lively discussion the next day about radioactive dating (or radiometric dating) and Neanderthals! (We even talk briefly about why the article spells Neanderthal differently.)
Science News Assignments in Action
The above example outlines one scenario in which a science news article might be used with a group of students to supplement other assignments and discussions and to contextualize (or reinforce) the material being learned.
There are many ways to incorporate science reading assignments with your students. To inspire you to try our new Google Classroom Integration and create a science reading assignment, consider these sample educator scenarios:
My class is studying the circulatory system. To make it more exciting, I use Science Buddies' search feature to find a recent article on heart research or heart health, like this one, and ask them to read it so that we can discuss it in class the next day. To make sure the assignment is actionable, I ask them to write a short summary in the "comments" on the assignment in Google Classroom before they "Turn In" the assignment. By creating the assignment at Science Buddies, I can easily see which students have completed the assignment and review any submissions or comments within Google Classroom.
My class is studying solar flares. I assign an article about how solar flares may have helped shape life on Earth and pair it with a response exercise that helps them practice important reading comprehension skills.
I assign a new science article every Monday to help my students become more aware of issues related to public health. I want my students to develop an understanding of how outbreaks of viruses and disease continue to drive scientists' understanding of a disease. My students have read articles about Ebola, the flu, Zika, E-coli outbreaks, and other public health concerns.
As I finish teaching each topic. I assign a pair of students to use the Science Buddies website to find a related article that involves that topic. I then ask the whole class to read the article the students have selected and be prepared for a 5-minute discussion which the students who found the article lead. Closing thematic units with science reading allows students to re-cap their learning and see the current and real-world relevance of the science we have covered.
Try a Science News Reading Assignment with Your Students!
Give it a try! We would love to hear how you use science reading with your students and how you might use (or like to use) the Science News Feed at Science Buddies and Google Classroom Integration. Let us know your thoughts and any feedback you have by emailing us at blog@sciencebuddies.org.
Make the Most of Science Buddies and Google Classroom Integration in Your Classroom
To learn more about using Science Buddies with Google Classroom, see: Back to School with Science Buddies' Google Classroom Integration and visit the Google Classroom Integration page.
In weekly installments, this Science Buddies Blog series will cover a range of tips, strategies, and ideas for using Science Buddies and Google Classroom Integration. Follow us at Twitter or Facebook to be alerted to each new post in this teacher-focused series.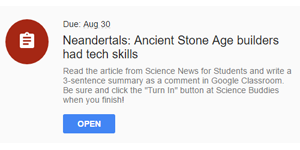 You Might Also Enjoy These Related Posts:
Explore Our Science Videos
How to Build a Paper Speaker