Celebrating 100+ Free Lesson Plans for K-12 STEM Education!
Join us in celebrating the availability of 100+ free lesson plans for K-12 teachers! All lessons are free-to-use by educators, including those teaching in the classroom, hybrid, remote, or in learning pods.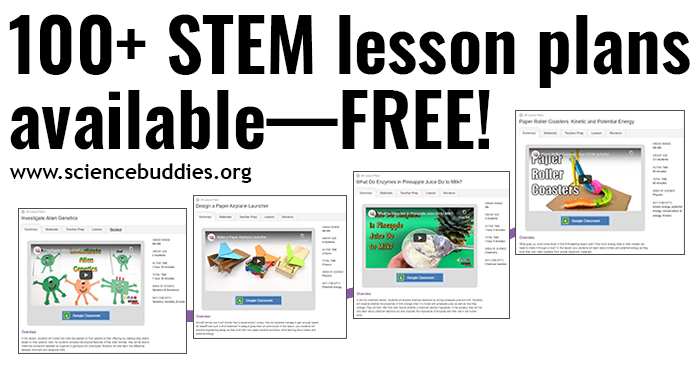 Science Buddies first started developing NGSS-aligned educator lesson plans in 2017. With a deep library of more than 1,200 project ideas for students doing independent or science fair projects and a growing repository of family-friendly, simplified STEM activities, Science Buddies' Lesson Plans were created specifically to provide educators with comprehensive end-to-end lessons.
Lesson Plans at Science Buddies contain the scaffolding teachers need to teach a STEM subject, even in an area they may not have not taught before. Lesson Plans contain NGSS-alignment information for teachers filling curriculum needs, guided discussion and reflection questions, a step-by-step hands-on activity, and supplemental materials like worksheets, assessment materials, videos, and more.
Note: all Lesson Plans are free-to-use for educators. To learn more about the structure of a Science Buddies Lesson Plan, see How to Use a Science Buddies Lesson Plan.
A Milestone in Supporting STEM Educators
Reaching 100+ Lesson Plans is a huge milestone for Science Buddies in developing high-quality free resources for teachers. Educators can also use our 200+ STEM Activities with students, but Lesson Plans offer additional support and features that many educators need to teach science concepts with confidence.
New Lesson Plans
The following Lesson Plans are new at Science Buddies:
Grades K-4
Grades 5-8
Grades 9-12
Library of Free STEM Lesson Plans
Teachers can browse all Lesson Plans or use the search filters to find lessons in specific areas of science or for specific grade levels.
Thank You to Our Sponsors
Support for the ongoing development of our free STEM Lesson Plans has been generously provided by corporate sponsors, including General Motors, Motorola Solutions Foundation, Cisco Foundation, and Amgen Foundation. Support from our sponsors allows us to continue to create high-quality STEM education materials that are freely available on our site to help meet the needs of teachers and students everywhere.
Categories:
You Might Also Enjoy These Related Posts:
Explore Our Science Videos
DIY Light Up Unicorn Headband
Explore Concave and Convex Mirrors– STEM Activity.
Investigate Alien Genetics