Create a Carnival of Robot Critters this Summer
With a bit of planning, you can stock up on materials your students can use to create a cadre of cool robotic animals, bugs, and creatures this summer. Upcycled vibrating motors may be your best friend for inspiring hands-on engineering with your kids, but there are plenty of ways to turn off-the-shelf bots and the Mindstorms® kit you may already own into a foundation for fun summer science with a friendly "critter" twist.

With school out, there are
even more
free hours in the day for young engineers to tinker, to make, to wonder with their hands, and to innovate. Robotics enthusiasm has been brewing in my house in recent weeks, a hybridization of interest in RC helicopters, recycled art,
Iron Man
, and robots in general. We have always had an undercurrent of robotics interest, but recently I have watched the youngest sit at the computer and pull up videos of various kinds of robot projects, sifting through what's out there and synthesizing what he is seeing into a better grasp of what is possible. At nine, he's got big ideas!

Planning Summer Science
As I iron out plans for hands-on summer science activities and projects to both engage and occupy my kids during long summer days, I have been watching the stream of new and exciting Project Ideas being added to the Science Buddies robotics area. Bristlebots are a must-make for us this summer. It's a logical starting point, and it turns the familiar hex- and nano-bug concept we already know into a DIY activity. We can make them.

Jumping in with Bristlebots
Bristlebots are a great way to start kids off on a simple robotics engineering project—one you can pretty much guarantee will succeed. There is minimal wiring, a minimal number of parts, and for parents who worry about not having expertise to guide a robotics project, there are minimal steps where you (or the kids) might get off track. When it boils down to it, make sure you have one wire from the motor touching the top and one wire touching the bottom of the battery, and you are all set. If you decide to get industrious and salvage vibrating motors from the junk electronics drawer in your house, you up the challenge a notch (you might have to attach the wires), but the level of difficulty is still minimal—and the fun and sense of general robotics accomplishment pretty big.
Bristlebots, first introduced by Evil Mad Scientist Laboratories, are a great launching point. A Bristlebot doesn't take long to make, and once made and set loose on a table, these little bots will take off on their bristly legs and be bounced around and redirected by hands or makeshift habitat walls.
But once those bots are scuttling around, chances are that you—or, more to the point, your kids—are going to want more.
You can extend the life of your bristlebot exploration by experimenting with different brush heads (as our Project Idea suggests), or by constructing ramps, mazes, and tunnels. But older elementary kids will surely want to kick things up a notch. They are going to have ideas about solar panels, about adding more brushes, about giving the bot more power, and about enabling remote control. Encouraging their thinking and innovation is important, and having some additional related projects up your sleeve to satiate and encourage their curiosity and desire to tinker, build, and make may find you and your kids breezing through a robot-inspired summer.

Robot Critters
Bugs, critters, pets, pals... call them what you will, but many student robotics projects generate small bots that skitter around, much like an insect.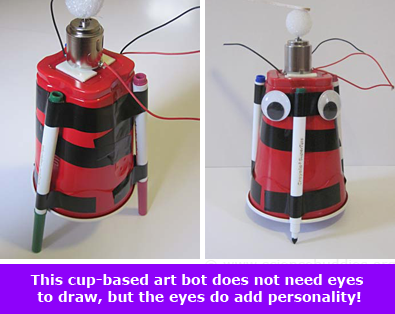 Some builders will prefer the nuts and bolts look of a bot, admiring the visible circuits, the tiny breadboard, or the familiar look of a LEGO® Mindstorms® creature. Others prefer to spruce things up a bit, creatively masking a bot's hardwired construction with costuming that softens the edges and makes it "cute" or "friendly" in appearance.
How you and your kids customize a robot is completely up to you. If one day your daughter really wants a bristlebot that looks like a ladybug, it's doable. The same bot can be re-dressed another day to look entirely different. What's going on beneath the costume is where most of the exciting hands-on construction happens. But customizing a bot to make it "just right for its creator" is a step that brings hands-on engineering full circle for some creative-minded kids.
Here are a few robotics projects you can adapt to do with your students this summer as hands-on science and engineering activities at home:
The projects above are arranged in order of difficulty because when it comes to engineering, electronics, and robotics, your students will often learn in a stepwise manner, building upon skills introduced and used in one project when they move on to the next, slightly more difficult, project. All kids differ, but the general grade range for these projects are noted. Tinker-savvy kids can still enjoy the less difficult projects, and with adult involvement, younger students can certainly join in on projects pegged as appropriate for independent science fair engineering projects for older students.
Why not try them all!

Show Off Your Bots!
We would love to see the bots you and your students create this summer. Send us a photo, and we might share your bots on the blog or one of our other community spots!
Categories:
You Might Also Enjoy These Related Posts:
Explore Our Science Videos
Explore Enzyme Activity with Toothpicks
Maglev Train Assembly Instructions
Explore the Wet Sand Effect – STEM activity