Wizardly STEM! (Awesome Summer Science Experiments)
Check in each week at Science Buddies this summer for our Awesome Summer Science Experiments series! Each week, we'll highlight a few activities for awesome science and engineering kids can do at home. We've got a whole summer of fun STEM themes lined up for kids of all ages — for free. This week: awesome summer science experiments with a wizardly twist!
Awesome Wizardly STEM
Our Awesome Summer Science Experiments picks for Week 3 will bring out the wizard in all of us! If your kids are fans of stories about wizards and magic, from Merlin to Harry Potter, then, poof!, this week's activities are sure to be a hit!
This week features a variety of fizzing, bubbling, foaming, and mysterious hands-on science experiments you can tie in with favorite stories about wizards and magic. Kids will have fun mixing things up, activating chemical reactions, and pretending they have either mastered wizardly spells or are seeing what happens when potions go wrong! Wizard's robes are optional, but making or decorating a wizardly cape might be a perfect add-on and a great way to inspire imaginative storytelling to go along with this week's Awesome Summer Science Experiments theme!
Awesome Summer Science Experiments Week X: Experiment | Watch | Kits | Ask | Explore | Read
EXPERIMENT: Wizardly Science
WATCH: Videos
These videos demonstrate activities highlighted for Week 3's Wizardly STEM theme:
KITS
The following Science Buddies Kits fit in with this week's Wizardly STEM theme. These science and engineering kits provide the specialty materials kids need for a variety of fun explorations, including robotics, computer programming, and electronics:
Bath Bomb Science Kit: turn your bathtub into a fizzing cauldron of fun by creating your own bath bombs! Can you perfect your recipe for the fizziest ones? Hoard all the magic or give a few to friends!
Spherification Kit: transform juice into jiggly balls that are still liquid on the inside. If you master the science of making juice balls, you can pick them up (carefully!) and eat them one by one, or you can add them to a cold beverage for tasty, juice-filled fun! What flavor will you try?
ASK: Questions
Use these questions to prompt conversation and reflection about the science behind this week's Awesome Summer Science Experiments activities:
In what ways do some science experiments seem like "magic"?
What is the difference between science and something described as "magic"?
What is a chemical reaction?
EXPLORE: STEM Careers
After trying this week's summer science experiments, kids can learn more about related science and engineering careers, like:
READ: Books
For more suggestions for science-themed summer reading, see our Summer Reading List. Also, don't miss this roundup of creative STEM activities for storytelling and imaginative play.
Bookmark Awesome Summer Science Experiments Week 3: Wizardly STEM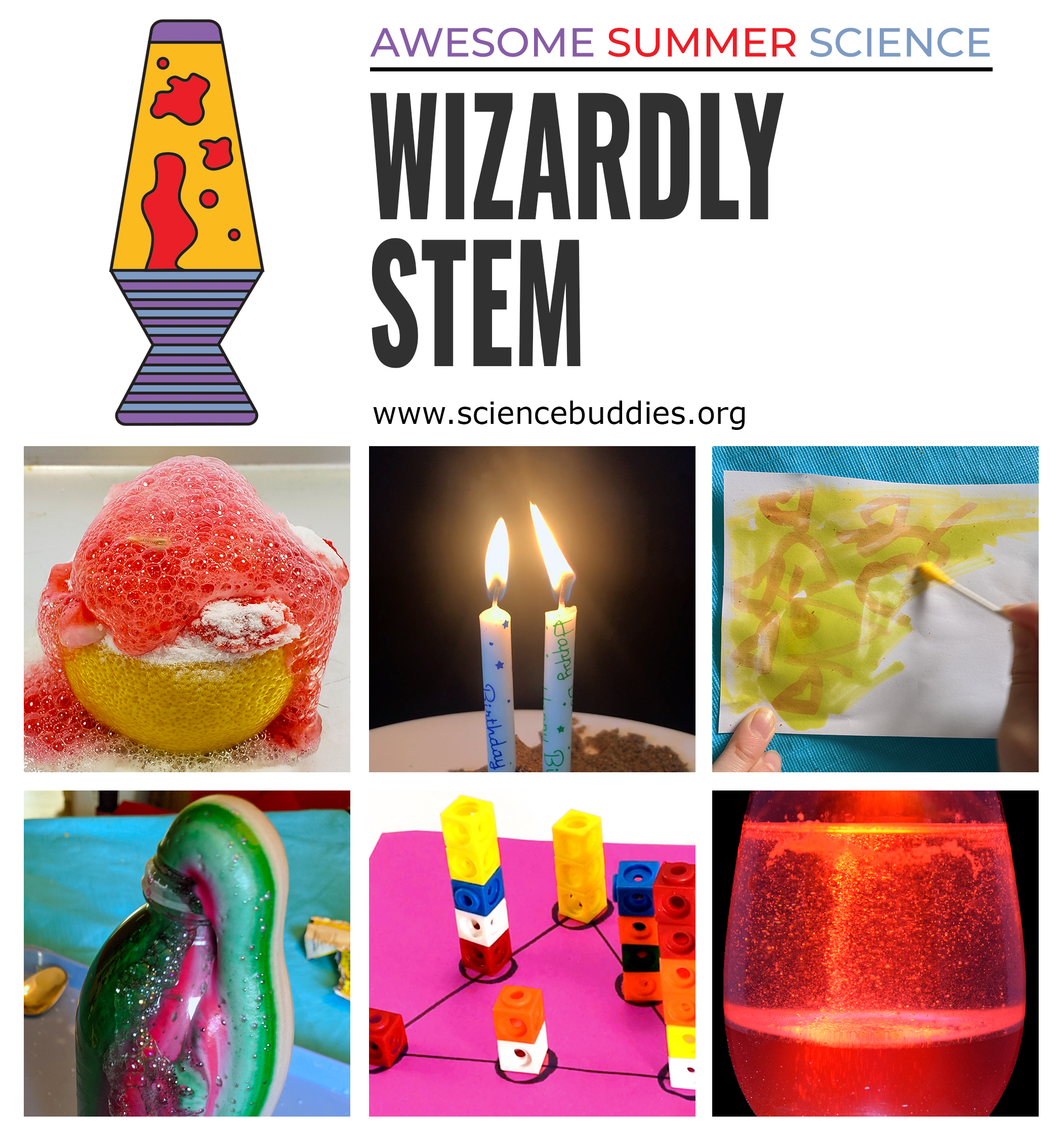 10 Weeks of Awesome Summer Science Experiments
Follow the full summer series on the Awesome Summer Science Experiments page!
Categories:
You Might Also Enjoy These Related Posts:
Explore Our Science Videos
Tallest Tower: 2021 Engineering Challenge
Candy Chromatography: What Colors Are in Your Candy? | Science Project