Amazing Art Science (Awesome Summer Science Experiments)
Check in each week at Science Buddies this summer for our Awesome Summer Science Experiments series! Each week, we'll highlight a few activities for awesome science and engineering kids can do at home. We've got a whole summer of fun STEM themes lined up for kids of all ages — for free. This week: amazing art science experiments and creative activities for artists, makers, storytellers, and innovators!
Awesome Science Experiments for Artists
Are art and science related? What does painting a picture, making a sculpture, or creating a mobile have to do with science? A lot! Science explains how colors of paint mix and how different types of paint work on various papers and surfaces. Science explains how pigments are made and how art materials can be created with lightfast or waterproof properties. Science explains why some pieces of art last centuries and others fade away. Many of the techniques, tools, and materials used through the years to make art are possible because of science!
The activities in Week 5 of our Awesome Summer Science Experiments series feature amazing art projects that use science. These science experiments are great for creative kids who like to make art, imagine and tell stories, decorate and customize their things, and innovate!
Awesome Summer Science Experiments Week 5: Experiment | Watch | Kits | Ask | Explore | Read
EXPERIMENT: Amazing Art Science
WATCH: Videos
KITS
The following Science Buddies Kits fit in with this week's Amazing Art theme. These science and engineering kits provide the specialty materials kids need for a variety of fun explorations, including robotics, computer programming, and electronics:
Learn more about Science Buddies Kits and see our 10 Science Kits for Summer Science Experiments and Discovery recommendations.
ASK: Questions
Use these questions to prompt conversation and reflection about the science behind this week's Awesome Summer Science Experiments activities:
How is science related to techniques for making art?
Why would an artist need to understand science?
Can you think of an experiment you could do to test and compare two approaches to making your favorite kind of art?
EXPLORE: STEM Careers
After trying this week's summer science experiments, kids can learn more about related science and engineering careers, like:
READ: Books
Pair picture and story books like these with this week's Awesome Summer Science Experiments explorations.
For more suggestions for science-themed summer reading, see our Summer Reading List. Also, don't miss this roundup of creative STEM activities for storytelling and imaginative play.
Bookmark Awesome Summer Science Experiments Week 5: Amazing Art Science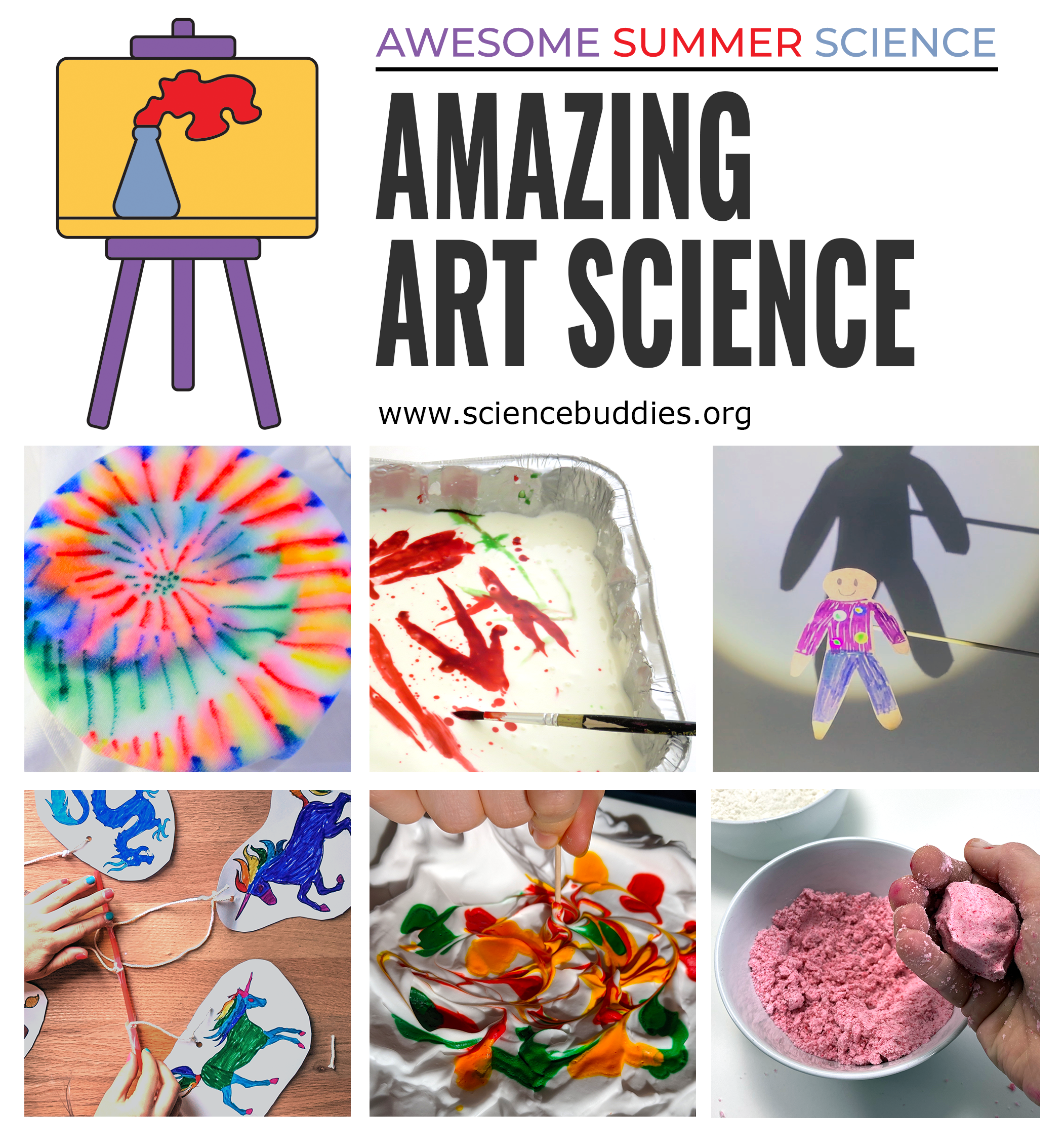 10 Weeks of Awesome Summer Science Experiments
Week 5 - Amazing Art Science
Follow the full summer series on the Awesome Summer Science Experiments page!
Categories:
You Might Also Enjoy These Related Posts:
Explore Our Science Videos
Build a Water Sprinkler Toy
Iteration in the Engineering Design Process