20+ Color Science Experiments
Dig into the science of color with colorful, color-changing, eye-catching science experiments!
23 Color Science Experiments and STEM Activities for Science Class and Science Fair
Some experiments are "colorful" because they use colored water, paints, or other materials as part of the demonstration of science concepts. The collection of student science fair projects and STEM learning resources highlighted here is "colorful" in a different way. These experiments are about the science of color and help students ask and answer science questions about chemical reactions, the physics of light, including wavelength and refraction, how colors of light mix, and more. Students can also investigate how human vision detects color and how our brains sort out what we see.
Some of the experiments highlighted below are STEM activities suitable for classroom use, demonstration, informal exploration, or family science. Activities do not have built-in support for students doing science fair projects. In cases where directions for independent student science and science fair projects are also available, these "science project" versions have been noted and linked separately.
Color Reactions
In the following "colorful" science experiments, color changes result from a molecular change during a reaction.
Color Separation
The following "colorful" science experiments are about the science involved in separating color molecules.
Solution Science: Candy Chromatography: use paper chromatography to uncover the colors that make up candy coatings. (Student project version)
Chromatography: Be a Color Detective: use paper chromatography to investigate the colors used in marker inks. (Student project versions: beginner, advanced)
Forensic Science: Building Your Own Tool for Identifying DNA: in this student science project, students build a gel electrophoresis chamber and use it to separate food coloring to see the individual components that make up different colors.
Color and Biotechnology
The following "colorful" science experiments involve using biotechnology to modify DNA to express pigments.
Create a Painting with Genetically Modified Bacteria: learn how bacteria can be modified with new genes that change the color of the pigment molecules. In this activity, students grow different genetically modified Escherichia coli bacteria to create a piece of art on a petri dish.
Transforming Bacteria to Make Colored Pigments: in this advanced student science project, students use bacterial transformation to explore one method of engineering DNA. (To create glowing bacteria, see the Genetically Modified Organisms: Create Glowing Bacteria! project.)
Color Mixing and the Physics of Color
The following "colorful" science experiments relate to how visible colors shift due to the mixing or separation of light.
Color and Plant Science
These "colorful" plant science student projects explore the importance of color in plant biology and how color-sensing technologies can be used to improve agricultural processes.
Find the Hidden Colors of Leaves: investigate the pigments in leaves and why different colors show up in cool weather than in warm weather. To find out what colors might be hiding in a leaf, students use paper chromatrography to separate plant pigments. (Related student projects about leaves and flowers)
Is It Ripe Yet? Build a Circuit to Detect Ripe Produce: in this electronics project, students build a sensor-based circuit that can help tell when produce is ripe and ready to pick based on the color of the fruit or vegetable.
Color and Human Perception
These "colorful" experiments help students investigate how we detect and perceive color.
Color Taste Test—Do You Taste with Your Eyes?: is color related to how people respond to a food or drink? Put the question to a taste test! (Student project version)
Seeing Science: Exploring Perception with the Stroop Effect: explore the Stroop effect, interference, and how the brain works to make sense of what we see and how we read. (Intermediate and advanced student projects)
Afterimages: The Colorful Tricks Eyes Play: when you stare at an object for several seconds and then look away, you may see an afterimage, a similar image in a different color. These images are not really there, but this activity explains how they are related to human vision and our perception of color. (Student project version)
Color Science Videos
Watch these STEM videos to learn more about some of the color science experiments listed above:
Additional Resources
For additional STEM educator resources and learning materials related to color, see the following: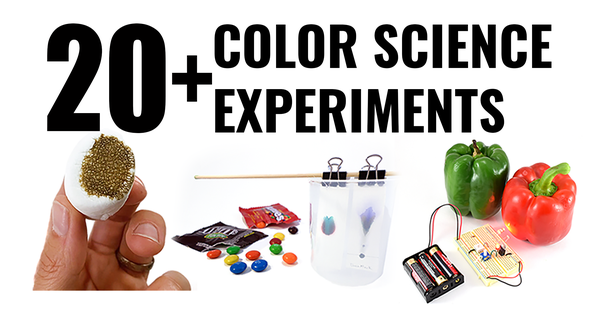 Categories:
You Might Also Enjoy These Related Posts:
Explore Our Science Videos
Magic Triangles - Fun Math Puzzles with Increasing Difficulty
Making Ice Cream with Science
Gear Ratio for the Junior Solar Sprint