Colorful STEM Projects for Summer Science Fun
Bring science to life this summer! Science projects that are bright, colorful, or light up can be fun choices for hands-on science at home—or for an independent science project.

Fifteen Plus Colorful Science Projects for Kids: Hands-on STEM with Science Buddies. www.sciencebuddies.org
Colorful Science Exploration
Are you planning science and engineering activities to do with your kids while they are home this summer? As you pick and choose, keep in mind that summer science may be most successful when it is fun!
Kids of all ages love science they can really see, and projects that are bright, colorful, or even light up can be perfect for hands-on science exploration at home—or for an independent science project.
With more than 1,100 projects and a special section of family science activities, Science Buddies has plenty of wonderful ideas for STEM you can do with your kids and know that the experience will be exciting, engaging, and colorful! Whether you are just starting out planning science to do at home or this is part of your family routine, choosing science you can "see" can be a great way to ease into summer science learning.
Note: For an updated collection of colorful science projects for science class and science fair, see 20+ Color Science Experiments.
Colorful Science Project Suggestions
The list below contains some hand-picked suggestions for families looking for a colorful science project:
Expand the Learning
Students interested in science where color may be part of the experimental process, science question, observations, or results may also want to explore the following independent student projects:
Making Connections
For additional reading and family science inspiration, see the following posts on the Science Buddies Blog:
For additional family science activities, see STEM Activities for Kids and the Family Science Weekly Spotlight.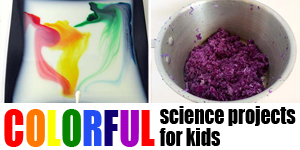 Categories:
You Might Also Enjoy These Related Posts:
Explore Our Science Videos
Squishy Circuits Classroom Activity Part 1
Reaction Rates: When Surface Area Matters! Lesson Plan Introduction