Finding a Fitting Hands-on Science Project Now Easier than Ever!
Thanks to support from Cisco Systems, Inc., Science Buddies' library of free science Project Ideas now has filters to help students, teachers, and parents find projects that best fit their needs.

With more than 1,200 Project Ideas in more than 30 areas of science, Science Buddies has suggestions for hands-on science exploration to meet the needs and interests of K-12 students around the world. Thanks to ongoing Project Idea development from our in-house team of scientists, and in coordination with partners at sponsor companies and researchers at universities and labs, the number of Project Ideas continues to rise as we write and produce projects, activities, and resources to support K-12 science experimentation and education in both traditional and cutting-edge areas of science, technology, engineering, and math (STEM).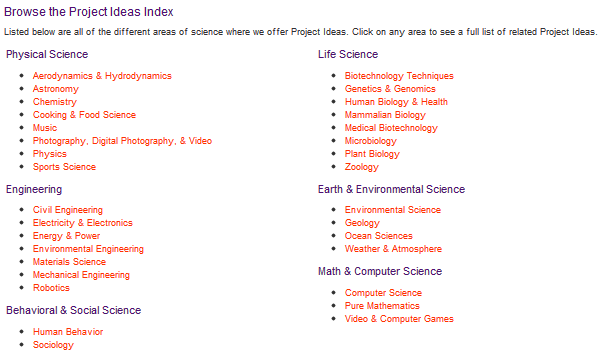 Science Buddies Projects Ideas are labeled in terms of difficulty, and students using the Topic Selection Wizard to help locate projects are presented first with recommendations for Project Ideas that best match their responses to the Wizard's survey and to the questions regarding their assignment: timeline, general area of science, and grade level.

The Topic Selection Wizard is an invaluable tool for helping match students to projects they may really enjoy, but some people prefer to browse the whole library of available Project Ideas. In the past, students, teachers, and parents who browsed the library could tailor their view by the level of difficulty, but otherwise they needed to sift through all Project Ideas in a chosen area of science—and viewing multiple areas of science at a time was not possible.

Thanks to support from Cisco Systems, Inc., Science Buddies has implemented a new set of filters that bring greater ease and specificity to finding a science project.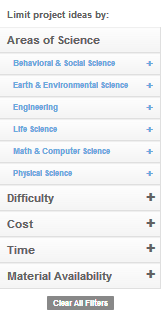 Finding a Great Science Project for You
Using the new filter options, you can customize your view of Project Ideas by turning filters on and off. The list of filter categories is shown at right. When you expand a category (by clicking the +), you can choose from available options.

If you are looking for a project that requires easy-to-find materials, you can select a filter to only show those projects, weeding out projects, for example, that require specialty items or hard-to-find materials. If you prefer to find a project for which a Science Buddies Kit is available, just click the appropriate filter, and you can browse kit-specific projects. Want to view those that use easy-to-find materials or projects that have kits? Not a problem. You can turn on or off as many filters as you wish to customize your view!

If you need to limit the cost of your science fair materials, you can specify a price range using the filters. You can also turn on and off certain areas of science to increase or decrease the number of results shown. The new filters also allow enhanced filtering by difficulty and filtering based on the time required to complete the project.

(Note: after turning a filter on or off, the results page will quickly reload. You can then turn on or off another option. To uncheck all of the options and start again, click the "Clear All Filters" button at the bottom of the menu.)

The screenshots below illustrate how to use the filters: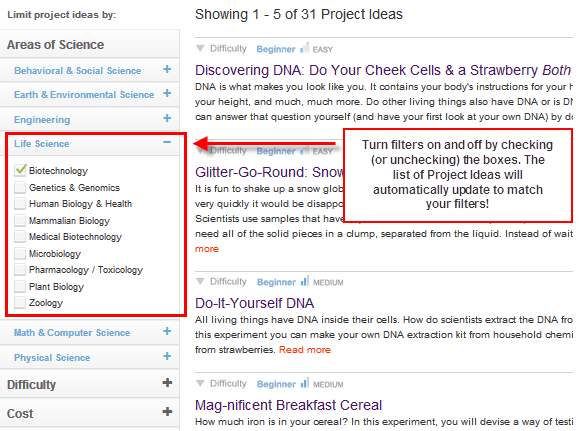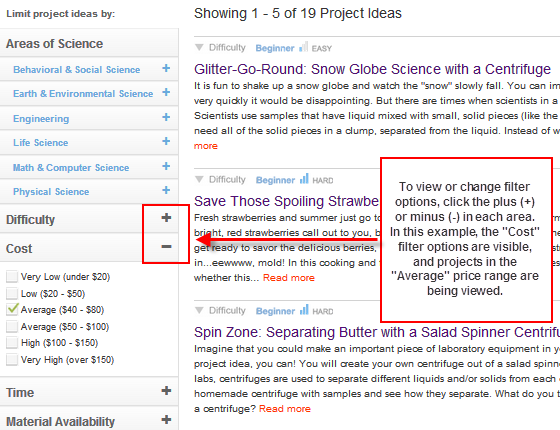 The screenshot below shows multiple filters selected to customize the view of Project Ideas within two interest areas: robotics and electricity and electronics.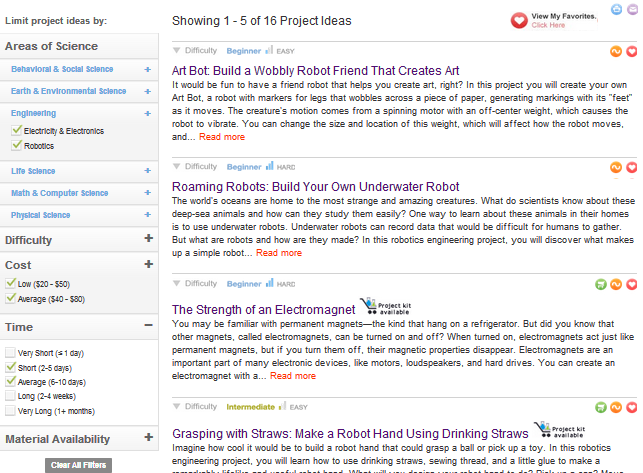 We hope the new filter options will make it even easier for students, teachers, and parents to browse the Project Ideas library and locate hands-on STEM projects that best fit their needs and interests.
Categories:
You Might Also Enjoy These Related Posts:
Explore Our Science Videos
Light-Tracking Robot: BlueBot Project #2
Science Buddies: Hand Warmer Chemistry
Balloon Car: 2015 Engineering Challenge