Put Global Problem Solvers: The Series in Action with Free Lesson Plans
A new trio of Science Buddies lesson plans help educators create hands-on opportunities for students to use science and engineering to problem solve real-world problems!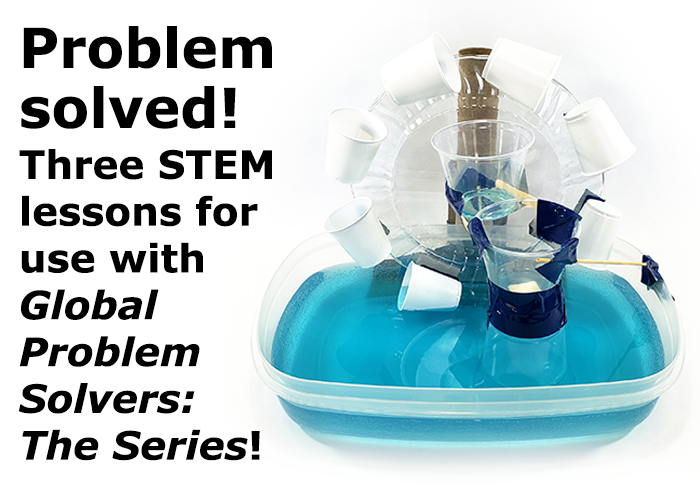 Problem solved! Three STEM lessons for use with Global Problem Solvers: The Series!
The Global Problem Solvers: The Series animated video series features a team of smart, STEM-savvy teenagers who work together to solve real-world problems. These teens are fun, likeable, and each bring their own skills to the team's collaborative problem solving and social entrepreneurship.
In partnership with Cisco Corporate Social Responsibility, Science Buddies has developed a series of NGSS-aligned lesson plans educators can use alone or in conjunction with GPS: The Series. These lesson plans help teachers plan and lead interactive, hands-on, group STEM activities in which students work together to design and prototype solutions to problems that parallel GPS: The Series storylines.
Learn More at ISTE
Science Buddies will be at the 2019 International Society for Technology in Education (ISTE) conference in Philadelphia, PA, June 23-26, to workshop the new GPS: The Series lesson plans with teachers. Sign up for one of these sessions to work through what these lessons would look like in your classroom:
According to Sandra Slutz, Vice President of STEM Education at Science Buddies, the workshops at ISTE are especially exciting because they give teachers a first look at how to combine the empowering GPS: The Series videos with innovative, curriculum-aligned, hands-on STEM in the classroom.
"Students in this age range are interested in their role in the world, which is why GPS: The Series and these lesson plans are so powerful," says Slutz. "By watching the animated series and then working through related real-world problems in the Science Buddies lessons, students harness the STEM they already know, combine it with new information they are learning, and synthesize it into actionable plans that they can imagine scaling as a real solution. It's an engaging way to learn science and a practical introduction to how businesses and organizations work to identify and solve problems."
(Note: registration for ISTE workshops is required.)
Three GPS: The Series Lesson Plans
In season 1 of GPS: The Series, problems with local wells cause a water supply issue for people in Malawi. The GPS team works to identify the problem, plan and test a solution, and develop a sustainable business plan. Using sensor-based technology on local wells and a central monitoring system, problems can be more easily detected and service technicians can be effectively dispatched when and where they are needed.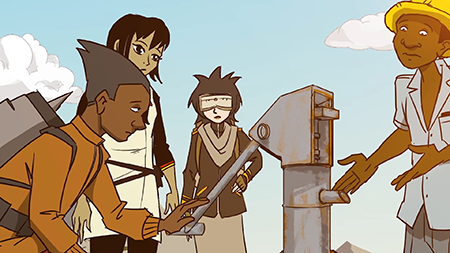 The Build a Machine to Lift Water lesson plan extends the video plot to the classroom. After talking about water sources and the ways in which water is provided in their community, students are challenged to design an alternative way to pump water in the event of an emergency that cuts off the regular water supply. With inspiration from classic designs like ropes and pulleys, the Archimedes screw, and the Persian wheel, students design, build, and test their own water transport system. After designing a solution, students develop a business plan outlining how the solution could be sustainably produced and used in the real world.
In season 2 of GPS: The Series, local schools are unable to reopen after a hurricane knocks out electricity and internet connections. The GPS team identifies the problem (including the ways in which school closure impacts the larger community), brainstorms and tests a solution, and creates a sustainable business plan for the creation of mobile pop-up schools. Using solar power and shipping containers, the team's plan takes advantage of renewable natural resources for a solution that can be quickly activated in the case of an emergency.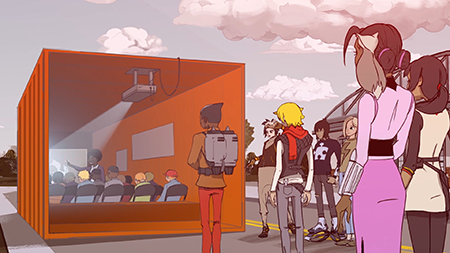 The Solar-Powered Classroom lesson plan builds upon the season 2 storyline. Students are challenged to identify the general requirements of a temporary mobile classroom that could be used in an emergency and then determine the total electrical requirements. Students work together to calculate power needs and research and design a solar panel configuration that could be used as a cost-effective solution. Students then create a business plan for how these pop-up classrooms could be produced and distributed in the real world.
Use Technology to Solve a Local Problem, the third lesson plan in our series for use with GPS: The Series, encourages students to use the same kind of collaborative STEM problem solving and social entrepreneurship steps in response to any real-world problem.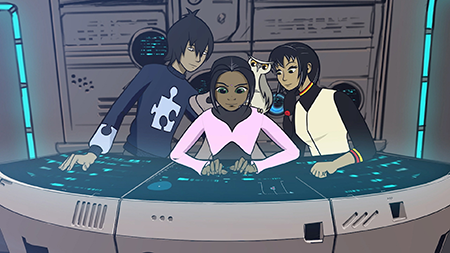 In the activity, students research and identify local challenges and select one to work on as a team. Following the steps of the social entrepreneurship process used by GPS: The Series and the closely aligned steps of the engineering design process, students brainstorm technology-based solutions and work together to conceptualize and design a solution and develop a business plan for a product or service that could be used to solve a real-world problem in their community.
For more information about using the animated video series in the classroom, see 5 Reasons Global Problem Solvers: The Series Will Inspire STEM Interest in Your Students. To watch the series, visit the Global Problem Solvers: The Series website.
Science Buddies Lesson Plans
Our free lesson plans are NGSS-aligned and contain background information for educators, discussion questions for use in the classroom, a guided activity, and a worksheet. Some lesson plans contain additional supplemental materials, including presentations, videos, and assessment materials.
Share Your Science Buddies Story!
Have you used a science project, STEM activity, or Lesson Plan from Science Buddies in your class or program? We would love to hear your story! Email us at scibuddy@sciencebuddies.org and tell us how you use Science Buddies with students.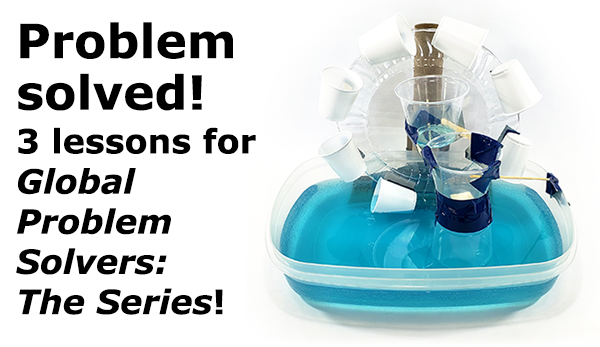 Problem solved! Three lessons for Global Problem Solvers: The Series!
Categories:
You Might Also Enjoy These Related Posts:
Explore Our Science Videos
Build A Pizza Box Solar Oven
Make a Water Strider - STEM Activity