Five Reasons this is a Great Year for Student Science Projects
As the fall semester gets underway, we encourage all educators to consider having students do independent science and engineering projects. These projects are perfectly situated for asynchronous learning, and Science Buddies has all the tools you and your students need to support the science project process from start to finish—including free Expert assistance in our online forums. Especially for students working remotely, a science project can be key to successful STEM learning and engagement during this unusual school year.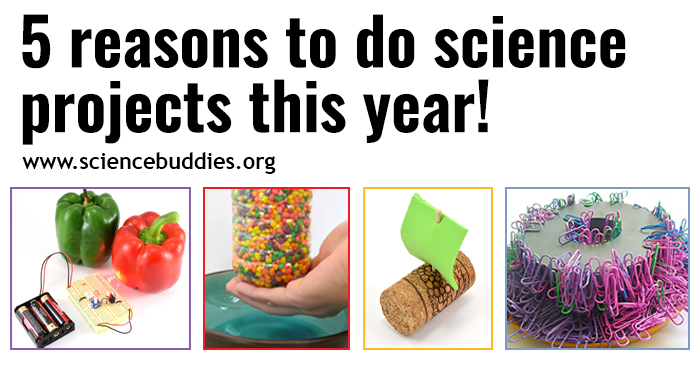 Depending on where you teach, the first part of this school year may look very different than in the past. No matter what grade you teach, we know that teaching science, technology, engineering, and math (STEM) subjects may seem particularly challenging if you are interacting with students remotely or through a combination of synchronous and asynchronous blocks. The pandemic poses a serious challenge for the kinds of hands-on learning we all know can be so beneficial for students when it comes to STEM.
The good news is that this year, with all of its challenges, is a great year to have students working on independent projects.
Five Reasons to Do Independent Science Projects This Year
1. Independent science projects are asynchronous.

Unlike group exploration or classroom demonstration, an independent science project is an individual project designed to be done by students alone and often mostly at home. This makes the independent science project a great way to think about asynchronous learning blocks. With regular check-in points and a clear set of steps and objectives for completing and presenting a project, a student science project can be an important point of STEM learning in coming months.

Note: Educators can find helpful information in the Teachers Guide to Science Projects. For help using Google Classroom to group science project assignments, see Group Your Science Assignments by Topic.

2. Choosing a project of personal interest increases student enthusiasm.

Getting students excited about their learning when they are working from home can be a challenge. When it comes to student engagement, assignments that emphasize personal choice matter more than ever this year. Science projects invite students to really hone in on something of personal interest. In making a science project assignment, you may have parameters students need to follow for project selection. With those guidelines in place, let students proactively find and choose their own projects. When students choose projects that match personal interests, they often learn more (and are more personally invested in the learning experience) than when working on general science projects with which they may or may not have a connection. The free Topic Selection Wizard is one way to help students discover projects of interest.

The Topic Selection Wizard Works!: To see how the Topic Selection Wizard helps students discover projects they go on to really enjoy, see stories like this one about Dylan, who found a project on stealth technology, and this one about Trevor, who needed a project to fit school requirements and did a project on making milk plastic.

3. Individual science projects offer maximum flexibility for students and families.

It can be incredibly challenging for educators to meet every student's needs remotely when navigating full-class video lessons and group learning sessions. Independent science projects can be selected and tailored to work with each student's unique situation. Whether a student needs a shorter project because they have additional family obligations while remote, an easier difficulty project to meet IEP accommodations, or a project that uses inexpensive materials that may already be on hand at home due to family finances, they can find a project that meets their specific needs in Science Buddies' library of 1,200+ science projects. All projects are clearly labeled for difficulty, time required, and availability of materials.

4. Projects offer a hands-on break away from screens.

A great deal of remote learning happens in front of a screen. Within remote learning scenarios, screens are the primary way educators can continue to see and connect with students while presenting learning materials, answering questions, and assessing student progress. With so much time being spent logged in for school, students of all ages need a break from their screens. Experimental or engineering-based projects help students balance screen time with engaging hands-on learning. Setting up a project, running trials, and recording observations will keep students learning by doing. (Not all science lab learning can be done at home, but Science Buddies' science projects have been developed with at-home feasibility and student safety in mind.)

5. We have experts who can help with science project questions.

We know that teachers and parents are all juggling the realities of remote and hybrid learning. Our Ask an Expert forums can help by providing free online assistance to students who are working on science projects. If students have questions at any stage of their project, they can post in the forums and receive input from a friendly and knowledgeable Expert who wants to ensure students have a positive experience with their science projects. As we all navigate the education system in the midst of the pandemic, having more people invested in good STEM learning outcomes for all K-12 students can make a big difference. Learn more about using the Ask an Expert forums with the Free science project support in the Ask an Expert forums post.

Ask an Expert makes a difference: To see how the free Ask an Expert forums helps when it comes to individual student projects, see these stories about students who worked with Experts in the forums: Vivienne Cleans Up Oil Spill Science Project with Support from Online Mentor and Online Support Forum Helps Lakshita Succeed Two Years in a Row.
Why Student Science Projects?
Independent student science projects always have high value for helping students explore a science question of interest. This type of project enables students to actively delve into how to conduct a science experiment using the scientific method or an engineering project using the engineering design process. Rather than reading about these processes, students use them.
Student science projects can also spark a life-long love of science as they did for Harleen, now a senior at Cornell University studying mechanical engineering and biomechanics, Madeline, whose middle school experiment with hydroponics sparked new interest in plant science, and Gabby, whose project focused her interest in science on microbiology.
It doesn't matter if your school doesn't have a history of holding a science fair! While student science projects are sometimes attached to school science fairs, a science fair is separate. The science fair project has value well beyond the science fair experience. Don't toss the project part simply because gatherings like science fairs may not be viable this year for your school.
Even if this is your first year ever assigning independent science projects, we have the tools you need to support the process with your students.
Get Inspired about Student Science Projects
Students at all grade levels can do amazing independent science projects and have fun learning about science at the same time—even in a pandemic. See these stories for additional inspiration from students who have completed Science Buddies projects and teachers who recommend that students use Science Buddies to find projects.
Make the Science Project a Fulcrum for STEM Learning
At Science Buddies, we know that hands-on STEM learning is best and provides the deepest and most meaningful learning experience for students. We have more than 1,200 free projects for students and tools like the Topic Selection Wizard to help students consider a range of possible projects before making a selection. With our Google Classroom integration, you can also assign certain parts of the science fair process, including use of the Topic Selection Wizard and project selection.
In the coming weeks, we will be offering timelines and best practices and strategies for implementing science projects with students this year—no matter what system your school is using for attendance. Being remote or hybrid does not mean students need to miss out on the independent science project process. These projects can, in fact, be key to making this a successful semester for STEM learning!
If you are integrating science projects into your remote or hybrid learning, please email us at scibuddy@sciencebuddies.org and let us know how you are planning your projects.
Categories:
You Might Also Enjoy These Related Posts:
Explore Our Science Videos
DIY Mini Drone Part 6: Motion Control
Science Buddies: Hand Warmer Chemistry
Write and Read Braille – STEM activity