Green Chemistry and the School Science Lab - Safer Chemistry for Today and Tomorrow
Lessons and student projects to support educators and students learning about chemistry and experimenting with green chemistry principles in mind.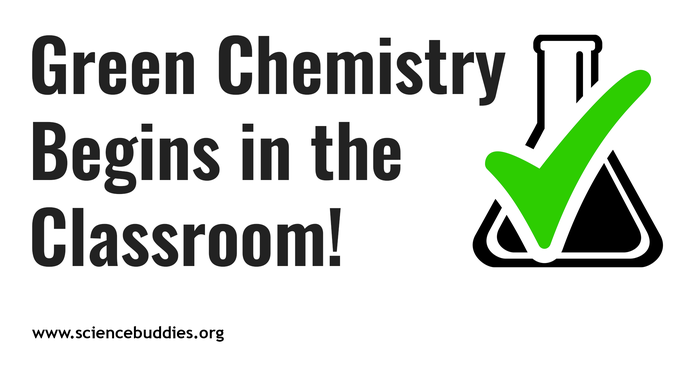 To make them safer and more environmentally-friendly, chemistry classrooms and labs are changing. Are your labs, chemistry demonstrations, and classroom experiments green? If not, read on to learn more and find green chemistry options to use with your K-12 students.
What is Green Chemistry?
Green chemistry reimagines chemical processes in ways that are environmentally aware, produce less hazardous waste, reduce pollution, and result in cleaner air and water and safer foods and products for everyone. Green chemistry involves designing chemical products and processes in ways that reduce or eliminate hazardous substances. This includes carefully evaluating which chemicals are used, assessing chemical reactions, and designing processes that don't result in hazardous byproducts and waste that require cleanup.
The following video provides an introduction to green chemistry.
Making Chemistry Safer at School
To adopt, promote, and teach green chemistry practices, educators have to adapt and update lessons and experimental procedures and implement practices to make school labs places for green chemistry. The Environmental Protection Agency's (EPA) defines 12 principles of green chemistry. These principles provide a checklist for evaluating the safety of chemistry experiments and thinking through the redesign or improvement of existing chemical processes. In shifting to green chemistry, scientists seek to:
Prevent waste
Maximize atom economy
Design less hazardous chemical syntheses
Design safer chemicals and products
Use safer solvents and reaction conditions
Increase energy efficiency
Use renewable feedstocks
Avoid chemical derivatives
Use catalysts, not stoichiometric reagents
Design chemicals and products to degrade after use
Analyze in real time to prevent pollution
Minimize the potential for accidents
For more information about these principles, see the Green Chemistry resource area at Science Buddies.
Make Your Next Chemistry Experiment 'Green'
Thanks to sponsorship from Millipore Sigma and partnership with BeyondBenign, Science Buddies has NGSS-aligned lessons and independent student science projects to support educators and students as they learn about green chemistry and its importance for the environment, human health, and the future. The new Green Chemistry resource area at Science Buddie makes it easy to find resources for use with K-12 students. In this area, educators and students will find resources like the following:
NGSS-Aligned Lessons for Green Chemistry
Science Projects and Activities to Explore Green Chemistry
The following video is from the Investigate the Kinetics of the Color Changing Iodine Clock Reaction independent student science project, which has been updated to reflect principles of green chemistry:
Green Chemistry Today for Tomorrow
As today's students learn about and experiment with chemistry, they have the opportunity to seek, adopt, and prioritize green chemistry from their very first experiments. With the right guidance, resources, and examples, their framework for chemistry can be green from the very beginning..
Note: The EPA has a downloadable bookmark you can print that lists the 12 Principles of Green Chemistry.
Explore More
For more resources for teaching K-12 chemistry, see the following chemistry resource collections:
Categories:
You Might Also Enjoy These Related Posts:
Explore Our Science Videos
Lift Ice with Yarn STEM activity
Why Do Apples and Bananas Turn Brown? - STEM activity
Explore Concave and Convex Mirrors– STEM Activity.