Students Find Flow in Third Successful Fluor Challenge
Congratulations to everyone that participated and submitted a water flow solution for the 2017 Fluor Engineering Challenge. Science Buddies and Fluor were impressed by the creative and innovative solutions submitted by students around the world.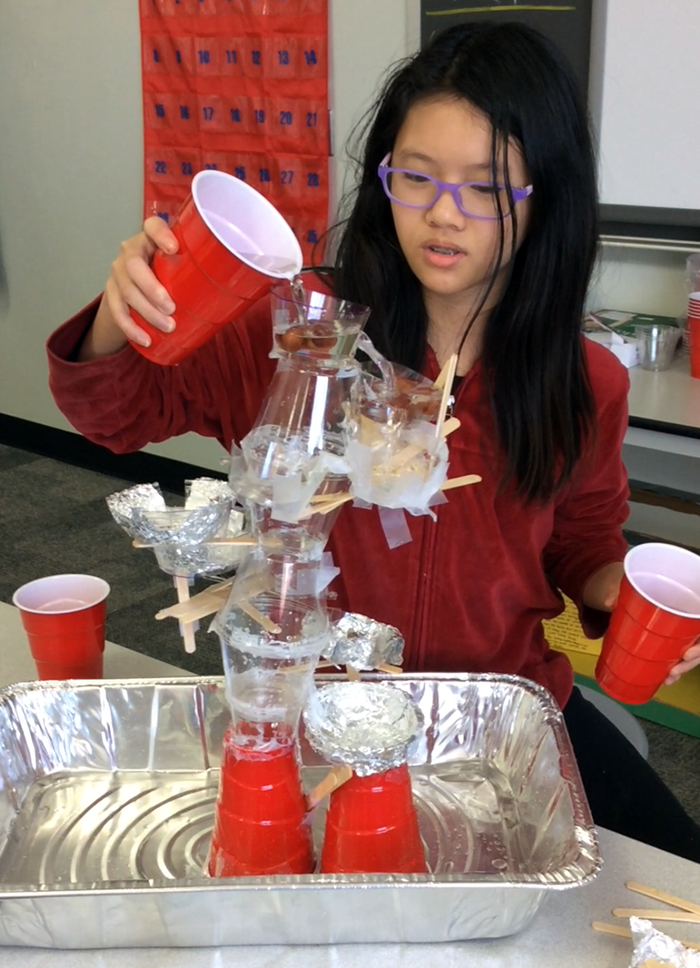 This year's Fluor Engineering Challenge gave students a real-world puzzle to solve. Using the Banaue Rice Terraces as inspiration, could students design a terraced water flow solution with plastic cups, tape, aluminum foil, and Popsicle sticks? More than 2,000 years old, the Banaue Rice Terraces are often referred to as an Eighth World Wonder. Would students be up to the challenge for creating non-mechanical water flow machines that use similar principles?
The 2017 Fluor Engineering Challenge laid out specific materials requirements and limitations, set up a scoring matrix so that balancing the materials used with the performance of the solution was something students had to take into consideration, and invited K-12 students around the world to build, test, and submit their water flow solutions.
This is the third year of the Fluor Engineering Challenge and the third year that Fluor has awarded cash prizes via random drawings to schools and organizations participating in the challenge. To support the importance of trying the challenge and learning by doing, every student or team that enters, within certain geographic locations, is entered in the random drawing, regardless of score. Ten cash awards of $1,000 (USD) were awarded based on random drawings.
Water in the Classroom
Every year, the Fluor Engineering Challenge at Science Buddies is an adaptation of a challenge that has been done by Fluor engineers in a global, annual competition within the company. In the first two years of the student Fluor Engineering Challenge, students were tasked with building a balloon-powered car and a marble sorting machine. This year, the challenge upped the game by adding water to the mix.
For teachers, a water-based activity can be particularly challenging in the classroom—and messy. With limited space and limited time for cleanup, a water requirement can be tricky to manage, but this year's water requirement didn't stop teachers from planning and leading the Follow the Flow activity with their students. More than 3,000 students participated in the 2017 Fluor Engineering Challenge.
In small teams or by themselves, kids around the world put their creative thinking and engineering skills to the test. They were presented with the challenge. They brainstormed a solution. They built their solution. They tested their designs, and then they modified their solutions to make improvements based on their tests. In this year's challenge, students designed a system of cups that would carry water from top to bottom. According to the challenge, each layer needed to hold 1cm of water, and the solution had to have at least two but no more than 10 layers.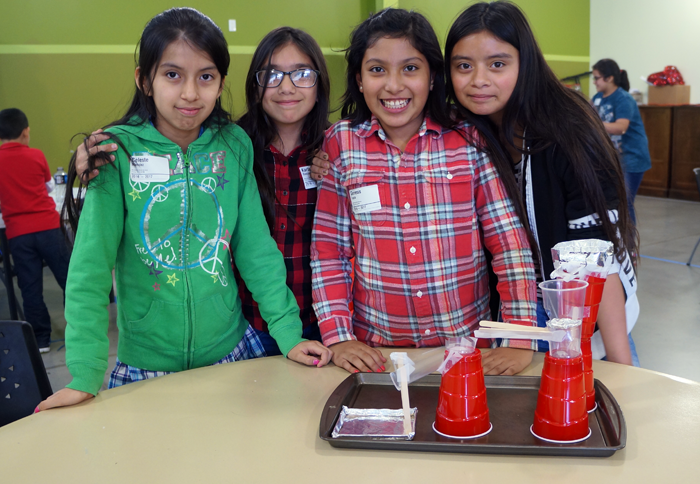 Student Innovation
Year after year, the Fluor Challenge reminds Science Buddies' staff and educators that the Engineering Design Process invites and depends upon innovation and creative thinking. Given the opportunity, students are creative thinkers and bring their own unique ideas to the challenge at hand.
There is no single solution to this year's Fluor Challenge. A sample photo gave students a way to start thinking about the challenge, but students who took the challenge approached their designs from scratch. They had their own ideas about how best to solve the problem, and they had fun seeing if their ideas would work.
Science Buddies saw an amazing array of solutions to this year's water flow challenge as students submitted their entries, and, across the board, students left feedback indicating how much they enjoy this kind of challenge. Their comments clearly reinforce the value of providing hands-on opportunities for science, technology, engineering, and math (STEM) learning.
Here are some of sample comments from students who did the 2017 Fluor Engineering Challenge (and from teachers that made their exploration possible) about what they enjoyed most about this year's challenge:
"...how it made Engineering innovative from 2,000 years ago and is still applicable to this day."
"Getting to test it, seeing the flaws in your plan, and to keep on trying and fixing it."
"My favorite part of the 2017 Fluor Engineering Challenge was making the model itself. It was certainly a challenge, and I had a lot of fun. There was also a lot of competition, and there were millions of ways on how could you design up your model. Also, it taught me some things I didn't know about engineering."
"Our favorite part of the Fluor challenge was when we tested our product. We never had more happiness then the time we saw it work and all of the marbles reach the bottom."
"I really liked the planning phase of building. It felt good to design methods of water flowing, to see if it worked, and If it didn't, then we would re-design it, and that was the fun part."
"I liked the part of having so much freedom when designing our idea for the challenge."
"My favorite part of the Fluor challenge was getting to plan and design an irrigation system, then getting to bring my plan to life and seeing it [succeed]."
"I had a great time with my teammate trying to build something different from what we usually do."
"I really enjoyed that when the test failed you got to do it over and that you could always add more layers."
"My favorite part of the Fluor challenge was actually creating the irrigation system after making a well thought out plan for construction."
"Working and collaborating together and re-engineering it when something goes wrong."
"I got to make a cool irrigation system with my partner, as well as communicating throughout the project."
"Knowing that we had to be able to build the item with a limited amount of supplies you have to use. And actually making it work."
"It made people show their creativity with limited resources."
"It was really fun thinking of different ideas for how our thing would work, and coming up with new ways to solve the problem when something didn't work."
"Our favorite part of the Fluor Engineering Challenge was working together in a group and collaborating and sharing ideas to come up with a unique diorama of the Rice Terraces."
"Our favorite part of the challenge was going through the engineering process and creating our product. When a problem arose, we would change and think of a way out. Working as a team really helped."
"It was the building that was the most fun. It was cool to see where we started and where we ended up."
"Trying to do this with 100 7th and 8th graders was insane, but they had a blast. Thank you so much! They truly enjoyed this!!!!"
To see the drawing winners and teams with the top scores from this year's challenge, visit the Fluor Engineering Challenge page.
A Great K-12 Challenge
For Science Buddies and Fluor, the third annual Fluor Engineering Challenge was an unparalleled success. According to Sandra Slutz, Director of Science for Science Buddies, "The Fluor Engineering Challenge is one of my favorite events to work on every year because of the clear and immediate impact it has on students. This year's feedback from teachers and students has been overwhelmingly enthusiastic, with many describing the experience as both challenging and fun. To me, that is the highest of praise! The Challenge stretches the students to work on a novel problem that is just outside of their everyday comfort zone. It expands their horizons, yet they have fun doing it and, in the end, feel proud of their success and have a positive view of themselves as engineers and problem solvers."
Science Buddies and Fluor are already planning next year's challenge with Fluor. It is going to be exciting!
A Great Classroom or Home Activity
The 2017 Fluor Engineering Challenge is over, but the project is still available on the Science Buddies website. Students can do the Follow the Flow engineering activity at any time!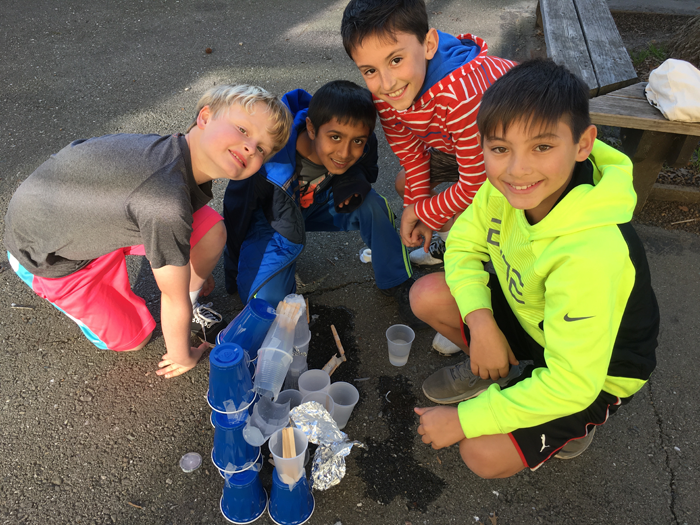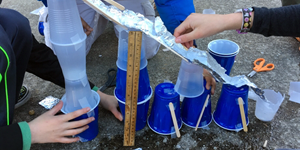 Categories:
You Might Also Enjoy These Related Posts:
Explore Our Science Videos
Create a Painting With Genetically Modified Bacteria
Introduction to Paper Chromatography | Theory and Practice
Reaction Rates: When Surface Area Matters! Lesson Plan Introduction