Have your students build their own water flow and enter the 2017 Fluor Engineering Challenge for a chance to win!
Plan to Do the Fluor Engineering Challenge with Your K-12 Students!
The 2017 Fluor Engineering Challenge is underway! This year, students around the world are challenged to use simple materials and follow challenge guidelines to build their own water flow solution.
The steps above show how easy it is to get kids engaged with hands-on engineering using a challenge like this.
How well will your students score, and how much fun will they have building, designing, and testing their #FluorChallenge solutions? We can't wait to find out!
Students in certain geographic locations who enter the 2017 Fluor Engineering Challenge will be automatically entered in a random drawing to win a $1,000 (USD check) for their school or afterschool program.
For complete details and rules, see the Fluor Challenge page. For suggestions on using Google Classroom to help assign and manage the Fluor Challenge with your students, see this Fluor Engineering Water Flow Challenge post.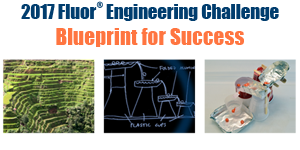 Categories:
You Might Also Enjoy These Related Posts:
Explore Our Science Videos
How to Make Magnetic Slime
Make a Thermometer - STEM Activity