11 Tips and Best Practices for Assigning and Managing Science Fair Projects
Part 3 in our STEM education series on the benefits of student science projects and science fairs. These best practices streamline the assignment and management of independent science projects and help ensure students stay on track.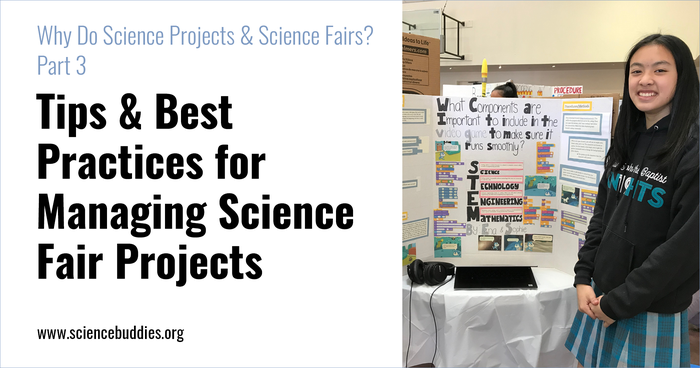 Unlike many other types of homework, independent science and engineering projects take time. These projects may span several weeks on your classroom calendar. The extended time allotted to science projects is a benefit and allows students to really dive into their topics and supports choosing experiments that require more time.
When assigning independent science projects, educators want to make sure students pick an appropriate topic, get off to a good start, stay on track, and successfully complete their projects. With good classroom preparation and oversight, there should be no last-minute experiments!
The following tips and strategies can help make the science project experience smooth and efficient for educators and empowering as a learning experience for students.
Best Practices for Managing Science Projects
Clearly communicate what kinds of projects students can choose. There are many types of projects, including traditional science projects, engineering projects, computer programming (or coding) projects, and projects based on analysis of public data sets. The rules of the science fair may play a role in determining the scope of allowable projects. Educators should clearly outline the requirements for their class so students get started on the right path.
Help students find a project they will enjoy. The Topic Selection Wizard is a great resource to help students discover projects that match their personal interests and may also introduce them to new or cutting edge areas of science. Students who choose projects they are interested in have higher levels of engagement with the project and benefit more from the experience.
Make sure students choose a project that will work for them. To help ensure students choose a project that is appropriate in difficulty, meets any assigment or science fair regulations, and is manageable in terms of time and expense, we recommend requiring teacher approval on project selection. Have students consider more than one project and use the project proposal form to identify the project they most want to do.
Teach or review steps of the scientific method and engineering design process.
Break the project up into smaller assignments. A clear timeline (with due dates) helps students practice time management skills and gives them a better understanding of how to approach a large project as a series of interconnected steps. Making assignments of individual steps like picking a project, forming a hypothesis, and identifying variables ensures projects get off to a good start. (Tip! See the Science Fair Tools resource for guidance on creating a project timeline and worksheets and rubrics that align with steps of the science project process.)

Tip! Google Classroom teachers can use Science Project Pathways, a scheduling tool that breaks the science project into a series of smaller assignments that lead students step-by-step through a science project. Enter the project start date, and the tool will create a custom schedule with recommended assignments and due dates. Teachers can then make and monitor assignments in Google Classroom. See How to Use the Science Project Pathways Tool to learn more about using the Pathways tool.

Plan regular check-ins. During the experimental phase, use check-ins to make sure students don't procrastinate, don't fall behind, and don't get stuck and not know how to move forward. Check-ins might involve a short written status report, a visual lab notebook check, or some other method to indicate where the student is in the project (and if there are any problems). With experiments being conducted at home, required check-ins help educators retain visiblity into student progress.
Allow class time for project work. Making time in class for work on science fair projects reduces the amount of work to be done at home and gives students the opportunity to ask questions, conduct online research, and get teacher input. Experimental procedures will usually be conducted outside of the classroom, but many steps at the beginning and end of a project can effectively be completed in class.
Remind students that the goal of a project is not to prove a hypothesis. In the end, the data gathered may not support the hypothesis, and that's okay.
Provide opportunities and strategies for asking questions and troubleshooting. In addition to getting help from the teacher, students can use the Ask an Expert forums.
Leave time at the end for preparing the project display board and final report.
Encourage participation in science fair. Showcasing the science project at a science fair gives students the opportunity to share their findings and practice communicating their results to judges and to peers. If your school doesn't hold a science fair, encourage students to consider entering another local fair. Use the Science Fair Directory to find local fairs.
"I have used Science Buddies for years! The resources help my students to learn about the scientific process and engineering design process. It gives them ideas for their own investigations and guides them through it." Vicki, a teacher in AZ

Managing Parental Involvement
Student science fair projects should be conducted by the student and appropriate for the student's grade level or science learning. Because many parts of an independent science project happen outside of the classroom, it is especially important to make parents aware of the assignment, the project timeline and final due date, and the science fair date and time (if applicable). Given that the required materials and associated costs vary by project, we recommend having parents acknowledge and approve chosen projects before students commit to a project. (There are many projects in the Science Buddies library that require simple or recylced materials students may already have at home.)
Parents should not view the science project as extra work for them or as something they need to manage for their student. Use the How to Help guide to communicate with parents about appropriate levels of parental involvement. Using a timeline and smaller assignments that are turned in throughout the process and allowing time to work on projects in class, as described above, can also help keep students on track with their projects and reduce the risk of family crisis the night before the project is due.
Succeeding with Science Fair Projects
These tips and best practices can make assigning science projects a successful, rewarding, and anticipated part of your school year. Many students remember their science fair projects well into the future and may end up pursuing careers in science and engineering as a direct result of an interest sparked by an independent project. (See Cornell Senior Cites Middle School Science Fair as Pivotal.)
Learn more about tools you can use throughout the science fair project process in Tools to Manage Science Projects and Science Fairs, the next post in this STEM series about doing science projects and science fairs.
The Value of Science Projects and Science Fairs Series
11 Tips and Best Practices for Assigning Science Projects
Pictured: a student who participated in her school's first STEM fair. Browse success stories for other inspiring stories.
Categories:
You Might Also Enjoy These Related Posts:
Explore Our Science Videos
Build A Gumdrop Geodesic Dome!
Solve A Mirror Maze Reflection Challenge!
Introduction to Paper Chromatography | Theory and Practice