Visual Illusions: When What You See Is... Not What's There?
Exploring the science behind what we see and what we think we see. It's not always the same thing!
When you watch the animation above, focus on the white dot in the center. As the surrounding dots begin to spin, do they seem to stop changing colors until the spinning ends? In fact, they continue to change, but the motion of the overall outer ring makes it appear that they stop blinking until the ring stops spinning. If you watch it again and focus on the outer ring, you will see that the colored dots continue to blink and shift color even when the ring spins.
This animation recently won the seventh annual "Best Visual Illusion of the Year" contest , organized by the Neural Correlate Society and associated with the annual Vision Sciences Society meeting. The winning illusion by Jordan Suchow and George Alvarez, a Harvard graduate student and assistant professor of psychology, respectively, is titled "Silencing awareness of change by background motion." It's a simple title for a sensory perception that may also seem simple. But what's simple about the fact that we can think we are seeing something we are not? Nothing!
From studying visual illusions, and the ways in which the brain controls what we perceive, scientists learn more about sensory perception, about the brain, and about vision.
The Science of Visual Illusion
Research in visual illusion and sensory perception involves psychology, physiology, and neuroscience of vision and image processing. Students who are interested in these fields or who simply enjoy the "wow" factor of visual illusions can get more hands-on with the following science projects: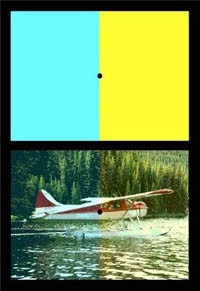 Sleight of Eye
The image above lets you quickly test a non-animated visual illusion. To give it a try, look first at the airplane image. Do you see that the two halves are differently colored? Now, stare at the dot between the blue and yellow rectangles for 20 seconds. Then shift your gaze to the dot in the airplane image. How do the two halves appear now? As you continue to watch, the effect will disappear. (See full project.)
Taking it Farther
To view the other 2011 winning illusions (as well as winners from previous years), visit the Best Illusion Contest of the Year website.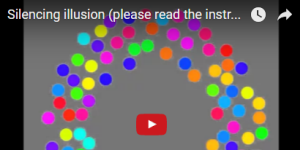 Categories:
You Might Also Enjoy These Related Posts:
Explore Our Science Videos
The Jumping Flame Trick Revealed!
Ball Launcher: 2018 Engineering Challenge
Cricket Wicket Knockdown: 2020 Engineering Challenge