10+ Backyard Bird Science Projects
From bird seed to bird feet, there are exciting science projects you can do with students of all ages to encourage interest in birds. Keeping a few key tips in mind, your summer bird watching may also help build your student's science skills and reinforce important observation and recordkeeping skills. Add a creative angle to summer bird watching with a display board project to share at school or hang up as a reminder of a summer of birds!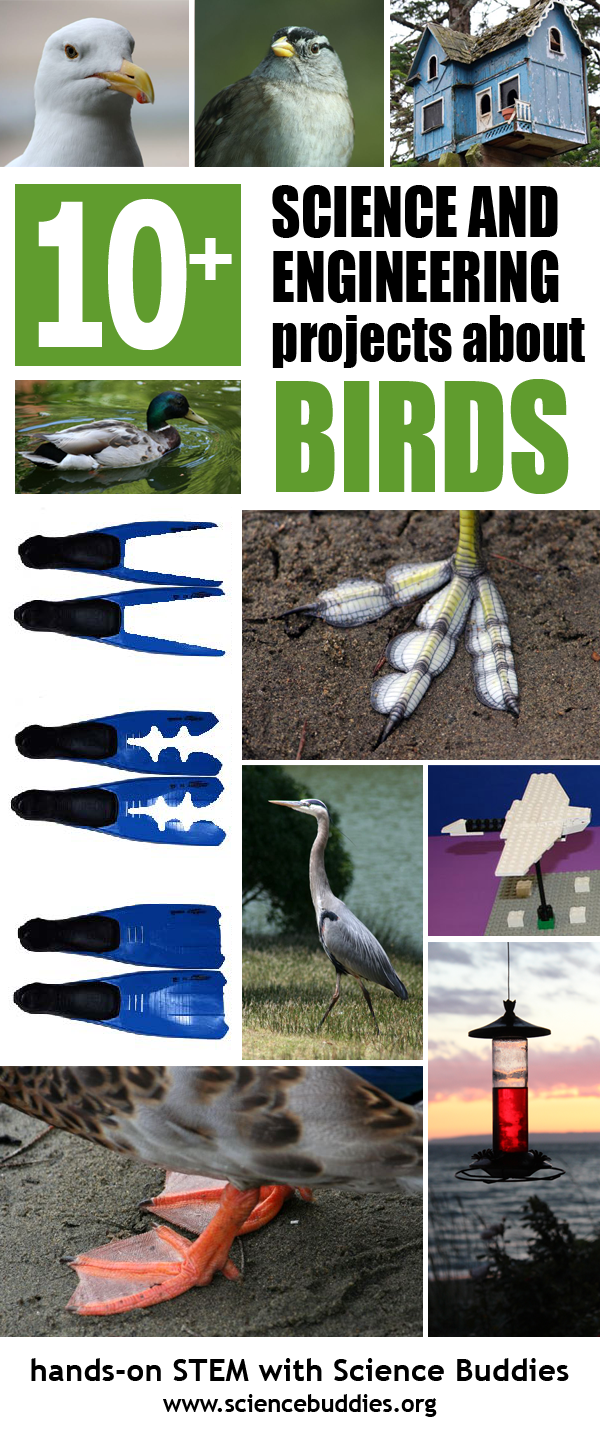 Ten Plus Science and Engineering Projects About Birds--Hands-on STEM with Science Buddies. www.sciencebuddies.org
Bird Science Projects and Activities for Students
Students interested in or inspired by birds can engage in bird-focused science activities and observation all year long. But summer break and summer weather can make it especially easy to get involved with a birding project. Try one of the science projects or activities below with your students to help foster an interest in and greater awareness of birds.

Making Connections
Increasing awareness of birds in your neighborhood may also broaden your student's understanding of environmental and conservation issues. Students interested in biodiversity may enjoy projects like these:
Students who are interested in birds and are looking for a more advanced or in-depth science project focused on birds, may want to explore the following environmental and bird-science projects:

Related Reading and Field Guides
For a great summer reading pick for kids interested in birds, see our reviews of Look Up! Bird-Watching in Your Own Backyard by Annette LeBlanc Cate and The Boy Who Drew Birds: A Story of John James Audubon by Jacqueline Davies. See also, Nests: Fifty Nests and the Birds that Built Them, a collection of photographs showing the wonderful diversity and ingenuity of bird nests. For additional bird-centered picture books for younger children, see A Nest is Noisy and An Egg is Quiet.
As you begin birding projects with students, be sure and have one or more field guides on hand. Featuring 300 birds common in the US and Canada, a field guide like The Young Birder's Guide to Birds of North America (Peterson Field Guides), especially designed for younger bird watchers, may be a good starting point. As your students get more interested in birding, however, you will want to explore larger and more comprehensive field guides. The following field guides are examples of field guides specific to North America. Field guides for other parts of the world are also available, as are field guides dedicated to specific geographic sections of North America (like the this one) and specific states.
Finding birds in a field guide can be difficult when first starting out. As students become more familiar with birds and more skilled in their observational skills, looking up and identifying birds using a guide will get easier. As you begin birding with your students, plan to work on solving a bird's identify as a family and agree to look again more carefully at certain characteristics or identifying marks if you see the bird again.
Keep a list! Bird enthusiasts often keep lists of birds they have seen and birds they hope to see. Encouraging this kind of recordkeeping from your students is a good science practice and will help reinforce the summer birding experience. (Tip: you may be able to download a printable checklist list of birds in your area from a local parks and recreation website.)
Encourage Creative Tracking
In addition to using a checklist and logging bird sightings in a field notebook, creative kids may want to make a display board on which they track their sightings, photos, sketches of birds, and other bird-oriented data they gather over the summer. (Use a regular sheet of poster board that they can add to all summer long, or consider setting up a dedicated family "birding" bulletin board onto which notes, lists, drawings, and sketches can be tacked.)
A "poster"-style account of a summer spent watching birds makes a wonderful back-to-school project that young birders may be able to share with their classmates once school resumes. Plus, this kind of project lets kids combine their creative skills with their science observation and research skills. What a great way to record a summer spent with binoculars, a field guide, and a notebook to track birds in the area! (See Creative Summer Science: A Science Collection for more inspiration.)
Getting Involved
Families may also be interested in participating in citizen science projects related to birds in their area. These projects encourage students and scientists of all ages to put their observation (and photo snapping) skills to use to contribute to data repositories about certain species. To learn more about citizen science, see Citizen Science for Earth Day and Calling Naturalists of All Ages: Citizen Science Projects for the Whole Family.
Pin this collection: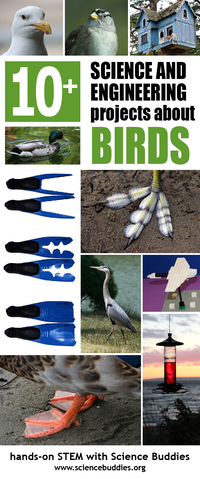 Grid of sample images from bird science projects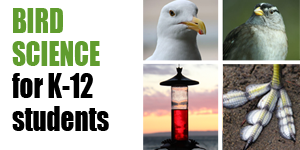 You Might Also Enjoy These Related Posts:
Explore Our Science Videos
Why Won't it Mix? Discover the Brazil Nut Effect
Build a Bird Feeder to Study Birds – STEM activity
Cricket Wicket Knockdown: 2020 Engineering Challenge