Backyard Science: Summer of STEM (Week 10)
Join Science Buddies this summer for virtual summer camp! Each week, we'll have a fun STEM theme for kids of all ages, suggestions for simple hands-on activities, book picks, and more. With our Summer of STEM, we'll keep you and your kids inspired all summer with creative and innovative science and engineering activities — for free. This week: birds, bugs, flowers, weather, and other backyard science investigations!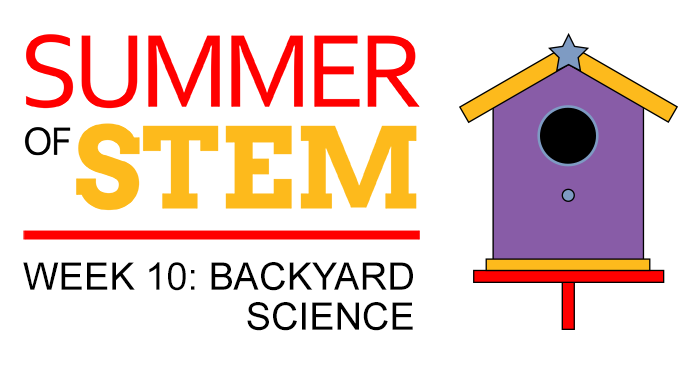 Backyard Science
This week, head outdoors for backyard science! With activities to inspire kids to explore local biodiversity, kids will be looking at birds, insects, worms, and even squirrels with new eyes this week. There are also fun options to create homemade weather monitoring tools, a simple compass, and an indoor constellation.
Most activities highlighted this week are nature-themed, but there are lots of science explorations kids can do in the backyard. Be sure and look back at previous weeks of Summer of STEM for fun explorations related to frisbee (Week 7), water sprinklers (Week 6), homemade kites (Week 5), mini-golf (Week 1), DIY sports equipment (Week 3), paper rockets (Week 9), bubble wands (Week 1), and more!
Tip: This downloadable PDF contains a summary of the ideas for Week 10. Print this out and use it as a check-list for activities you try this week! You can also print and use our simple activity log (PDF) if you want to encourage your younger students to reflect on their activities.
ASK: Science Questions for Week 10
Use these questions to prompt conversation and reflection this week about the Backyard Science activities:
What kinds of animals (including birds, insects, and larger animals) are common in your neighborhood?
Did you observe animals this week that you didn't know lived around you? What questions do you have about these animals?
If you looked for (or fed) birds this week, how many different kinds of birds did you see?
Which activities are of most interest to you, the ones about bugs, birds, and animals, or ones about weather? Why?
Which science or engineering activity did you try? What did you learn?
What kinds of STEM jobs are related to the nature-themed activities you explored this week?
DO & EXPLORE: Backyard Science Activities
Tip: As you investigate insects, bugs, birds, and other animals in your area this week, you might be able to contribute to citizen science projects like Project Squirrel or Lost Ladybug. You can learn more about citizen science in the Calling Naturalists of All Ages: Citizen Science Projects for the Whole Family and Citizen Science Projects for Earth Day posts.
DO & EXPLORE: Birds, Squirrels, and Backyard Animals
Once kids start looking, they may discover that there are lots of animals that live in the area. Many of these animals invite observation. For example, kids can observe birds that come to backyard feeders or use binoculars to find birds in trees. (This is a great time to encourage nature journaling. Have your kids draw the birds they see and make notes about their observations.) If squirrels frequent your yard, kids can observe their natural behavior or set up a project to see how squirrels respond! Kids interested in animal science may enjoy learning more with projects like these:
For more information about these and other bird-themed science projects, see the 10+ Backyard Bird Science Projects collection.
WATCH: Videos for Week 10
These videos demonstrate activities highlighted for Week 10's Backyard Science theme:
These videos are not from Science Buddies but tie in with this week's theme:
EXPLORE with KITS
The following Science Buddies Kits fit in with this week's Backyard Science theme. These science and engineering kits provide the specialty materials kids need for a variety of fun electronics explorations:
Learn more about Science Buddies Kits and see our 12 Science Kits for Summer Science Experiments and Discovery recommendations.
READ: Books to Pair with Week 10's Backyard Science Theme
For other great STEM stories for summer reading, see our Book list for science-filled summer reading! post. Also, don't miss this roundup of creative STEM activities for storytelling and imaginative play.
Summer of STEM Posts
Week 10 - Backyard Science
Categories:
You Might Also Enjoy These Related Posts:
Explore Our Science Videos
Aluminum Foil Boat Design - STEM Lesson Plan