Rev Up STEM Learning with Car Science Projects
Students can explore STEM concepts and design custom science and engineering projects with cars made from simple materials.
Creative Hands-on STEM with DIY Cars
When students experiment with homemade cars, they have the opportunity to explore physics and electronics, alternative energy and power, and engineering design. By changing design features and testing and comparing different models of DIY cars, students can ask and investigate countless STEM questions.
The video above helps students see the many kinds of questions that can be asked and some of the variables that can be changed in a car science project. Every car has four main parts: wheels, axles, chassis, and power source. Students can choose any of these features and develop a science or engineering project around it. For example, what happens when you use different materials for the wheels? How about different shapes?
Whether students are doing science projects following the scientific method or brainstorming, prototyping, and testing innovative solutions using the engineering design process, there are exciting STEM questions that can be put to a simulated road test.
Try One of These Car Science Projects!
Science Buddies has a number of hands-on projects for independent student exploration and Lesson Plans for teachers looking to lead classroom activities.
For car-themed projects, activities, and inspiration, see the following:
Share Your Science Buddies Story!
Have you used a science project, STEM activity, or Lesson Plan from Science Buddies in your class or program? We would love to hear your story! Email us at scibuddy@sciencebuddies.org and tell us how you use Science Buddies with students.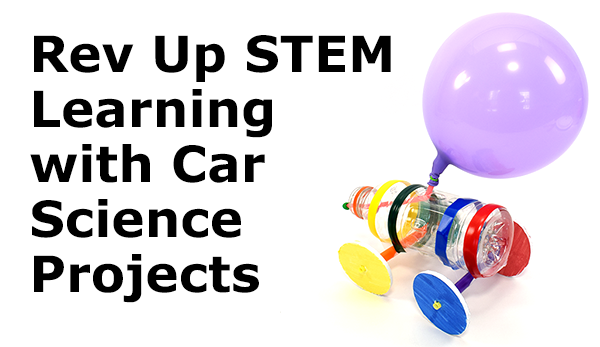 Categories:
You Might Also Enjoy These Related Posts:
Explore Our Science Videos
Paper Ball Run: 2022 Fluor Engineering Challenge
Measure Photosynthesis with Floating Leaves
Build a Solar-Powered Car for the Junior Solar Sprint