Paper Chromatography Science Projects & Experiments
Use these free STEM lessons and activities to experiment with paper chromatography.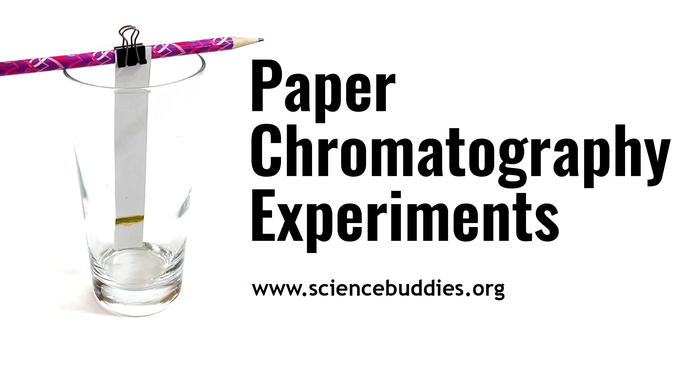 Experiment with Paper Chromatography
Chromatography is a technique used to separate a mixture or solution into its individual components. There are several different types of chromatography, including thin-layer, column, and paper chromatography. Paper chromatography uses materials that make it accessible for chemistry exploration at the K-12 level.
Paper chromatography helps students discover the color molecules used to make the color our eyes perceive in a candy coating, for example, or a marker or bottle of ink. When compared using paper chromatography, three different brands of black water-based markers may all show different color molecules in the ink. Similarly, candies of a specific color may all look the same, but paper chromatography may reveal that their composition is very different.
In a paper chromatography experiment, a small amount of a sample solution is placed on a strip of chromatography paper. The chromatography paper is then suspended in a solvent. As the solvent moves up the paper, the individual components of the sample solution separate out in bands of individual color.
The following video introduces paper chromatography.
At the school level, paper chromatography is often used to investigate the colors that make up candy coatings, inks, leaves, and flower petals. The following STEM videos show paper chromatography being used to uncover the colors in candy coatings and leaves:
Convenient Paper Chromatography Kit
The Candy Chromatography Kit available from Home Science Tools makes it easy to make sure you have the right materials for a successful chromatography experiment. To learn more about filter papers suitable for paper chromatography, see the Paper Chromatography Resources resource.
Do Paper Chromatography with Students
Educators and families can use the following resources to teach about and explore paper chromatography.
Get Inspired! Try Paper Chromatography
Chromatography Science Fair Projects
The following projects guide students in doing a range of paper chromatography experiments suitable for independent learning or a science fair:
Thematic Collections
Collections like this help educators find themed activities in a specific subject area or discover activities and lessons that meet a curriculum need. We hope these collections make it convenient for teachers to browse related lessons and activities. For other collections, see the Teaching Science Units and Thematic Collections lists. We encourage you to browse the complete STEM Activities for Kids and Lesson Plans areas, too. Filters are available to help you narrow your search.
Categories:
You Might Also Enjoy These Related Posts:
Explore Our Science Videos
Explore the Wet Sand Effect – STEM activity
How can air pressure prevent leaks?
Making Shadow Puppets – STEM Activity